Actionable Items:
Highest Positive Spread: Blackstone GSO Senior Floating Rate Term Fund (NYSE:BSL)
Focus Stock: MS China "A" Share Fund (NYSE:CAF)
Last Week's Focus Stock: Lazard World Dividend & Income Fund (NYSE:LOR)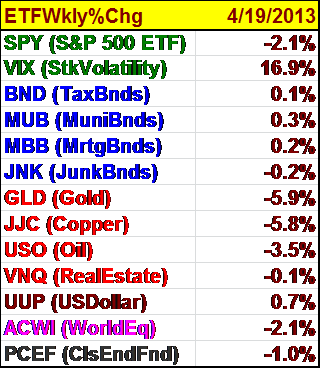 Earnings Slump: Federal Reserve Bank of Philadelphia's index of general business activities slowed to 1.3% in April from 2.0% in March. Stocks continued their slide, led lower by the consumer-discretionary, technology and banking sectors. The S&P 500 Index was off by 2.1%.
Missed: Bank of America (NYSE:BAC) started off earnings on a sour note. BAC missed its consensus by 2.0% and yet announced a mortgage-bond settlement. Other bank stocks followed.
IBM's (NYSE:IBM) net revenues fell 3.0% and net income declined 1.0% and pulled back $17 for a price of $190 per share. IBM fell 10% for the week. Apple (NASDAQ:AAPL) has broken the "downward plane" of $400 per share from $705 high in September 2012. UnitedHealth Group (NYSE:UNH) slumped 3.4% on Thursday. UNH also lowered its full-year revenue guidance by up to $2 billion. McDonald's (NYSE:MCD) posted lackluster results with sales for 13 months declining 1.0% and shares were off 3.5% in a week.
What Will it Take? The sequestration "isn't" here. The Federal Aviation Administration will stop 6,700 flights a day at 13 of the nation's biggest airports if sequestration occurs. This is what the public needs to see! How your ordinary lives will be impacted by a "slump" in funds. This is going to be a difficult problem. Future S&P 500 was up 0.89% in Saturday's trading.
The ETFs: The ETF sectors are arranged year-to-date (YTD) in order as of 4/19/13. Health Care, Consumer and Utilities were leaders, knocking out Mid-Cap as number three ("3"). Natural Resources, Pacific/Asia and Commodities were laggards. Commodities were down 4.4% to 16.5%.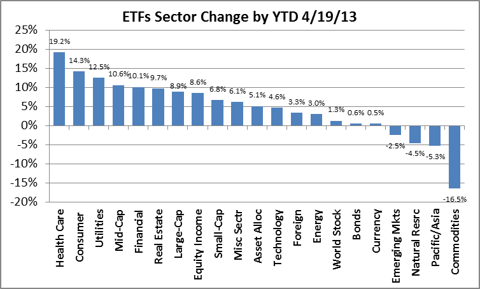 Gold (NYSEARCA:GLD) and U.S. Oil (NYSEARCA:USO) (in chart one) were down -5.9%, Copper (NYSEARCA:JJC) down -5.8% and U.S. Oil down -3.5%, respectively. We're not seeing an economic recovery until the second half.
CEF Weekly Fund Type Performance: This week saw price rises for LoanPartFnds (+0.6%), PrefStkFnds (+0.4%) and USMrtgBndFnds (+0.4%). The laggards were GenEqFnds (-2.1%), SpecEqFnds (-1.7%) and ConvtSecFnds (-1.3%). There appears to be no negative PrcNAVSprds.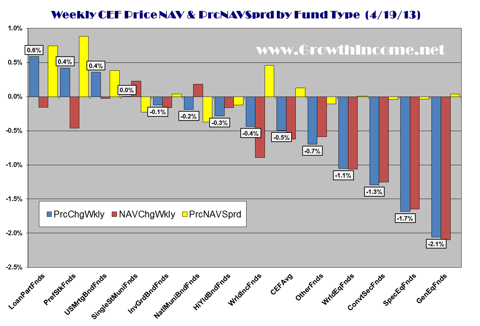 Highest Spread and Stock for the Week: Blackstone GSO Senior Floating (BSL) was ahead by a price increase of +4.5%, and NAV per share was down by -0.5%. The PrcNAVSprd was +5.0%. (A positive number may mean a future decline in share price). The annual monthly distributions per share are a 6.2% yield. For monthly distributions, $0.0400 came from income and the balance came from short-term or long-term gains. The nets assets are $440 million and the debt is 32.9% percent. The share price premium is 10.0% over NAV per share with a 52 week average high of 11.9%.
Financial "tastemakers" have crowned leveraged loans the "it" income asset class throughout 2013. Lipper reaffirms that claim by reporting a $1.41 billion net inflow into loan mutual funds and ETFs last week -- a new record that eclipses several other recently set weekly records.
Lowest Spread and Focus Stock for the Week: MS China "A" Share Fund (CAF) share price appreciated +1.0% for the week with a positive +3.4% from its NAV per share. Its PrcNAVSprd decline was -2.4%. CAF discount is -3.1%; its average 52 weeks of -4.0%. It has $523 million with no debt. Shares were traded last week for 358,100 shares volume with a price appreciation of 3.2% on Friday (average volume in 3 months 280,658). The ETF iShares FTSE China 25 Index fund (NYSEARCA:FXI) was at $36.05, up 3.2% on Friday. FXI was 23 million in volume along with a 3 months volume of 17 million. Something up in China?
Focus Stock and High Price for Last Week: Last week's "Focus Stock" for the week was Lazard World Dividend & Income Fund (LOR), which dropped -1.9%. This was tracking with the S&P 500 Index off -2.1% for the week ending 4/19/13.
Disclosure: I am long CAF. I wrote this article myself, and it expresses my own opinions. I am not receiving compensation for it. I have no business relationship with any company whose stock is mentioned in this article.