Why do I think the Gulf is heating up? After reading the April 16, 2013, Enterprise Product Partners (NYSE:EPD) analyst meeting report, several of the slides provided proof the Gulf is rebounding. Specifically, No. 23, which forecasts a dramatic increase in Gulf production:
Click to enlarge images.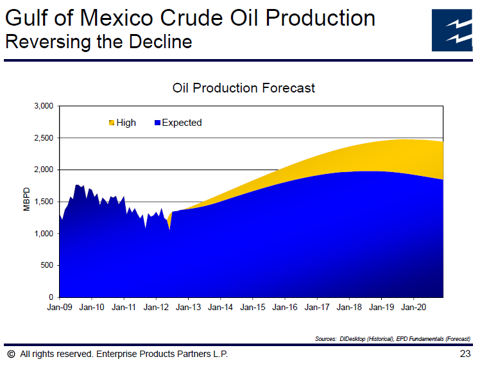 But why is this forecast so important? EPD has a tremendous presence in the off-shore Gulf, as well as very strong assets onshore at numerous facilities including refining, storage, and processing. Because of this first-hand knowledge, EPD has an accurate gauge to measure opportunities as the Gulf's production increases.
In addition to first-hand insights on volumes, EPD states there are currently 50 deepwater active rigs in the Gulf today, six more than the 44 active pre-Macando, with nine more due in the Gulf by year-end 2014. EPD states there is a large inventory of discoveries in the appraisal stage of development, while the top 30 of these have 5 billion of BOE recoverable with greater than 80% oil.
So how does EPD capitalize on these expected developments in the Gulf? EPD plans on expanding its existing Lucius crude oil export pipeline to handle 115 MBPD, with 100 miles of new 18' pipe that will extend the existing one deeper south, while re-purposing 46 miles of existing 18' gas pipe. At this point, pipelay procedures are complete and first oil is scheduled for July 2014. To complement the pipeline, EPD will also refit the Poseiden SMI-205 platform to serve as the Lucius pipeline terminus, which touches down 440' to the ocean bottom.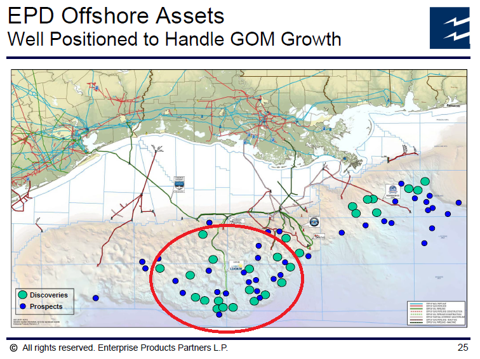 This expansion is a 50/50 JV with Genesis Energy (NYSE:GEL), a company I've liked in the past for having no GP IDRs and heavy exposure to the Gulf, since acquiring most of Marathon Oil Company's (NYSE:MRO) Gulf of Mexico pipeline assets for $205.9 million in 2012. GEL will build the project, while EPD will be the operator in the agreement. It will be called the Southeast Keathley Canyon Pipeline Co. LLC (SEKCO). This new system will reach into the Keathley Canyon area and serve producers such as Anadarko Petroleum Co. (NYSE:APC), Apache Corp. (NYSE:APA), Exxon Mobil Corp. (NYSE:XOM), and others.
EPD's SEKCO expansion with Genesis Energy is an attentive expansion into the Gulf, and is just one example of how EPD is capitalizing on growth opportunities in asset-rich regions of the U.S. With well-funded companies ordering additional rigs for multiple deposits with billions of BOE due to come online in the near term, EPD's lengthening footprint into the deep Gulf is an intelligent managerial decision in my opinion. As a long-time EPD shareholder, I approve.
Disclosure: I am long EPD, SN, BP, and OXY. I wrote this article myself, and it expresses my own opinions. I am not receiving compensation for it (other than from Seeking Alpha). I have no business relationship with any company whose stock is mentioned in this article.