While I am usually not a believer in looking at day-to-day variations in stock prices (as they are essentially random), I looked at daily closing values for the S&P 500 from 1950 to now and saw some interesting trends. The first graph below shows the trailing 12 months average of daily returns in red (values on the right vertical axis) and the standard deviation of those same returns in blue (values on the left vertical axis).
Click to enlarge images.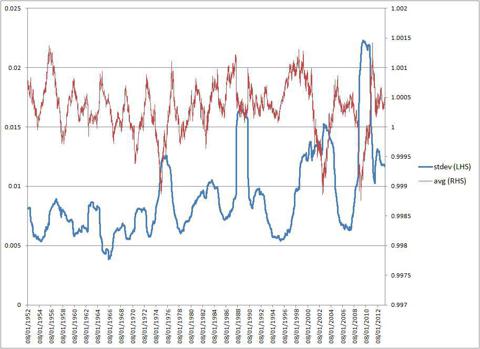 Click to enlarge
I see a few interesting things here:
The average daily returns vary in a band between 0.999 and 1.001, although the more recent portion of the red line seems to change direction less often since 1994 than ever before.
The three times when the average dipped below 0.999 were late 1974, mid-2002, and early 2009 -- each of those times were pretty great times to buy stocks.
On the top end, average returns being overly high don't seem very correlated to good or bad times to invest.
The standard deviation of returns is trending up over time, with the three noticeable peaks again being tied to great times to invest. Perhaps the general increase in standard deviation is a sign of the information age (since the mid-1990s), where small bits of information quickly generate larger daily swings.
The next graph shows the effect of this in a much more striking way. Take the return every day and assume you were on the right side of the trading that day (i.e., fully short if it was a negative day, fully long if it was a positive day). Now take the trailing 12 months product of those returns (this is basically guaranteed to be > 1, since you take the inverse of any negative days). The graph shows the 12-month product, where 2,000 means a return of 2,000x in one year! Obviously, a crystal ball to generate this return does not exist, but the trend in what it would achieve again highlights the massive increase in standard deviation over time.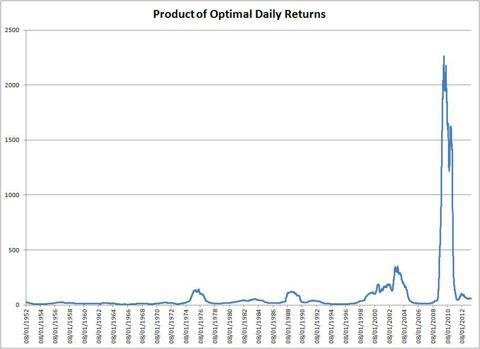 Click to enlarge
So what does all this tell us? One thing is that if standard deviations are very high and the average return has been horrible in the past 12 months, you will probably benefit by buying the market (NYSEARCA:SPY) aggressively. If you want to take on more risk, you could even wait for the magical threshold of 0.999 for average returns -- although there are only three data points above, so it's hard to say if the absolute value is very reliable. Another thing is that standard deviation and volatility are going up generally, so you have to be careful not to read too much into daily stock price fluctuations.
Disclosure: I am long SPY. I wrote this article myself, and it expresses my own opinions. I am not receiving compensation for it (other than from Seeking Alpha). I have no business relationship with any company whose stock is mentioned in this article.