To capture a broad view of the U.S. Equities market we examine recent performance of eleven sector funds from the Vanguard group and then branch out to Bullish Percent Index (BPI) of market indexes. The following table ranks the performance of sector ETFs based on three calculations.
Performance over the most recent three months. (50% weight)
Performance over the most recent six months. (30% weight)
ETF Volatility (20% weight)
In addition to performance and volatility factors, a momentum calculation is included to determine which sector ETFs are growing at a faster rate. For example, the second ranking ETF (NYSEARCA:VPU) has a momentum value of 100%.
This sector ranking is also applied to ETFs in general as seen in this Seeking Alpha article.

Index BPIs: A broad view of the market is found in the following table and there are initial signs of weakness. During this past week all major indexes handing the ball over to the defensive. Of special significance is movement by the NYSE where it not only moved from X's to O's, but also dropped below the 70% over-bought area for the first time in several months. This was not unexpected as we move into that time of year when the broad stock market is weaker. Check out this presentation for the seasonal anomaly.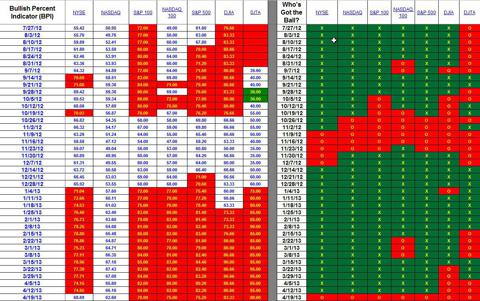 Sector BPIs: Drilling down into the sector Bullish Percent Indicators we see the market weakening piece by piece. The most recent reversal from offense to defense is the Health sector. While the VHT ETF is ranked number one, the Health BPI is beginning to show weakness so we will need to keep a close eye on VHT to see if there are stocks within this ETF that will keep it growing.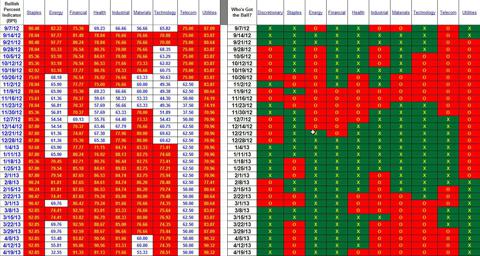 Using index BPI information it behooves investors to be a patient buyer of securities as we move into the "Sell in May" period.
Disclosure: I am long VFH, VHT. I wrote this article myself, and it expresses my own opinions. I am not receiving compensation for it (other than from Seeking Alpha). I have no business relationship with any company whose stock is mentioned in this article.