One of my favorite REITs is Tanger Factory Outlets (NYSE:SKT). Not just because the Greensboro-based company is just a few hours away from my hometown (Greenville, SC) but more so because I really admire the company's CEO, Steven B. Tanger. I guess I could also say that Tanger is my "home town" favorite since the Carolina-based REIT helped transform the course of the outlet sector by opening its first strip center with brand name outlet stores in Burlington, North Carolina (in 1981).
It was Stanley Tanger, CEO from inception thru 2009, who was the catalyst for the Tanger Factory Outlet brand as he was responsible for turning the city of Burlington into a destination for shoppers who often arrived by the busload (four banks turned him down before he obtained a loan to launch the business). Tanger died a little over two years ago and his son, Steven B. Tanger (President & CEO), has excelled under the company's leadership by following his father's bold and dynamic management style.
It was no surprise that Warren Buffett snapped up around 5.3% in Tanger shares back in 1999. According to sources, Buffett's original purchase was for around $8.7 million and the purchase was made individually by Buffett, not through his Berkshire Hathaway Inc. (NYSE:BRK.A). I'm not sure if Buffett still owns any shares in Tanger today, but it's clear to see that his investment would have been a spectacular wager for the Oracle from Omaha (SKT's total annualized ROR from 1999 is 16.4%).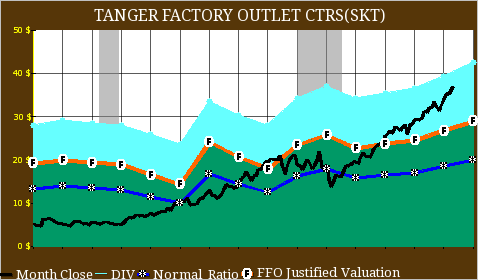 Now the above FAST Graph clearly illustrates Tanger's exceptional operating efficiency. As most know, REITs are valued based on cash distributions - or Funds from Operations - the standard metric for distributing to shareholders. In order to deliver attractive earnings, a REIT must be capable of producing solid and consistent Funds from Operations (or FFO). The chart (referenced above) clearly depicts a highly predictable and consistent level of FFO growth (as indicated by the orange line marked "F").
Moreover, it is also clear that Tanger's share price (the black line) and FFO (the orange line marked "F") in the correlated graph has closely tracked FFO. The blue shaded area represents the consistency and sustainability of Tanger's dividends distributed to shareholders. This consistent level of growing income distributions is an important aspect of the investment merit for Tanger. Furthermore, Tanger's consistent earnings history and the company's value proposition can be summed up by the namesake CEO, Steven Tanger (source: SKT Investor Presentation):
In good times people love a bargain, and in tough times, people need a bargain.
But wait a minute. It seems that based upon Tanger's share price today of $36.98, there is no bargain. In fact, arguably Tanger, with a P/FFO multiple of 21.0x is somewhat expensive and perhaps the pitch (Charlie Munger) that one is "buying a wonderful business at a moderate price" is now more like buying a "wonderful business at a moderately expensive price."
Is it possible that Tanger can be a "bargain-based retail landlord" while at that same time being a high-quality "blue chip" REIT? I made that argument a few months ago when Goldman Sachs downgraded Tanger from a neutral to a sell rating. In that article I wrote:
Rebalancing is an important part of investing and I can understand the importance of "jumping off the train" when valuations are expensive. However, there are plenty of other stocks in the Goldman "universe" that are at more risk than Tanger shares. In fact, Tanger has one of the most reliable dividend platforms in REIT-dom (only unmatched by a handful of REITs) and the company's stalwart balance sheet is simply sound.

Enough said. Tanger is a SWAN (sleep well at night) REIT and a sell now is foolish.
Let's Take a Closer Look at Tanger
Tanger, with a market cap of around $3.5 billion, is the only "pure play" outlet REIT and is part of the Regional Mall sub-sector. Of course, Simon Property Group (NYSE:SPG) - with a market cap of over $54.6 billion - is almost twice the size of all of the Regional Mall REITs combined.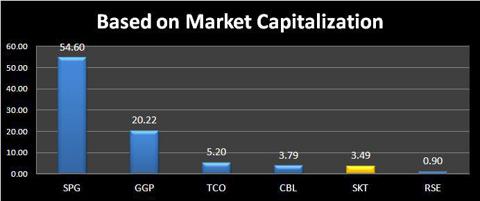 Over the previous five years, Tanger has grown assets by over 40%, or from around $1.17 billion (in 2005) to around $1.7 billion today (as of Q4-12). The company's portfolio consists of 43 upscale outlet shopping centers in 26 states coast to coast and in Canada, totaling approximately 12.9 million square feet leased to over 2,700 stores operated by more than 460 different brand name companies. Since 2005, Tanger's enterprise value has grown by over 150%.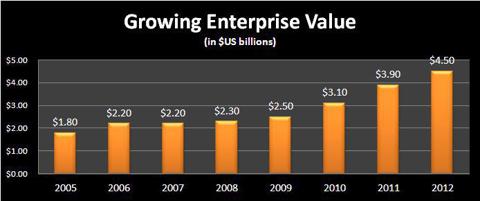 One of the most compelling investment attributes for the Tanger brand is the attractive supply dynamics. Tenant demand for outlet space continues to increase and new supply is limited, with only a few disciplined public REIT developers that have access to capital and the expertise to deliver new projects.
Accordingly, the outlet industry is relatively small - estimated to be around 50 million square feet - and as Steven Tanger explained during the company's latest earnings call (Q4-12):
We remain optimistic about the growth prospects of our company and for our industry. As shoppers continue to seek branded value and we believe the tenant community continues to indicate its desire to expand into new markets in the United States and Canada and continue to choose Tanger as a preferred partner.
Tanger enjoys broad relationships with many high credit quality retail chains - the majority of which are publicly held. This well-balanced model provides Tanger with an exceptional margin of safety with over 2,700 stores and growing. Here is a snapshot of Tanger's top 10 tenants: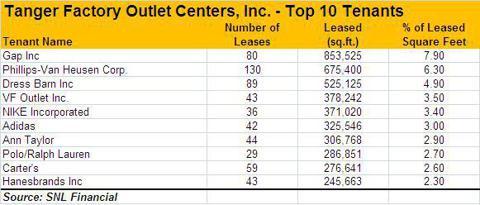 Among the "best in class" brands are Nike Inc. (NYSE:NKE), Ann Taylor (NYSE:ANN), Adidas (OTCQX:ADDYY), Dress Barn, Gap Inc. (NYSE:GPS), Polo/Ralph Lauren (NYSE:RL), VF Outlet (NYSE:VFC), Carter's (NYSE:CRI), Coach Inc. (NYSE:COH), Michael Kors (NYSE:KORS), Saks Inc. (NYSE:SKS), Chico's (NYSE:CHS), and Under Armour (NYSE:UA).
As many retailers continue to allocate capital to e-commerce, the majority of them are also allocating capital to the growing outlet sector and Tanger has become an exceptional leader - the "go to" outlet landlord of choice. As Steven Tanger explained during a recent earnings call (Q4-12):
The CEOs of our tenant partners today are still allocating tremendous capital to growing the outlet distribution channel. We've not seen that change. We are working hard to get our fair share of their allocation of new stores in 2013.
Tanger's "defensive" landlord positioning has provided the company with tremendous growth prospects. With more than 180 million shoppers visiting Tanger Factory Outlet Centers annually where consumers are driven to shop for high quality merchandise where they find exceptional value.
The Value Proposition for Being a Tanger Landlord
As mentioned above, Tanger is the "landlord of choice" for many leading retailers. How do the retailers compare with Tanger?
As most know, REITs are forced to payout over 90% of earnings in the form of dividends; however, non-REITs only payout dividends at will. Of course, that is the attraction for REITs in that the dividend income is the anchor for the "total return" equation (around 60% of a REIT's total return is made up of dividend income). As referenced above, Tanger has a diversified portfolio that consists of many publicly-traded retailers, many of which pay out dividends. So let's compare Tanger's dividend yield with the company's tenants' dividend yields: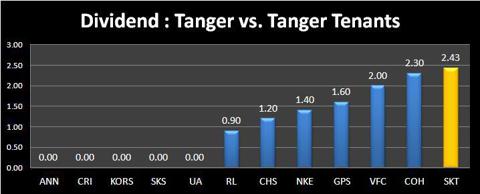 Of course it should be no surprise that Tanger has a higher dividend yield since REITs are structured as such; however, remember that REITs are forced to pay out dividends while non-REITs can cut dividends "on a dime" or at that whim of a board meeting.
But what about Tanger's stock price growth compared with the company's tenants?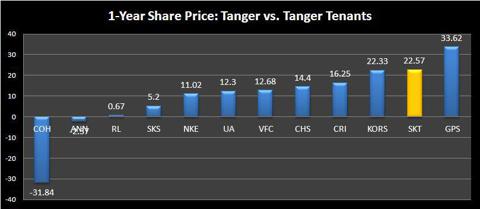 Wow. With the exception of Gap Inc. (stock increased 33.6% in a year), Tanger shares have increased by over 22%. Not bad for a landlord and perhaps the reason that Mr. Market really likes the diversified tenancy associated with the well-positioned "bargain-based" brand.
What Makes Tanger a Sustainable REIT Brand?
In the book, Repeatability: Build Enduring Businesses for a World of Constant Change, Chris Zook and James Allen's book, the coauthors, explain (see my Forbes.com book review here):
Differentiation if the essence of strategy, the prime source of competitive advantage. You earn money not just by performing a valuable task but being different from your competitors in a manner that lets you serve your core customers better and more profitably.
In a recent earnings call (Q4-12), Steven Tanger remarked:
…You may realize that at 98.8% or 98.9% occupancy we are at virtual statistical full occupancy.
Simply said, Tanger has a waiting list of tenants. This is one of the few REITs (and perhaps the only REIT) where there is a line forming for companies to move in - Tanger is one of the few REITs that has built this "bargain-based" retail strategy on vivid differentiation. The power of "repeatability" can be best illustrated with the snapshot below - Tanger has never dropped below 95% occupancy since during its 32nd consecutive years (since its IPO in 1993):

Also part of Tanger's lasting differentiation is the average tenant sales per square foot. With record 2012 sales of $376 per square foot, Tanger Centers are performing exceptionally well as the consumers are flocking to shop at the namesake properties with a broad mix of value-driven "best brand" products.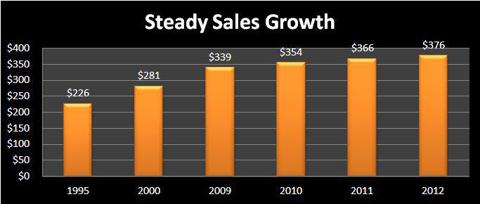 Tanger's stable lease expirations are also part of the durable and consistent occupancy trends. Accordingly, Tanger has a portfolio of well-laddered leases that provide balanced rollover risk. Through December 31, 2012, Tanger executed 458 leases totaling 1,986,000 square feet. Lease renewals during that year accounted for 1,536,000 square feet or about 89.7% of the space coming up for renewal during 2012. These leases yielded an increase in average-based rental rates of 16.3%, up from 13.1% for lease renewals executed during 2011.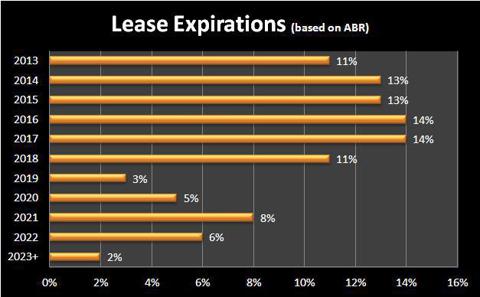 Tanger's fourth quarter (2012) same center net operating income growth of 4.7% extends the REIT's streak of positive same center NOI growth to 32 consecutive quarters, dating back to the first quarter of 2005 when the company began tracking this metric. During 2012, same center NOI increased 6% compared to 5.3% increase in 2011. This growth resulted from both continued increases in rental rates and from higher average occupancy rates in 2012 compared to 2011.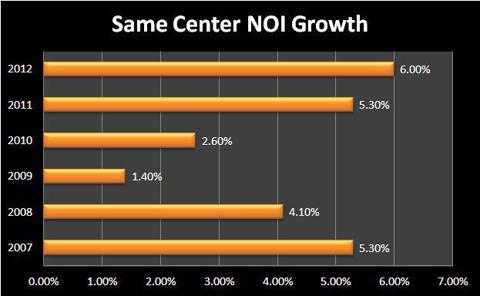 A 31.7% blended straight-line rental rate spread on the renewal and releasing of space throughout the consolidated portfolio during the quarter boosted Tanger's rental rate increase for the year to 25.5%. The year-to-date rent spread was 24.9% through September 30, 2012. This 2012 full year blended straight-line rental rate spread represents a 210 basis points increase over the prior year spread of 23.4%.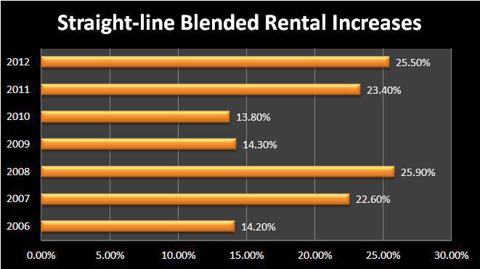 Tanger Has a Blue Chip Balance Sheet
Tanger is an investment grade rated REIT (S&P BBB) that continues to thoughtfully use its resources to maintain a conservative financial position. This solid balance sheet consists of around $1.1 billion in debt with no significant maturities until November 2015, and approximately 91% of unencumbered properties. As the snapshot illustrates below, Tanger has the least secured debt among the peer group: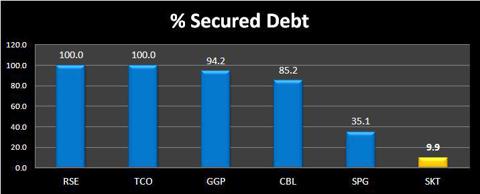 In addition, Tanger has maintained a healthy debt-to-market cap ratio and it now stands at around 24.41% (as of Q4-12):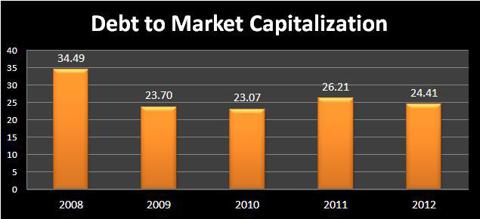 Tanger has the lowest debt-to-market cap ratio in the peer group and the company also has one of the lowest debt ratios in the REIT industry today (as of Q4-12):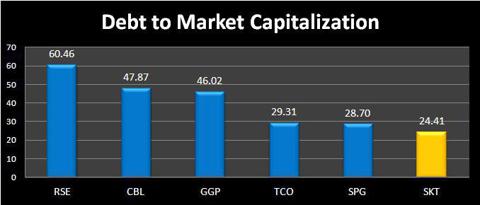 Tanger has a $520 million line of credit that is approximately 66% unused (as of Q4-12). That provides Tanger ample liquidity (in addition to its free cash flow discussed below):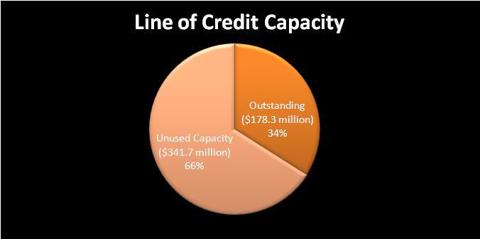 As of Q4-12 approximately 60.8% of Tanger's debt was at fixed rates. In addition, Tanger's floating rate debt is about $428 million, and its enterprise value is about $4.75 billion. So the percentage of floating rate debt to enterprise value is only 9.5%, which is either the low end of the mall REIT peers.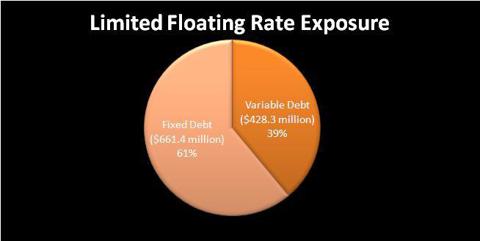 Tanger internally generates around $80 million or so free cash flow over dividends, which is used to fund - or internally fund - without increasing its line and the equity share of the company's joint-ventures (or to pay down the line). That conservative "pay as your play" model provides tremendous flexibility to Tanger's "blue chip" balance sheet.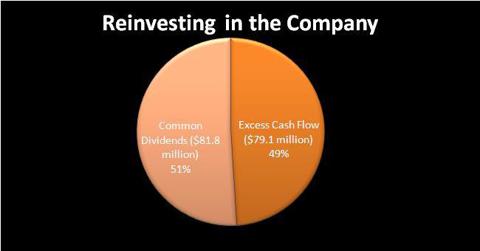 Tanger - Will Soon Be a Dividend Aristocrat
Tanger reported that its year-end funds from operations (or FFO) was $1.63 per share, an increase of 13.2% from $1.44 per share in 2011. Adjusted FFO for 2012 increased 12.2% to $1.65 per share, compared to $1.47 per share for 2011. This year-over-year increase is a direct result of Tanger's ability to continue to drive rental rates and grow same center NOI, as well as the accretive impact of the acquisitions made during 2011. Here is a snapshot of Tanger's historic funds from operations: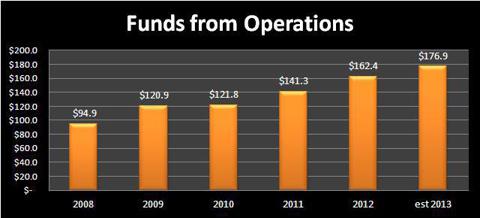 Here is a snapshot of Tanger's historic FFO per share: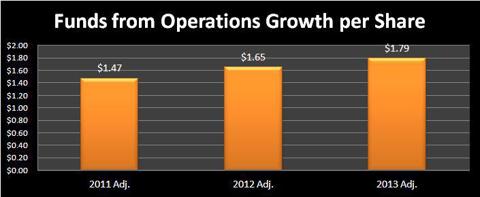 Tanger is only a handful of REITs that has raised its dividend each year since going public. The short list includes Federal Realty (NYSE:FRT), HCP, Inc. (NYSE:HCP), Universal Health Realty (NYSE:UHT), National Retail Properties (NYSE:NNN), Essex Property Trust (NYSE:ESS), Realty Income (NYSE:O), Tanger Factory Outlets, Urstadt Biddle Properties (NYSE:UBA), W.P. Carey (NYSE:WPC), National Health Investors (NYSE:NHI), and Omega Healthcare Investors (NYSE:OHI).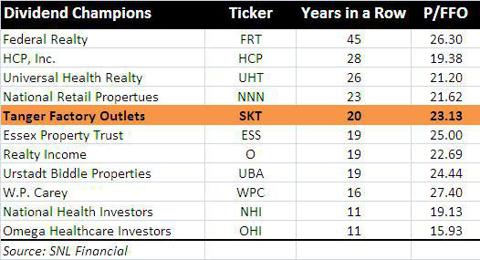 As illustrated below, Tanger has increased its dividend for 19 years in a row (Tanger will pay a cash dividend on May 15, 2013 and that will mark the company's 20th year and its qualification as an S&P "Dividend Aristocrat"). See my article on REIT Dividend Aristocrats here.

Tanger's dividend policy has been exceptionally consistent as the company recently approved a 7.1% increase in the annual dividend on its common shares from $.84 per share to $.90 per share. That's also consistent with the mall peers recent first quarter increases (note: RSE increased its dividend by over 85% in its first year as a new REIT):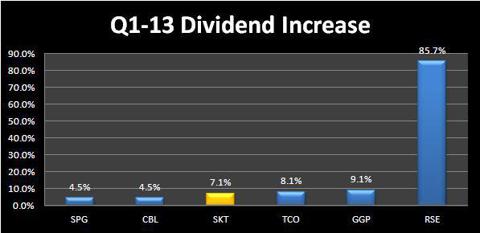 Also, Tanger increased its dividend by an average of 5% over the last three years. The company's FFO payout ratio of 46.67% indicates the company could increase its dividend even more. In addition, Tanger's dividend is well covered; its FAD payout ratio for 2012 was approximately 56% and at these levels, Tanger generates significant incremental cash flow over its dividends, which enhances Tanger's ability to fund growth and/or to reduce amounts outstanding under its lines of credit.

Tanger Drives Total Returns Consistently
Clearly, Tanger's balance sheet and durable income drive its dividend; however, one of the strongest differentiators for the "pure play" outlet brand is its growth. As Steve Tanger explained during a recent (Q4-12) earnings call:
We are a growth company in a growth sector with a balance sheet that is a fortress. And that allows us to make plans to continue to develop successful outlet centers.
During the fourth quarter of 2012, Tanger expanded its total gross leasable area by 8% through joint-venture arrangements with two newly developed outlet centers in the United States, and acquired two existing outward centers in Canada.
The high demand for outlet space coupled with Tanger's reputation within the industry has afforded the company a robust external growth pipeline throughout the United States and Canada. During the recent (Q4-12) earnings call, Steve Tanger explained his company's Canadian investment strategy:
There is a scarcity of product in Canada. There are also is a scarcity of developable land. The cost of the land and the time involved, and the cost of the development process, and the entitlement process and the construction in Canada due to the climate is greater than the States. However, the value creation for our stakeholders is about the same, because the resale cap rate in Canada is below the resale cap rate in the States. So we add significant value when we open new centers in Canada.
Tanger's growth has provided investors with sound risk-adjusted returns. Here is a snapshot of Tanger's 1-Year Total Return vs. its peer group: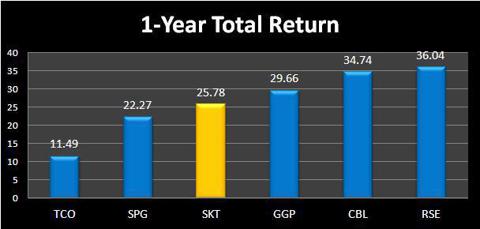 Here is a snapshot of Tanger's 3-Year Total Return vs. its peer group: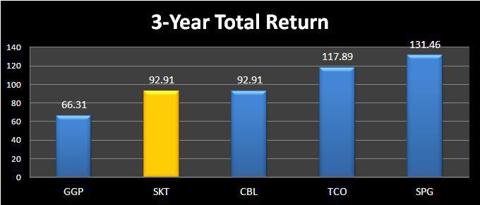 Here is a snapshot of Tanger's 5-Year Total Return vs. its peer group (Tanger leads that time frame with a total return of 115.48%):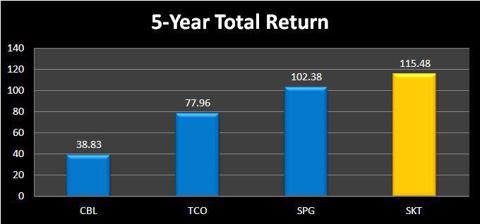 Here is a snapshot of Tanger's 10-Year Total Return vs. its peer group (Tanger leads the time frame with a total return of 602.51%):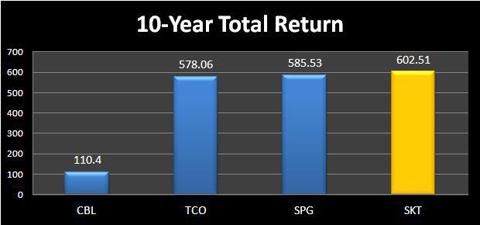 Could Tanger Be a Bond Proxy REIT?
In 2000 Warren Buffett increased his stake in Tanger from five percent to more than thirteen percent. At the time of the initial purchase (by Buffett), Tanger was trading at a lower multiple and the dividend yield was around twelve percent. Tanger shares grew by over 25% when the legendary investor purchased shares in the outlet REIT.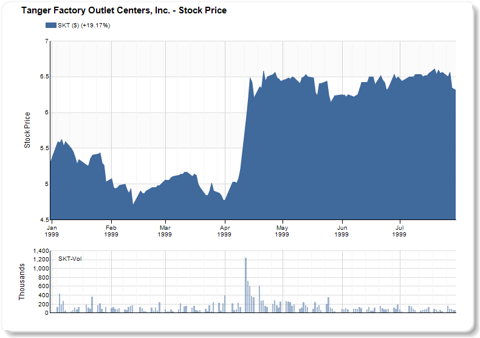 According to an April 26, 1999 article in The Business Journal (by Doug Campbell), Buffett likely purchased shares in Tanger as a fixed income product. In other words, Buffett likely wasn't investing in Tanger as a "buy and hold" investment but more so as a "corporate bond alternative." Robert Hagstrom, who has written several books on Buffett explains:
He's bought the spread, the difference between the fixed income yield and the REIT equity. It was not a signal that REITS are the equity alternatives. But it's probably not a bad example that the REIT market is underpriced.
Of course, given the current price of Tanger shares today ($36.98), it is not very likely that Buffett (or even the legendary Ben Graham) would pull the trigger now. It is clear that Tanger is doing a terrific job increasing its "wide moat" and Mr. Market favors the established Tanger brand for its high quality income stream.
I can't get excited about Tanger's 2.42% dividend yield, but I can get excited about the company's stalwart reputation for managing capital. I believe Tanger has a long runway for growth and the management team is doing a fantastic job at building a "best in class" REIT for the "best in class" retail outlet brands.
Tanger hit an all-time high of $37.93 on April 11th (2013), and given the extraordinary growth and above-referenced competitive advantages, I believe Tanger will hit $44 by the time Santa Claus makes deliveries to my house. Combined with the dividend yield (2.42%), Tanger shares should return at least 20% this year.
In closing, Tanger is one of the best run REITs today and it doesn't appear that Mr. Market is going to allow The Intelligent REIT Investor to capitalize on the shares due to a narrow "margin of safety" in the shares. However, compared with non-REITs (and many of the publicly-traded tenants of Tanger), Tanger is a possible "bond proxy" that should continue to provide durable risk-aligned income and safety. Ben Graham explained Tanger's competitive advantage the best when he wrote (in The Intelligent Investor):
It is the consistency in the products that creates consistency in a company's profits. Consistency and durability are attributes for competitive advantage.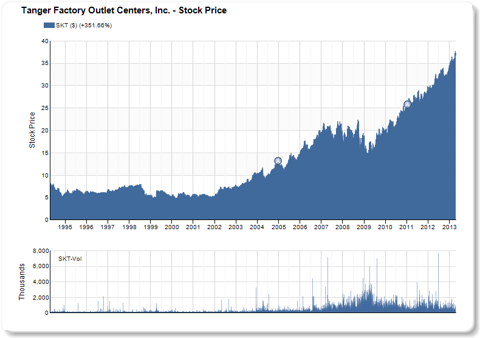 Source: FAST Graphs, SNL Financial, Tanger Investor Presentation
Other REITs mentioned in this article: (NYSE:RSE), (NYSE:GGP), (NYSE:CBL), (NYSE:TCO).
Disclosure: I have no positions in any stocks mentioned, and no plans to initiate any positions within the next 72 hours. I wrote this article myself, and it expresses my own opinions. I am not receiving compensation for it (other than from Seeking Alpha). I have no business relationship with any company whose stock is mentioned in this article.