Coach (NYSE:COH), the luxury retail handbag and women's and men's accessory maker that has been under assault on a number of fronts from Michael Kors (NYSE:KORS), reports their fiscal 3rd quarter, 2013 results before the bell on Tuesday morning, April 23rd.
Analyst consensus is looking for $0.81 in earnings per share on $1.18 billion in revenue for expected year-over-year growth of 5% and 6% respectively. The Q3 '13 EPS estimate has been stable since the January '13 report, while the revenue estimate has ticked slightly higher.
Since publishing our first article on the stock in mid-February, COH is up about 10% since our original buy point.
There is no question the stock has been punished the last 12 months, as it is down over 30% the last year on eroding market share in handbags, and what some think is a stale product mix. To remedy this, Lew Frankfort has brought in some additional talent, with the intent of broadening the product lines and competing more effectively in the high-end luxury retail market.
While we won't add to the position prior to Tuesday morning's release, we remain comfortable with the stock for the following reasons:
1.) COH sports a free-cash-flow yield (4-quarter trailing free-cash-flow divided by market cap) of 9%. The retailer is still generating plenty of free-cash-flow, which has been spent repurchasing stock and hiking the dividend. COH boosted their dividend at year-end '12, bringing it to a 2.5% annual yield, which for a growth stock can be a mixed blessing.
2.) COH laps easier margins for the next two quarters, as in mid 2012, COH's operating margin fell to 30% for two consecutive quarters, before bouncing back to 35% last quarter.
3.) As long as China comps don't fall off the table (11% the last two quarters) and with Japan improving, US comps just need to stabilize after declining steadily the last 6 quarters.
4.) High end luxury retailer like Tiffany (NYSE:TIF) has held up very well, despite what we think are tougher numbers than COH. TIF is valued at 20(x) cash-flow while COH is at 10(x) cash-flow with plenty of free-cash. Despite what seems to be a harsher economy, high-end retail has held up well.
5.) Finally, COH hasn't really generated an upside surprise or a revenue upside since September 2011. The fact that the consensus revenue estimate hasn't been eroded, and in fact is slightly higher since the January report is a plus.
The downside or big negative is that I am a numbers/finance geek, not a fashion hound. I don't know what kind of a women's handbag or women's shoes drives traffic, or stimulates sales, vis-a-vis another retailer. In this case, I have to run the numbers, check the valuation and ultimately trust the management team.
Our internal valuation model values COH near $55, while Morningstar assigns an intrinsic value of $63. We would buy more COH closer to $45 - $46, as long as it doesn't trade below $45 on heavy volume, in which case it could be broken.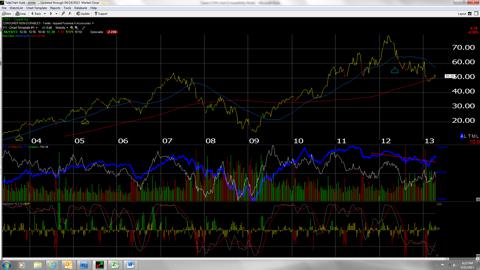 Disclosure: I am long COH. I wrote this article myself, and it expresses my own opinions. I am not receiving compensation for it (other than from Seeking Alpha). I have no business relationship with any company whose stock is mentioned in this article.