On Tuesday afternoon, the financial world will come to a screeching halt. It will seem as though time is stopping. This four times a year phenomenon is commonly known as Apple's (NASDAQ:AAPL) earnings report. The technology giant will report its fiscal Q2 results and give an update on where it sees Q3 heading. It might even announce some plans for that ever growing cash pile. Today, I'll be here with my quarterly earnings preview. My goal today won't be to provide predictions as to whether Apple will sell 35.2 or 35.3 million iPhones, for example. My efforts today will be to focus on the important numbers investors need to watch, and the themes we will see in both fiscal Q2 and Q3. I'll also explain why in the end, we're basically just playing the analyst game.
Past results:
Before I get into the current quarter, it's always good to look back at past results. The table below shows fiscal Q2 in the last two years, with last year's Q2 period in yellow. I also included this fiscal year's Q1, so you can get an idea of how things are sequentially.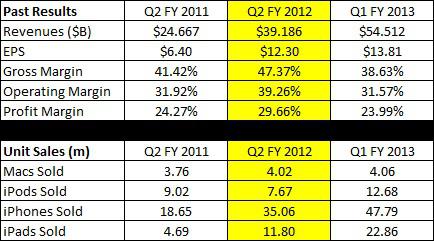 Last year's Q2 marked the high point for Apple's margins. Since then, margins have been coming down, one of the reasons why Apple's stock has gotten crushed.
Apple's guidance for Q2:
Apple provided the following guidance for its fiscal 2013 second quarter:
revenue between $41 billion and $43 billion
gross margin between 37.5 percent and 38.5 percent
operating expenses between $3.8 billion and $3.9 billion
other income/(expense) of $350 million
tax rate of 26%
Based on the midpoints of this guidance, and using the diluted share count at the end of Q1, I got a rough earnings estimate of $9.73 for Apple. Depending on what you thought Apple would do with its buyback, you may have an estimate a few pennies off.
Apple stated that starting with fiscal Q2 guidance, it would be providing more realistic guidance. In recent quarters, Apple would only provide revenue, earnings, and gross margin guidance, and would provide a set number, not a range. This time around, and the expectation is that we will see it this way going forward, Apple provided a range for various numbers, but did not provide an earnings number (which you can easily calculate). Apple had been known for providing very low guidance and then beating its own estimates by large margins. This will be the first quarter with more realistic guidance, and we'll see what that actually means.
Base case:
In this section and the next, I'm going to cover some themes that have impacted Apple's product lines during the quarter. Like I've done in previous quarters, I'm going to show basically where Apple needs to come in to meet analyst estimates. But this quarter, instead of using my own projected average selling prices, I'm going to use those from fiscal Q1. I can then show you how those prices are impacted and how that will impact the results. The following table shows where analysts roughly think Apple will come in for the Mac (median 4.1 million), the iPad (median 18 million), and the iPhone (37 million). Since there are no consensus numbers for iPod, I've roughly estimated where I think that number will be. Since the total revenues for the iPod should be about $1.25 billion at best, if I'm off by a little here or there it probably won't matter.

This table also assumes that Apple will generate $3.65 billion in "other revenues". These are revenues that come from the iTunes store, App store, other software and hardware revenues, etc. If Apple comes in at all of these sales and selling prices levels, plus the $3.65 billion in other revenues, the quarterly total will be $42.51 billion. That's slightly ahead of current expectations.
Breaking down the product lines - iPhone:
Since the iPhone generates the most revenues, I'll start there. The median expectation is for 37 million unit sales, which would represent 5.6% growth from last year's period. That would also be a sequential decline of about 11 million units from the 47.8 million units sold in fiscal Q1. There are a few items to consider. First, as I've been mentioning in several past Apple articles, the iPhone 5 went on sale in more countries than the 4S. That should help sales. On the other hand, the iPhone 5 went on sale a few weeks earlier in the calendar than the 4S. Apple sold a few million units of the 5 in fiscal Q4 of last year before the nearly 48 million total iPhone count (including older models) in fiscal Q1. The 4S version went on sale during fiscal Q2 in China, but this time around, the 5 went on sale in December, during fiscal Q1. That will offset some of those gains from a higher number of countries. Also, since it's been 7 months since the original launch of the 5, demand for the phone will start to weaken. Many expect a new iPhone launch (or two of them) later this year, so some consumers will start to hold back purchases waiting for the new one(s). While this issue will have a larger impact on fiscal Q3, it could hurt Q2 a little as well.
The only major carrier so far to report earnings has been Verizon (NYSE:VZ), which activated 4 million iPhones in its quarter. That represents solid growth over the year-ago period, but analysts are mixed as to what this number means for Apple. Here are some thoughts, taken directly from the article.
Good for Apple: 4 million iPhones is 25% better than the 3.2 million Verizon activated in the same quarter last year.
Good for Apple: 55.5% of the smartphones Verizon activated in Q1 2013 were iPhones, which is better than the 51% Verizon activated in Q1 2012.
Bad for Apple: Verizon reported that only half of those iPhones were the newest model (i.e., the iPhone 5), which is less than the 60/40 split some analysts were expecting. Piper Jaffray's Gene Munster estimates that will lower Apple's average iPhone selling price 4%.
Bad for Apple: In December, the first full quarter of iPhone 5 sales, Verizon activated 6 million iPhones (63% of its smartphones). The 33% quarter-to-quarter fall-off this year (from 6 million to 4 million) is a bigger than the quarter-to-quarter fall off last year (24%).
Gene Munster brings up a good point, and it is one I've mentioned before. Apple seems to be seeing solid demand still for older models of the iPhone like the 4S, which will bring down the average selling price. Obviously, Apple generates more revenues from the newer iPhone 5 than it does with older models. In fiscal Q1, Apple generated $641.57 per iPhone sold, and the average selling price could be key. If that number falls to $635, for example, Apple would need to sell more iPhones, and that getting an extra half million or so phones could be difficult in this environment. Additionally, as we get closer and closer to the newer models of the phones, you'll see more discounts. In the past, the average selling price has declined as we get closer to launch.
Breaking down the product lines - iPad:
The iPad is expected to show tremendous growth in this quarter. The median expectation of 18 million units is well above the 11.8 million in last year's period. Of course, this is due to the launch of the iPad mini. The smaller, lower priced model is expected to generate a fair amount of unit sales, but it will obviously lower the average selling price.
This quarter and next will be very interesting ones for the iPad. In fiscal Q2 last year, Apple launched the third generation iPad, which first went on sale in mid-March. Further launches occurred over the next couple of months. That provided a slight boost late in Q2 to iPad sales, and that carried through to fiscal Q3. Apple did not launch a new version in March this year, so that will hurt Q2 and Q3 numbers a bit. Optimists are hoping that the mini will fill that void. Apple is expected to launch new versions of the regular iPad and mini during the second half of calendar 2013.
In fiscal Q1, Apple's average selling price for the iPad was about $467. In fiscal Q2, that number will obviously depend on the ratio of minis to regulars. If more minis are sold, the average selling price will be lower. The mini iPad is also a bit lower margin, so more units sold of the cheaper model will hurt margins as well.
Breaking down the product lines - Mac:
This is a very weak time for the computer industry. Apple has to share some of the "blame" for that, as the rise of tablets and smartphones has hit PC sales hard over the past year. Even though Apple has a loyal following, analysts are only expecting a 2% rise in Mac sales to 4.1 million. That's not a lot of growth. I personally think there's some room for an upside surprise here, but even if Apple comes in at like 4.25 million Mac sales, that doesn't provide a tremendous revenue boost. At 4.25 million, you're talking about a revenue boost of maybe $200 million.
Apple blamed last quarter's Mac miss on supply issues, and that could provide some help to Mac sales this quarter. In fiscal Q1, Apple saw a nice rise in average selling prices, mostly thanks to those expensive MacBook Pro models. The 15 inch versions with Retina display start well over $2,000. Selling one of those could generate twice the sales of an "average" model. On the other hand, the $599 Mac minis will bring down the average sales price.
Breaking down the product lines - iPod:
The iPod is the least important segment for Apple, but it still generates some revenues. In fact, in calendar year 2012, the iPod generated about $5.2 billion in revenues. That's still a decent amount of revenues, and it is more than Yahoo (NASDAQ:YHOO) generated. Apple's year-over-year numbers for the iPod are coming down, and if the unit gets about $1 billion to $1.25 billion this quarter, that will be fine. These revenues don't include iTunes, they just are product sales.
Analyst expectations:
When looking at analyst expectations, you can't just say look at them now. You also have to be aware of where they have been. When I stated that Apple could take another beating, I was talking about the stock falling as analysts cut their expectations. As Apple approached its fiscal Q1 report back in January, analysts started taking down their numbers, worrying that Apple's guidance would be below expectations. Apple's guidance was a bit below expectations, which caused the stock to drop, and obviously analysts to cut their numbers. The table below shows how analyst estimates have changed over time. The yellow line is the day that Apple reported fiscal Q1.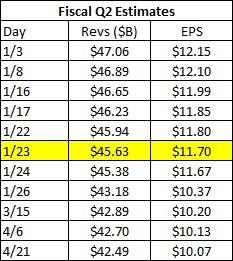 Just in the last couple of weeks, analyst numbers have come down some more, and these numbers are as of Sunday morning. It is possible, potentially even probable, that these numbers will change before Apple reports on Tuesday. Analysts could cut their numbers even further, but that would obviously increase the probability that Apple beats expectations. Remember, Apple's midpoint guidance pointed to revenues of $42 billion and earnings per share of $9.73, so analysts are a little above that guidance. Despite Apple's pledge for more realistic guidance, analysts still believe that Apple was a bit conservative with its forecast. For longs, hopefully that is true.
Analyzing margins:
In last year's fiscal Q2, Apple hit a perfect storm of events that pushed its margins to a new high. A large share of its revenues came from the iPhone, which helped margins. The iPhone 4S was coming to the end of its "life expectancy" before a new phone was released, at which time economies of scale and cost efficiencies were kicking in. Apple's gross margins jumped above 47%, which obviously pushed the other margin categories higher as well. You can see Apple's recent gross margins in the chart below, and I've included the midpoint of Apple's guidance for this fiscal Q2 as well.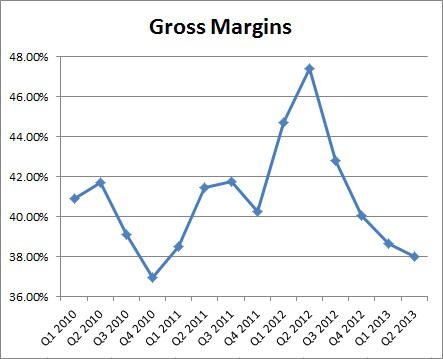 Apple's margin rise could not last forever. Competition has expanded, and Apple's margins have come down. As I'll detail later, cheaper tablets caused Apple to come out with the iPad mini, which carried significantly lower margins than the regular. Also, Apple launched a ton of new products in October 2012, their largest product launch in company history. When Apple launches new products, it takes a quarter or two for those costs to start coming down. We're seeing that now. The expectation is that margins will improve into fiscal Q3, as those economies of scale and cost efficiencies kick in. As Apple introduces newer and lower margin products, margin gains will be capped. We are not likely to see Apple margins near 45% again in the near future. Apple's gross margins are returning to a more realistic longer term level, and for now, that's between 36% and 40%.
But while gross margins are important, they are not the only margin category I follow. Apple's operating and net profit margins are just as important. Even though Apple's gross margins are coming down, Apple's operating expenses as a percentage of revenue have declined in recent years. That means that if Apple gross margins decline by say 800 basis points, operating margins may only decrease by 700. Apple's ability to recoup some of those gross margin losses further down the income statement are key to whether or not Apple meets EPS targets.
So let's look at operating expenses first. Apple guided to fiscal Q2 operating expenses of $3.8 billion to $3.9 billion. Taking the midpoints of that and revenue guidance, you get 9.17% of revenues, more than a full percentage point higher than the 8.12% of revenues we saw in last year's period. It also seems odd to many that the midpoint of their guidance, $3.85 billion, equals the total operating expenses from fiscal Q1, $3.85 billion. But Q1 had more than $54.5 billion in revenues, and Q2 is expected somewhere in the $41 to $43 billion range. To me, there's a slight disconnect there, and maybe Apple can pick up a little here. Even if Apple comes in just $200 million better than guidance, you could be talking about 15 to 18 cents on the bottom line. That's a huge amount, and could be the difference between a beat and a miss.
Further down the income statement, Apple guided to other income of $350 million and a tax rate of 26%. While those numbers may seem inconsequential so far down the income statement, they still are important. An extra few million in other income, or a 10 or 25 basis point difference in the tax rate, could equal a number of cents on the bottom line. With earnings per share expected to plunge about 20% over last year's period, every penny will matter.
Balance sheet items to consider:
One item that investors have been increasing their focus on when it comes to Apple is the balance sheet. Apple had over $137 billion in its cash pile at the end of last quarter, and that pile was composed of cash and equivalents, short-term investments, and long-term investments. About two-thirds of that cash pile was foreign held. The table below shows the growth of Apple's cash pile in recent years.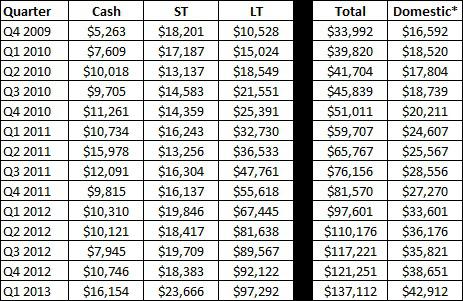 *Number might be slightly off due to rounding.
In last year's fiscal Q2, the cash pile increased by about $12.5 billion. This time around, we won't see that much growth. First, Apple's earnings are expected to be down. Lower net income means lower cash flow from operations. Additionally, Apple paid out about $2.5 billion in dividends during the quarter, which it did not do in Q2 last year. Finally, Apple is also buying back stock. We don't know how much it bought back, but it was zero in last year's period. Apple's cash pile will grow, but not as fast as expected. Nonetheless, Apple still has one of the best balance sheets out there, and that is unlikely to change anytime soon.
Looking ahead at Q3 guidance:
When looking at an earnings report, what's more important: the quarter that the company is reporting on, or the guidance for the quarter we are now actually in? I'm sure if you ask 100 people, you'll get a fairly even split. You might even get a fair amount of people that say both. When Apple reports on Tuesday, we are expecting some sort of guidance for fiscal Q3. We're not quite sure what Apple will give us, but most expect a similar format to last quarter's guidance.
This guidance for Apple's Q3 is going to be very interesting. Apple has not launched any new products since that massive October launch, meaning we haven't gotten a March iPad refresh or anything else just yet. Since nothing has been launched, Apple is essentially coasting on those products that came out many months ago. Right now, most don't even expect Apple to announce anything new until the second calendar half of 2013. That would be after fiscal Q3.
Because it doesn't seem like Apple will launch anything new anytime soon, I recently brought up the idea of the kitchen sink quarter. When I brought up this idea, analysts were expecting Apple to grow year over year fiscal Q3 revenues by $4.6 billion. I thought that growth would be unrealistic, especially with no product launches. The iPhone 5 is already 7 months old, and we didn't get an iPad refresh in March like we did last year. Apple sold more than 17 million iPads in last year's fiscal Q3, and those were the regular, higher priced versions.
My theory was that a kitchen sink quarter, where Apple guides a bit below analyst expectations, might be the best thing. This would set up the company for a tremendous second half of calendar 2013, with a number of product launches. Also, it could reduce expectations a bit for the second half of the year. A kitchen sink quarter could help the stock to put in a bottom, as expectations are readjusted and people look towards Apple's future.
Just in the past week since I wrote the kitchen sink article, Apple analysts have reduced their fiscal Q3 revenue estimates from $39.62 billion to $38.91 billion. That's a $700 million decline, taking the growth number from 13.1% to 11.1%. Additionally, earnings per share estimates have come down from $9.28 to $9.08. Since Apple produced $9.32 in earnings in last year's fiscal Q3, that means analysts have gone from expecting about a 0.4% earnings decline to a decline of 2.6%. I would not be surprised if we see more cuts by the time Apple reports on Tuesday afternoon. The table below shows how Q3 estimates have fared over time.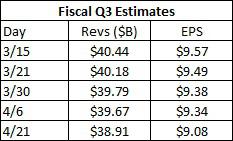 Part of my kitchen sink theory stated that Apple's fiscal Q3 guidance would be somewhere around $36 billion to $38 billion. That is still a bit below current analyst expectations, and would show modest growth from the year ago period. Without any new product launches, it's unrealistic to think Apple's revenues will grow at 15%, 20%, or more. Single digit growth is probably in the forecast.
Other reports to consider:
I covered Verizon's report above when talking about the iPhone, and there are two other reports I'd like to discuss briefly. These reports are from Google (NASDAQ:GOOG) and Cirrus Logic (NASDAQ:CRUS). Both of these names have ties to Apple, and I think you can take away some key information from each of these names' reports.
Let's start with Google first. Google, like a fair amount of other names this earnings season, reported revenues that missed analyst expectations. However, Google beat nicely on the bottom line, thanks to a reduced tax rate, so shares rallied more than 4.4% on Friday. Google, like Apple, was seeing revenue growth slow down, so they did something about it. Google purchased Motorola Mobility, as they wanted to increase their presence in the smartphone and tablet space. The Motorola Mobility deal has provided a short-term boost to revenues, but it came at a cost, and that was in terms of margins. The following table shows Google's Q1 margins, last year and this.

*From continuing operations.
Google's margins came down even more initially after the deal was completed, but as the company has further swallowed Motorola Mobility, costs have come down. Google has cut some jobs and other expenses, and that will obviously improve margins. But the key takeaway here is that these businesses will continue to battle, and that means lower margins over time. As Google and others move to smaller size tablets, Apple was forced to come out with the iPad mini. While Apple's sales of the mini have been solid, it has negatively impacted margins. Apple hit a high mark in margins in last year's fiscal Q2, and those margins have been coming down since.
The second item to mention was the warning from Cirrus Logic. Cirrus warned that their fiscal Q4 (Apple's fiscal Q2) would be slightly below expectations. However, their larger warning was for fiscal Q1 (Apple's fiscal Q3), where they stated that would "record a total net inventory reserve of $23.3 million of which approximately $20.7 million is due to a decreased forecast for a high volume product as the customer migrates to one of Cirrus Logic's newer components". This increased speculation that Apple was changing phone components. Also, because Cirrus was warning for their current quarter, it also increased thoughts that Apple's phones are slightly delayed. We've seen those rumors, and if Cirrus doesn't get those revenues from Apple until the next quarter, we are definitely looking at a later in the year launch from Apple. The warning from Cirrus not only took down shares of that company, but sent Apple under $400 and knocked down a few other Apple suppliers as well.
A possible big announcement:
If Apple does disappoint on either Q2 results, Q3 guidance, or both, everyone will be wondering if Apple will do something to offset that bad news. A large dividend raise or buyback announcement would be to counter some of the bad news, and investors will be listening closely. Apple currently is paying $2.65 per quarter for its dividend, and it is expected to have one more payment at that rate in early May. Even if it announces a dividend raise at this quarterly report, it is likely that it won't go into effect until the next payment, early August most likely. Apple's current buyback plan is 3 years and $10 billion, and it bought back almost $2 billion in fiscal Q1. With shares going lower and lower, this would appear to be a great time to buy back shares. Apple could decide to go with a massive buyback, but knowing its history, I doubt it will. A dividend raise is more likely.
A dividend raise appears to be coming, but when? There are three likely scenarios I mentioned in my kitchen sink article: at this quarterly report, sometime in between quarterly reports, or the next quarterly report. Bernstein Research's Toni Sacconaghi thinks to believe in scenario two, that Apple will raise the dividend in between quarterly reports. He believes that the two events (earnings report, dividend raise) are too important to be combined. My thoughts all along were that Apple would announce the dividend raise in between or at the July report, but if the news on Tuesday is bad enough, it might have to increase it now.
Final Thoughts:
On Tuesday, Apple is expected to report a record second quarter in terms of revenues. Yes, I said quarterly record. It also is expected to guide to a new quarterly record for third quarter revenues. However, all of this is lost. Why? Because you are playing the analyst game, and to an extent, that is unfair to Apple.
Apple never gave yearly revenue guidance of $194 billion, which was the expectation for this fiscal year when Apple reported fiscal Q4 last year. Apple never set the bar that high. It was the analysts that did so, and Apple's stock is now being pushed for missing expectations. Sure, Apple's results in the past few quarters have not been as impressive as we've come to know with Apple. However, if you look around the market lately, Google, IBM (NYSE:IBM), and a host of others are all missing expectations as well. This is not an Apple specific issue, but the market is treating it like it is.
So on Tuesday, Apple will likely post a record second quarter and most likely guide to a record third quarter. But if the numbers don't come in where analysts have their marks, and Apple doesn't raise the dividend just yet, this stock will continue to be punished. Apple's stock is already down 44.6%, and the beating could continue.
I'm actually hoping Apple does the kitchen sink quarter and doesn't raise the dividend. Why? Because I'd love to see the stock drop to $375 or $350. I'd love to see everyone panic when Apple is still producing quarterly revenue records. I'd love to see everyone sell ahead of a potential dividend raise. I'd love to see everyone sell before Apple comes out with new iPhone and iPad versions. I'd love to see the stock drop on numbers I've been telling you would be like this for several months now. I'd love to see everyone count Apple out, because at that point, Apple's stock will most likely bottom.
Disclosure: I have no positions in any stocks mentioned, but may initiate a long position in AAPL over the next 72 hours. I wrote this article myself, and it expresses my own opinions. I am not receiving compensation for it (other than from Seeking Alpha). I have no business relationship with any company whose stock is mentioned in this article.
Additional disclosure: Author will not initiate a position in AAPL prior to earnings. Investors are always reminded that before making any investment, you should do your own proper due diligence on any name directly or indirectly mentioned in this article. Investors should also consider seeking advice from a broker or financial adviser before making any investment decisions. Any material in this article should be considered general information, and not relied on as a formal investment recommendation.