Background
Stanley Furniture Company, Inc. (NASDAQ:STLY) designs, manufactures, and imports upscale hardwood furniture for the residential market in the U.S. The company offers home furnishings for the adult market under the Stanley Furniture brand, as well as children's furniture under the Young America brand.
STLY's stock reached a peak of $29.25 per share in March of 2006, steadily declining to less than $5.00 per share where the stock has remained since. The company's sales peaked in 2005 at about $333 million, and resulting EPS of $1.82.
STLY has benefited over the last few years from the Continued Dumping and Subsidy Offset Act (CDSOA), particularly in 2012 when they received a payment of nearly $40 million. The payment improved the company's balance sheet immensely, but, this was a one-time payment and no future payments are expected from the act. There is also the possibility that the company will have to repay some or all of the payment, but STLY says the requirement to repay any amount is remote. Without that payment, STLY would have shown a slightly bigger loss in 2012 than they had in 2011.
Much of STLY's difficulty stems from the real estate crash and recession. Since 2006, the company has done significant downsizing and restructuring in an effort to cope with lower demand for its premium products.
STLY's Brands
The Young America brand is manufactured in the U.S. and the company hopes to capitalize on the fact that its products are "Made in America." This seems like a good idea in light of the bad press that Chinese imports have gotten over toys painted with lead-based paints and similar stories. In fact, during the latest conference call the CEO had this to say about the Young America brand: "It's the safest furniture you can buy and we can prove it through the certifications that we have that others do not." Gross margin was hurt in Q1 2013 due to management's decision to sell-off prior generation Young America inventory at steep discounts, and the company expects improving gross margin in the coming quarters.
Most of STLY's sales, though, come from the Stanley Furniture brand. Here, the company contracts with manufacturers in Indonesia and Vietnam. Both brands (Stanley and Young America) are marketed as high-end furniture lines. Inventories have swollen lately as sales have missed expectations, and the company has experienced problems with supply chain management due to the long lead time on imports. STLY reported in their latest conference call that they expect sales to be high enough in the second quarter to reduce inventories. The company is in the process of installing a new ERP system, which they expect to implement in the first part of May. The new system should help alleviate STLY's supply chain issues.
Macroeconomic Considerations
While inflation in Indonesia and Vietnam (5.9% and 6.6% respectively) are relatively tame compared to past years, they do represent a threat to STLY's gross margins. Indeed, during the Q1 conference call, the company admitted the need to raise prices due to increasing costs from these countries.
Because the real estate market collapse was the primary driver of the difficulties STLY has experienced over the last few years, one might think that the recent rebound in housing could give the company a boost. It might, but in my opinion it won't be as much as investors would like. The rationale for my thinking is simply that a significant portion of the housing rebound has come from investors buying distressed houses and making them rental properties. People don't generally put premium furniture into rentals. Still, if the housing situation continues to improve, STLY appears well-positioned to benefit.
Finally, I believe that falling real wages and stagnant employment here in the U.S. has created a situation where many consumers "know the price of everything, but the value of nothing." In other words, I'm not so sure that American consumers are willing to pay a premium price for quality. The company is hoping that retailers will be able to convey to consumers the real value represented by STLY's products. As the CEO put it in the conference call, "we just got to get more retailers to tell that story."
Share Repurchases and Insider Activity
About a year ago, the board authorized a $5 million (about 8% of the current market cap) share repurchase program. So far, the company has repurchased approximately $1 million in shares.
click to enlarge images

In my opinion, what's more interesting than the share repurchase is insider activity. I have to admit, after reading the conference call transcript, I got the impression that management wasn't convinced that the company would turn things around, so I checked the form 4 filings on Edgar. Turns out, there wasn't one disposition in the last year, and, in fact I found that management has actually been accumulating shares.
Insider Purchases

Name

Shares

Price

Total

2/8/2013

Haley, Michael P.

2,143

$4.60

$9,857.80

10/24/2012

Goldstein, Micah S.

100

$4.50

$450.00

10/26/2012

Goldstein, Micah S.

2,000

$4.60

$9,200.00

10/22/2012

Goldstein, Micah S.

2,053

$4.45

$9,135.85

10/23/2012

Goldstein, Micah S.

375

$4.40

$1,650.00

10/22/2012

Prillaman, R. Glenn

5,000

$4.50

$22,500.00

10/18/2012

Haley, Michael P.

2,176

$4.53

$9,866.85

7/19/2012

Haley, Michael P.

2,347

$4.20

$9,857.40

5/4/2012

McIlhenny, T. Scott Jr.

5,000

$4.50

$22,500.00

5/3/2012

McIlhenny, T. Scott Jr.

3,400

$4.54

$15,436.00

5/3/2012

McIlhenny, T. Scott Jr.

1,600

$4.54

$7,262.40

Total

26,194

$117,716.30
The amounts aren't huge, but collectively, these four have bet in excess of $100,000 of their own money on their strategy. It's refreshing to see management that is willing to put their own money where their mouth is, rather than selling their stock awards to pay taxes.
High Point Spring Market
As I'm writing this, the High Point Spring Market is kicking off and management has high hopes for this show. You can follow the action on Twitter using the hash tag #hpmkt, or, there are a group of "style spotters" on Pinterest. I haven't seen much yet, but did see one mention of Stanley. You can also see a feed of both on the High Point Spring Market web site.
Financial Statements
The table below shows the company's results for the past 5 years. Because some of the restructuring charges were included in Cost of Sales, I have calculated the gross margin both including and excluding those charges. The figures for the full year 2013 are not a projection, but represent management's comments about break-even sales in order to determine what gross margin would be needed to reach break-even on those sales amounts.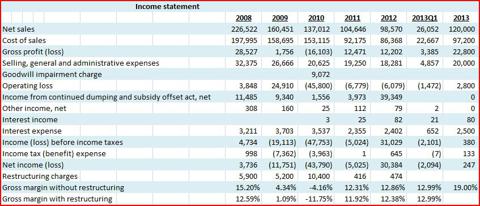 In the conference call, management stated that the low gross margin in Q1 2013 was due solely to the deep discounts the company offered on its obsolete Young America product inventory, which should result in improving margins going forward. Based on management's comments, the company will need to achieve a gross margin of between 18% and 19% to break even, and while I think this number is attainable, I see some headwinds in the short-term, specifically rising costs on imports and lagging demand.
Conclusion
Stanley Furniture is a well-established brand that has suffered some severe setbacks since the crash of the housing bubble. And while the company has made significant progress in rebuilding itself, it does face additional difficulties. But given management's demonstration of confidence via share accumulation and ongoing efforts to improve supply chain issues, I believe STLY deserves consideration for inclusion in a well-diversified portfolio.
Disclosure: I have no positions in any stocks mentioned, but may initiate a long position in STLY over the next 72 hours. I wrote this article myself, and it expresses my own opinions. I am not receiving compensation for it (other than from Seeking Alpha). I have no business relationship with any company whose stock is mentioned in this article.