I've been intrigued by a wide range of technology stocks. They appear to have compelling valuations and often offer attractive dividend yields. In particular, I've been looking at Intel Corporation (NASDAQ:INTC). It was actually the first stock that I ever bought, back in October of 1997 at the equivalent price of $19.95. I watched it skyrocket during the internet bubble and then deflate back to its current value. I eventually sold for a tiny profit (plus some dividends) after having been up 250% at the height of the boom. So after fifteen and half years, INTC is up just 12% from that initial price; however, INTC has also paid significant dividends over that time that represent a benefit greater than the price appreciation of the stock.
INTC is engaged in the business of designing, producing and selling integrated digital technology platforms. Its primary market has been to provide microprocessors to the PC industry; however, INTC has diversified its business due to declines in the PC market.
INTC has significant liquidity
INTC carries a significant amount of cash and investments that effectively buy down the equity purchase price. These items represent sources of liquidity and value that also offset any of the existing debt that INTC has. INTC has very good liquidity. Its current ratio (ratio of current assets to current liabilities) is 2.4x. In fact, its cash and cash equivalents of $8.5 billion are almost sufficient to completely cover all of its current liabilities of $12.9 billion. Adding in short term investments of $9.7 billion would provide a coverage ratio of 1.4x. Furthermore, INTC continues to generate significant cash flow from operations ranging from $3.0 to $6.0 billion over the past four quarters. In contrast, INTC capital expenditures range from $2.5 billion to $3.0 billion over the same time frame. In addition, INTC is authorized to borrow up to $3.0 billion, including through the issuance of commercial paper.
We believe that we have the financial resources needed to meet business requirements for the next 12 months, including capital expenditures for worldwide manufacturing and assembly and test; working capital requirements; and potential dividends, common stock repurchases, and acquisitions or strategic investments. INTC 2012 10-K
Due to Investments, INTC's Operations Need to Cover about 92% of the Equity Value
A decent portion of INTC's $111 billion market capitalization is covered by its cash and investments, even after netting for long term debt, which totaled $13.4 billion (including current portion) at the end of 2012. The following graph shows the derivation of the net equity value from the equity market capitalization.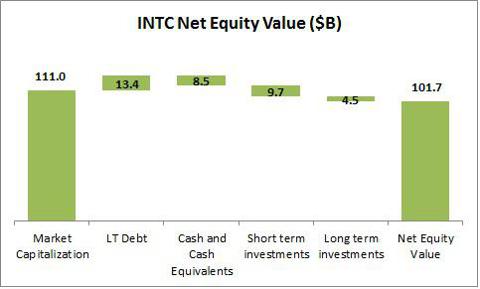 Source: Yahoo!Finance, SEC Filings, Author calculations
This shows about an 8% discount, which is good, but not quite at the same level as investors find with other cash/investment rich companies like Apple Inc. (NASDAQ:AAPL) or even Cisco Systems (NASDAQ:CSCO). Furthermore, these resources can be diminished if the companies increase their dividends or repurchase significant quantities of stock. Albeit, timely stock repurchases would also reduce future market capitalizations, possibly be even more than the stock repurchase amount, if the stock appreciates.
INTC shows Limited Growth Prospects
INTC's current challenge is to sustain growth despite slumping PC sales which drive its core business. Analyst estimates show 2013 and 2014 revenue estimates of $53.6 and $55.9 billion respectively. These figures represent small increases from 2012 revenue of $53.3 billion which had declined from 2011 revenue of $54.0 billion. EPS growth is similarly constrained with 2013 estimates at $1.88 and 2014 at $2.03. The growth into 2014 is just 8%, with a decent portion of this growth possibly coming through stock repurchases. For example, in 2011, INTC repurchased $14.3 billion of common stock.
In order the survive the decline of the PC business, INTC has been diversifying its segments. The following chart shows revenue and operating income from its segments.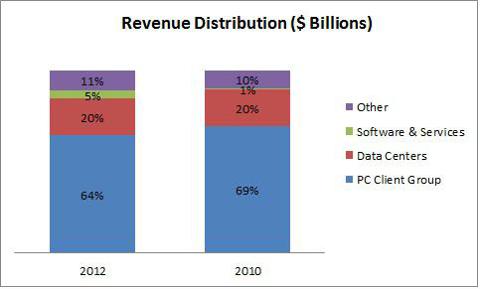 Source: INTC 2012 10-K, Author calculations
While INTC is trying to diversify, this is a slow process. Non PC Client group revenue now represents 36% of total revenue, up from 31% in 2010. However, only Data Centers are a positive contributor to operating profit beyond the PC business.
INTC Continues to Offer an Attractive Dividend
Despite limited top line and EPS growth, INTC has continued to grow its dividend at 13.6% annual rate over the past five years. With a TTM dividend yield of 3.9%, INTC ranks in the 70th percentile among dividend paying stocks. Looking forward, one should expect another dividend increase for Q3 2013 and a target of a 4.2% on a forward basis. INTC has consistently increased its dividend every year since 2009. Furthermore, the payout ratio is just 40% of net income in 2012, leaving sufficient room for continued growth even if the underlying fundamentals do not improve at the same pace.
INTC represents a potentially attractive dividend stock; however, its growth challenges remain a concern. In terms of valuation, INTC trades at a forward PE of 11.1 based on 2014 earnings per share of $2.03. In comparing the net equity value to operating cash less capex, INTC trades at 13x multiple - which is not exactly cheap. With strong liquidity and growing data center business, INTC appears to be diversifying. Furthermore, while the PC business will decline, it is not going to go away overnight and INTC can continue to invest those profits in new businesses or return the cash to shareholders.
Disclosure: I have no positions in any stocks mentioned, and no plans to initiate any positions within the next 72 hours. I wrote this article myself, and it expresses my own opinions. I am not receiving compensation for it (other than from Seeking Alpha). I have no business relationship with any company whose stock is mentioned in this article.
Additional disclosure: Disclaimer: This article is for informational and educational purposes only and shall not be construed to constitute investment advice. Nothing contained herein shall constitute a solicitation, recommendation or endorsement to buy or sell any security.