Suddenly, I am much more interested in the solar industry again.
In late 2011, I tried to lay out some rules for identifying survivors of the solar recession (see "Using Debt-To-Equity Ratios To Identify Potential Solar Downturn Survivors"). Admittedly, by late January of this year my interest had begun to wane as I moved to protect my profits on a short put on First Solar (NASDAQ:FSLR) (see "Shorts Are Still Retreating, But It Is Time to Protect Positions In First Solar"). I closed out the entire position March 4th after it appeared that post-earnings selling momentum would continue. Just a little over a month later, FSLR put heads on a swivel as everyone turned to notice a relatively positive analyst meeting. FSLR shares soared an eye-popping 45.5% in one day. The shares really took off after CFO Mark Widmar provided financial guidance through 2015. The charts below show the daily and 15-minute action in the shares: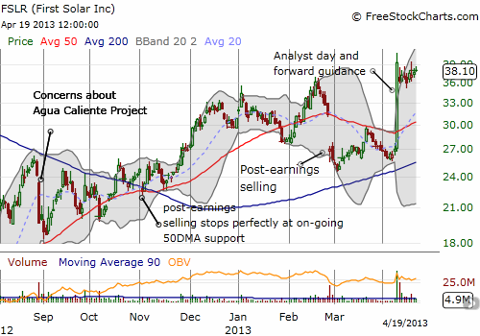 Analyst day turns FSLR shares around from what looked like a slowly developing post-earnings breakdown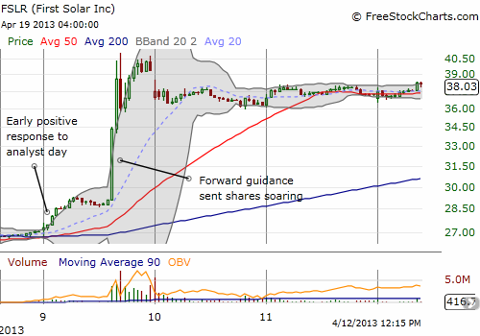 Forward guidance really puts heads on a swivel as everyone turns to notice an unexpectedly positive outlook
Source: FreeStockCharts.com
FSLR's new 14-month highs compelled me to review the proceedings from analyst day to see for myself what generated all the excitement. I listened/watched the entire presentation, eager to record every clue. The entire analyst day lasted about six hours with guidance and Q&A on that guidance taking about an hour.
Overall, I think there are four general themes/claims to highlight from the entire day:
First Solar is banking its future on a hybrid model where solar is a replacement for hard-to-obtain energy in special applications. No subsidies needed for economic viability.
The majority of FSLR's growth will come from emerging and frontier markets by 2015.
FSLR's extra emphasis and investment on fundamental research will put it permanently ahead of its polysilicon competitors. These moves include an acquisition of potentially groundbreaking technology in solar startup Tetrasun.
Forward guidance emphasizes that FSLR will not be a victim of the solar recession. In fact, it will soon thrive in its wake. CEO Jim Hughes defiantly declared: "We are not going anywhere, and we will be successful."
I think there is also plenty of reason to dress this naked optimism with a cloak of caution. First Solar's emphasis on long-term guidance and long-term technology and manufacturing roadmaps is clearly intended to communicate the company's confidence in its future survivability. However, plenty of risks sit between now and a thriving business. After watching GT Advanced Technologies (GTAT) implode from 2011 to 2012 while the company talked boldly about how well-positioned it was for the challenges of its solar markets, I learned the hard way to be extremely skeptical of long-range forecasts in the solar industry.
Emerging and frontier markets are fraught with the risks of the very dependence on government beneficence that FSLR now seeks to remove. For example, see commentary on India's solar market in the notes below.
Innovation is notorious for occurring on its own schedule. FSLR's confidence in its own future technological achievements and the lack of any from its competitors may prove over-optimistic. (Are there really no additional TetraSuns out there in the world?)
Everything depends on the assumption that markets are indeed stabilizing. If they do not stabilize soon, FSLR will need to press the reset button again. Note that management also said markets remain challenging.
Extremely wide earnings guidance - $4.00 to $4.50 fully diluted EPS for 2013, $2.50-$4.00 for 2014, and $4.00-$6.00 for 2015 - means that investors should continue to expect a lot of volatility in results and the stock price (the CEO stated an expectation for normalized margins from 20-30%, so revenues will apparently be the most volatile component of FSLR financials). At Friday's closing price of $38.10, FSLR's forward P/E is anywhere from 8.5 to 15.2 through 2014. Moreover, there is some small chance the company will see little to no earnings growth through 2015.
Having said that, the company's low valuation provides some buffer against these and other risks. The company trades just under 1 for price-to-sales and price-to-book. Buying on dips makes sense. I cannot recommend any buys at much higher prices from here until the company proves it can deliver on its ambitious and audacious plans.
All the top executives of FSLR spoke at the gathering. The star of the show was Chief Technology Officer Raffi Garabedian. He talked about First Solar's technology roadmap in detail and also had the honor of announcing First Solar's acquisition of solar start-up TetraSun. TetraSun's heterostructure solar device is supposed to be a groundbreaking technology that combines the low cost structure of polysilicon with very high conversion efficiency for use in space-constrained applications. CEO James Hughes talked about the company's overall strategy and distinguished the "new" First Solar from the old one. Tymen De Jong, SVP of Global Operations talked about plans for continuous improvement in manufacturing. Tom Kuster, SVP of Product Management, discussed First Solar's systems business. Chief Operating Officer Georges Antoun, who Hughes described as someone who was able to overcome his disappointment over losing out on the CEO job, talked about FSLR's global operations from a market perspective. Finally, CFO Widmar provided the fireworks in the forward guidance.
If it were not for the massive short interest - currently 32.7% of float, betting that FSLR would continue to decline along with the rest of the industry, this analyst day may not have caused such a stir. After all, solar companies are always talking about the special advantages they have over competitors and the explosive potential of their market strategy. However, with so many solar companies gone or going bust, FSLR is standing above its competitors in terms of the health of the balance sheet and a plausible story of survivability. Most importantly, the street loves the apparent clarity that comes from long-term guidance.
I have posted my notes below along with a little commentary and some re-ordering where it improves flow. These notes do not represent a complete transcript of the proceedings. Instead, these are the things that caught my interest the most. If you do not want to listen to the entire analyst day, you can scan the presentation slides posted on the FSLR Investor Relations site to get a flavor of management shared with analysts.
Strategic Update: Jim Hughes, CEO
Haven't had an analyst day since 2009
FSLR had a strategic problem that matched an old marketplace: centralized business model, limited autonomy in the field, standardized pricing and deal terms, bulletproof silos within the organization, little horizontal communication flow, and a concentration in a few lucrative business markets. FSLR made a single product ("a Cadillac") in order to simplify the product.
The collapse in polysilicon prices and the collapse in the traditional FIT market in Europe turned what was an asset into a real liability.
First Solar was slow and rigid when it needed to flexible and nimble.
FSLR now has an effective presence in 19 countries.
Moving to a regional structure, making product to local needs.
The company has undergone dramatic change in the last year from a somewhat oversized European and US org to a leaner, more global org.
Technology is the key core competency of the company, over and above the importance of the systems business.
In the past year, the company has made a renewed commitment to basic R&D.
A capital spending plan is in place that is approved by the board of directors: FSLR has the capital to execute.
Real technological advancements rolling out and/or coming.
Competitors report core cost of goods sold and ignore other items: Do not mistakenly compare fully loaded costs from FSLR to the core cost of goods sold from competitor reporting. Do not confuse pricing and cost.
Climate change and future policy action is not critical to the business plan. Not prudent to rely on things the company cannot control.
An energy-only product offering is becoming competitive. Largely about economics of fuel displacement. Storage does not matter.
"If you are looking for the cliff, you will need to wait until 2016 to find it…We are not going anywhere, and we will be successful."
Market conditions are stabilizing.
Have every reason to believe that financial metrics will normalize.
Margins will stabilize at 20-30%. EPC service projects will see margins at 5-10%, including the module sale.
Technology Update: Raffi Garabedian, Chief Technology Officer
Up until almost a year ago FSLR was focused on scalability of manufacturing. Have now shifted focus to technology development.
Vertically integrated model of R&D. A lot of early stage ideas. Gives autonomy and not reliant on outsourced product innovation models.
Not driving innovation that causes more expenses. Instead reducing cost, increasing reliability, and improving performance.
As temperature goes up, efficiency goes down. CdTe has superior high temperature performance to polysilicon. 11% greater power production at peak temps. About 9% extra power during the day. A year average is about 6% extra.
Efficiency roadmap is better than poly-si when normalized for operating temperatures (real-world conditions).
1% increase in conversion efficiency with back contact, electrical connections on the backside, the dark side of the module. One of the areas where losses occur. Greatest low-hanging fruit for CdTe. Coming at end of the year.
Anti-reflective coating that reduces glare.
In 2016, projecting to surpass the conventional conversion efficiency of poly-si.
1 module off assembly line every 30 seconds, low labor, low capex for CdTe. 1/4 to 1/3 of crystalline silicon.
Not much more to get out of silicon efficiencies.
CIGS is the other thin film, received the most funding in the industry, not likely to get much better either.
Manufacturing Update: Tymen De Jong, SVP, Global Operations
Mid-70s capex and driving down to 60s for 2017 roadmap.
Anticipating consistent rate of improvement in manufacturing costs.
EPC/Balance of System Update Tom Kuster, SVP, Product Management
Acquired Ray Tracker and optimized their technology around the FSLR module.
60-70% of systems will eventually be on trackers.
1 GW monitored controlled through control center in Mesa, AZ to achieve 99.6% availability.
Marry weather data to local site info, aggregated into useful info for the site operator. Augment for day ahead forecasting. 80-90% accuracy range.
Next wave is to do hybrid systems. Now cost-effective to offset some of the fuel used at diesel locations where it is remote and fairly expensive. Can provide value by offsetting that fuel bill. Can offset 30% of the diesel fuel without subsidy. Opens up many market channels and opportunities. Demonstration plants (co-located plants) coming. Desalination, enhanced oil recovery…coming into play in the next wave.
Can create synergies that other companies without vertical integration cannot achieve.
Fast install modules in development.
Q&A
Most of the cost reductions in poly-si have come out of the hide of the supply chain. (Garabedian also gave examples of poly-si technology promises that never panned out). Cost reductions have also come out of reduced commodity costs.
Today, polysilicon producers selling at their cash cost.
The Tracker explains some of the savings FSLR is seeing.
Predicting controlled ramp rates are going to become requirements for connecting to the grid.
Sustainable Markets: Georges Antoun, Chief Operating Officer; Jim Hughes, CEO
The full vertical integration of FSLR is driving down cost and risk as opposed to the fragmented model of competitors.
7GW installed. 3GW in the pipeline.
Hughes: Markets for power replacement are not about capacity. Like telecom towers.
Financial Guidance: Mark Widmar, Chief Financial Officer
(See April 9th release of 2013 to 2015 guidance for additional details)
Advantage is the financial stability and bankability. May be the only solar company that is still bankable.
Not sustainable to chase short-term profits and market share.
Focusing on liquidity and growth.
In 2016, opex and module costs are the same. Going in opposite directions from 2010. Module started at 25% going down to 15% of the LCOE driver.
Balance of system (BOS) is 24% and has stayed the same. The tracker is now part of this cost.
99 cents installed system cost. Almost 60 cents is the module and tracker.
Optimized the tracker for the module. An element of differentiation.
Showed FSLR's favorable net cash position vs net debt position relative to competitors. Chosen NOT to lever up the balance sheet. Will only get better in the future even after funding investments.
Net debt will get worse for competitors in the short-term.
Compared cost structure to competitors that assumes they can refinance the debt.
First solar will be at 12 cents/watt in opex, about half of that is marketing and R&D. Competitors 14 cents/watt and most of that is debt servicing.
Exit this year at 58 cents per module. Eventually getting to 45-47 in 2015.
Desert Sunlight revenue recognition part of guidance. 1/3 this year. 2/3 next year. (Me: this is part of FSLR's increased revenue guidance)
Capex guidance is a little higher than last guidance because of investments for driving efficiency results.
Earnings per share: $4.00 to $4.50. Operating cash flow is $0.8B to 1.0B.
Aggregate cash flows and earnings in 2013 will all belong to First Solar.
Markets remain challenging.
Wrap Up: CEO Jim Hughes
Dip in earnings per share in 2014 - driven by cost profile, economics get better in 2015. Moving of Desert into 2013. Some of it is timing.
Trying to maintain strength of balance sheet. Focused on investing in growth and R&D initiatives.
In India, government considering requiring one half of solar systems to include a domestic component. Many state programs do not have domestic requirement. Long-term opportunity focused on hybrid and energy access - no domestic requirements there. (Me: certainly no guarantee that the political situation will remain the same!)
Japan has demo projects, but it is space constrained. FSLR is only 6 months into its presence there.
Module made in the second half of the year is much more valuable than one produced today. So, earnings are on the low-end of the range.
Special Announcement - Acquisition of Tetrasun: Raffi Garabedian, Chief Technology Officer
Announced that FSLR is adding a heterostructure type of solar device to its product portfolio. Acquired start-up TetraSun for this technology. Also an acqui-hire.
FSLR thinks it is a game changer in that it has low cost structure of poly silicon with higher conversion efficiency potential than CdTe. Low-coefficient for high temperature operation. Bi-facial cell. Secret sauce is the passivation - a unique material. Patented.
Expected production start in middle of 2014.
Not using silver - huge cost savings. Does not use rare earths in oxides.
Process windows have wide tolerances.
Addresses space-constrained market (Me: Garabedian did NOT explain exactly why these cells are specially suited to space constraints)
25-50 Megawatt for 2014 total production. All capacity should be consumed by Japanese partner. 100MW run-rate capacity by end of 2014.
Opex light profile.
Tetrasun is not included in guidance or numbers. Burn rate is not material. Will discuss more color in May. Will have nominal dilutive impact to earnings in 2013 and 2014. Accretive in 2015.
Acquisition was a competitive bidding process in the beginning. Garabedian had been watching the company for a couple of years, decided now is the time to move.
Final Q&A
The majority of growth in 2015 will come from frontier and emerging markets. Fair to assume even distribution across markets, including North America.
FSLR will be using production-proven crystalline production technology for TetraSun's cells. Largely a reuse of existing equipment.
Be careful out there!
Disclosure: I am long GTAT. I wrote this article myself, and it expresses my own opinions. I am not receiving compensation for it (other than from Seeking Alpha). I have no business relationship with any company whose stock is mentioned in this article.