About 5 months ago, I wrote an article summarizing some key strengths of EMC Corp. (EMC). At the time, it was trading in the $24/share range. The stock has continued its bumpy ride over the past year, having gyrated between $24 and $28/share until just this past week when it began to fall further. It has now fallen to a new 52-week low and finished last Friday at $21.50/share. This new bottom I believe gives investors a great entry point as the stock is now cheaper than it has been in quite some time, yet the long-term growth prospects in the data storage market continue to be very strong.
What's Going on with Big Name Tech Companies?
The market has had a bad week, and with the notable exception of Microsoft (NASDAQ:MSFT), several large tech firms reported weak quarterly results. IBM missed estimates for the first time in 8 quarters and its stock dropped more than 8% on Friday. In the conference call, management cited the main reason for the miss was due to poor sales execution in the mainframe and software businesses. In addition to this, some other businesses also performed poorly, including the IBM storage segment which had revenues that were down 10% at constant currency. The only bright spot around storage was the Tivoli storage management product which saw an 11% rise in revenues.
The weakness from IBM and others has undoubtedly contributed to the fall in EMC's share price, as investors are anticipating a weak earnings report from the company next week when it reports on the 24th.
I don't hold a crystal ball here, and there are too many factors involved to confidently predict whether EMC will surprise to the upside or downside when it reports in a few days. A lot of the weakness happening around "sales execution" being reported by other tech firms is likely due to customers in fragile economies (particularly in Europe) continuing to be very conservative in their purchases. I also work in the IT industry based in Western Europe, and I can attest that although we see a lot of robust demand for services from clients for things like Big Data and Cloud Computing, there is an overall feeling of caution and hesitation to make big spending decisions. This is because everyone feels that the economy is in a very fragile state and could change at any moment. Whether or not this is true is another topic in itself, but clearly the economic shocks of the past 5 years, namely the Great Recession and now the ongoing debt crisis have served to erode the appetite for significant increases in spending. Recent earnings reports seem to have brought the markets back down to earth a bit as everyone has been reminded that this general feeling of uncertainty continues to persist, although not entirely in a consistent manner from quarter to quarter.
EMC has Already Shown in 2012 to be far Outpacing IBM in Storage Revenue Growth
The association with IBM is not really a fair one, and in fact even in Q4 2012 both EMC and NetApp (NASDAQ:NTAP) displayed strong growth in storage revenues and market share, whereas IBM and others declined. In a March 2013 Report from IDC, it was stated that EMC grew storage revenues around 7% in Q4, where IBM and other traditional server vendors HP (NYSE:HPQ) and Dell (NASDAQ:DELL) saw year-over-year declines.
Going forward, it would seem that EMC is well positioned to keep outperforming long term, as it has the biggest market share and a wide spectrum of products to cover all major enterprise use cases in the industry. So whether or not the upcoming earnings report is positive, I wouldn't lose any sleep over it or base an investment decision on it. The tide on the storage market is clearly rising, and EMC is near the head of the pack.
EMC Remains the King of the Storage Market with Strong Growth Prospects
Not only is EMC leading the pack in terms of revenue growth the past year, but it also continues to lead in total market share for all major categories. For example, the company has over 30% share in external disk storage and 48% of the NAS market.
Growth has been strong for several years, as the Information Storage Unit has been growing at rates in the high teens per annum. This unit makes up about 70% of the company's sales. This should be set to continue for the remainder of the decade, as the exponential growth of digitally stored data is showing no signs of slowing. CSC has estimated that worldwide data will grow in total 4300% from 2009 levels to 2020. This is a CAGR in excess of 40%. With the huge rise in smartphones, tablets, and in general just more and more connected devices, there is exponentially more data needing to be stored. This trend is present both in consumer and enterprise markets.
In addition to this, the market for "Big Data" Analytics software is also expected to growth at a CAGR of more than 40% in the coming 5 years according to market research studies. With the 2010 acquisition of Greenplum, EMC is also a top 10 player in this market as well, although it does not have major market share currently.
All of this points to positive business prospects for EMC. Competitive advantages are relatively strong as well, since once enterprises get entrenched with a particular storage vendor, they will not switch easily and there is a high level of reoccurring revenues. Keeping data safe is a critical need, and most companies are unwilling to compromise on this. Even with shifting data to the cloud, most big companies are considering hybrid solutions between public and private clouds, both of which EMC has a firm foothold in. VMware's (NYSE:VMW) virtualization technology is also a key component for many cloud solutions, which EMC owns 80% of. Although VMware has struggled in the past 6 months with signs of slowing growth followed by big drop in stock price, there are signs that its business has stabilized, and with more than 50% of enterprise servers still un-virtualized, there still should be room for double-digit growth in the years ahead. This should also provide support to EMC's stock price, where part of the recent weakness can be attributed to VMware's slowdown.
Valuation - EMC has Gotten Very Cheap
Looking at the 5-year chart of the EV/EBITDA valuation for EMC, it is now the cheapest it has been since the Great Recession: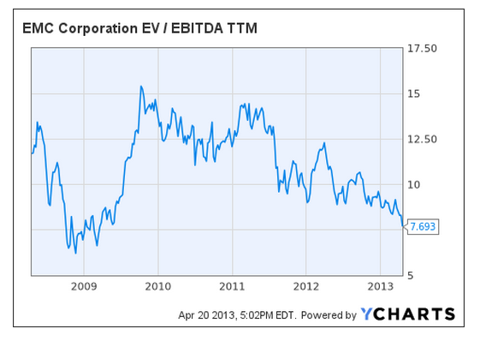 This does not really make sense for a company that continues to grow at double-digit rates. FCF has grown at 19% annually over both the past 10 and 5-year periods. A case can be made for continued strong growth in the years ahead looking at the expected CAGR for data storage. However, even if we consider a considerable slowdown, say to half of this rate, and we discount the future cash flows at a conservative 12% rate, the intrinsic value of the stock is still more than $32/share. For comparison, NetApp and IBM also both have considerably higher EV/EBITDA valuations of 10.7 and 9.3, respectively. All of this seems to point to a considerable undervaluation for EMC at the present.
The Bottom Line
EMC has seen its stock price fall steadily in the past few months and it is now sitting at a 52 week low. The reasons for this have been short-term worries about overall corporate spending levels on technology coupled with general macroeconomic uncertainty. Adding to the downward pressure has been the slowdown in growth of VMware. Clearly however the long-term trends for the data storage market remain very strong and EMC is a market leader. This is a classic case of Mr. Market getting emotional in the short term and pricing a company much too cheaply compared to its mid to long-term prospects. This has provided shrewd investors with a great entry point in a company which should easily outperform the market in the next few years with double-digit FCF growth. With an upside of greater than 50% from current prices, EMC is a strong buy today, and has gotten far too cheap to ignore.
Disclosure: I am long MSFT. I wrote this article myself, and it expresses my own opinions. I am not receiving compensation for it (other than from Seeking Alpha). I have no business relationship with any company whose stock is mentioned in this article.
Additional disclosure: I may initiate a long position in EMC in the next 72 hours.