General Electric Company (NYSE:GE), with a market cap of $226.16B, is a diversified technology and financial services company and a leader in all markets in which it competes. On April 19, 2013, GE reported in-line operating profit of $3.6B or 35 cents per share. However, GE's share price dropped more than 4% due to declining revenue from the industrial end.
The Good and Bad for Q1, 2013
For Q1, GE reported the continuing operations revenues of $35B. Industrial sales were down 6% to $22.3B. Power and water dragged the overall results, whereas Europe services remained tough. The industrial segment profits were about $200M below the management's expectations due to the worsening condition in Europe and some short cycle push outs from March into Q2. The gap was offset by cost control and better than expected GE Capital performance. Further, shipments should improve significantly in the second half.
GE Capital continued to improve and delivered a solid quarter. The ending ENI balance was reduced by $17B, and the earnings had increased to $1.93B as compared to $1.8B in Q4, 2012. The GECC Tier 1 common ratio had increased to 11.1%, as seen from the table below.
| | | | |
| --- | --- | --- | --- |
| | Earning | GECC Tier 1 common ratio | Ending ENI balance |
| Q1, 2013 | $1.93B | 11.1% | $402B |
| Q4, 2012 | $1.8B | 10.2% | $419B |
| Q3, 2012 | $1.7B | 10.2% | $425B |
| Q2, 2012 | $2.1B | 10.1% | $433B |
| Q1, 2012 | $1.8B | 10.4% | $436B |
| Q4, 2011 | $1.6B | 11.4% | $445B |
| Q3, 2011 | $1.5B | 11% | $452B |
| Q2, 2011 | $1.7B | 10.4% | $457B |
| Q1, 2011 | $1.8B | 9.8% | $461B |
Margins
Margins were negatively impacted due to weak Europe revenue and disappointed power and water segment; however, the management believes it is on track to deliver 70 basis points margin expansion in 2013.
Cash Position
GE ended Q1 with $90B of consolidated cash and $22B of cash at the parent level, where $3.9B of cash was returned to investors in Q1, including $2B dividends and $1.9B of share repurchase. The company remains committed to returning $18B to investors in 2013 through dividends and buybacks. GE's cash position remains solid.
Orders and Backlog
The overall orders were up 3%, or 6% excluding wind. Both equipment orders and power and water segment, excluding wind, grew by 10%. GE ended Q1 with $216B in backlog, a new record for GE.
Management's Expectations
The management expects EPS to grow in line with previous commitments. The industrial earnings will grow in the range of high single-digits to double digits but remain negatively impacted by weakness in power generation in Europe and services. The company is targeting an improvement of $500M in corporate costs. The management remains confident to achieve margin goals and is on track to drive SG&A (as a percentage of revenue) to 15% by 2014.
The Analyst's Call
Nomura Securities analyst Shannon O'Callaghan said it was as "broadly disappointing quarter with Industrial margins and Power & Water probably the primary concerns." O'Callaghan commented,
"GE reported adjusted 1Q13 EPS of $0.39 (including $0.04 net gain) so excluding the net gain, this would be $0.35 on a basis comparable to our $0.34 estimate and $0.35 consensus. Industrial operating profit missed our estimate by $0.04, with industrial revenues a 4% miss and industrial margins of 12.9% missing our 14.3% estimate by 140 bps. The misses in Industrial were broad based with Power & Water, Oil & Gas, Aviation, and Healthcare all missing us by $0.01 each. GE Capital beat us by $0.01 due to a $0.04 beat in Real Estate (including NBCU $0.05 gain) while CLL missed us by $0.01 and Consumer missed by $0.03 (unclear if this is where restructuring hit to offset NBCU gain). All in, segment profit missed us by $0.03 while corporate and tax were a combined $0.04 better based our estimate of the adjustment for the NBCU gain, leading to a $0.01 reported beat vs. our estimate. Orders up 6% ex. Wind and FX were solid, but aside from that this it looks like a broadly disappointing quarter with Industrial margins and Power & Water probably the primary concerns."
Fundamentally, GE has a higher net margin of 9.3% compared to the industry average of 8.8%. GE's P/E of 15.6 is below the industry average of 21.1 and its Forward P/E of 11.2 is lower than the S&P 500's average of 14.3. GE continues to generate solid cash flow and currently offers an annual dividend yield of 3.49% based on the closing price of $21.75 on April 19, 2013.
Technically, GE is on a long-term uptrend since mid-November, 2012. GE had touched its long-term uptrend support after releasing its Q1 report, as seen from the chart below.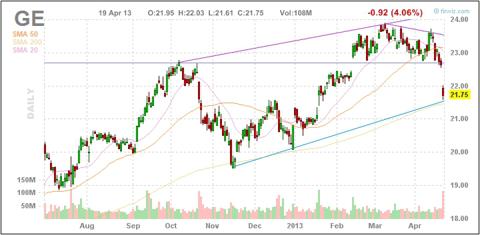 Source: Finviz.com
Bottom Line
GE remains a solid, diversified company, supported with solid cash flow, reasonable valuation, and a record backlog. For bullish investors, it may be a good time to find a safe entry price to establish the long-term position. However, in the near-term, it is important to see if GE can hold above its long-term uptrend support line. Investors can also review the following ETFs to gain exposures to GE:
Industrial Select Sector SPDR (NYSEARCA:XLI), 12.14% weighting
Dow Jones U.S. Industrial Sector Index Fund (NYSEARCA:IYJ), 11.61% weighting
SPDR S&P 500 (NYSEARCA:SPY), 1.74% weighting
Note: Investors and traders are recommended to do their own due diligence and research before making any trading/investing decisions.
Disclosure: I have no positions in any stocks mentioned, but may initiate a long position in GE over the next 72 hours. I wrote this article myself, and it expresses my own opinions. I am not receiving compensation for it (other than from Seeking Alpha). I have no business relationship with any company whose stock is mentioned in this article.