Coca Cola Company (NYSE:KO) shares have been in a major uptrend, rising from recent lows of about $35 to around $43, in just the past 3 months or so. Coca Cola is a well-managed company with many famous brands such as Sprite, Vitamin Water, Minute Maid Orange Juice, Dasani, and others. However, there are a number of reasons why it might be time to sell the stock and wait for pullbacks.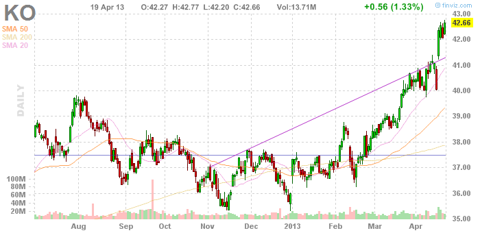 1) As the chart shows, Coca-Cola shares have made a nearly parabolic
move to new 52-week highs of $42.77. That is a huge move for a giant
beverage company in just a matter of weeks. The stock is now well
above key support levels and investors should be concerned about the
downside risks of buying at the high end of the recent trading range.
As the chart indicates, the 200-day moving average is just below $38
per share and the 50-day moving average is right around $39. Those
are key support levels and in a market correction, Coca-Cola shares
could pullback to that range.
2) Analysts expect Coca-Cola to earn $2.15 per share in 2013 and $2.34 per share in 2014. That puts the price to earnings ratio at around 20 times. This is a very rich valuation considering that the average stock in the S&P 500 Index (NYSEARCA:SPY) currently trades for about 15 times earnings. Furthermore, analysts only expect very low single-digit growth for this company and paying a rich valuation for a low growth stock may not be rewarding to investors over the long-term.
3) Insider selling: In what could also be viewed as a sign of overvaluation, insiders at Coca-Cola have been selling a significant amount of shares as the stock trades near new record highs. A recent Barron's.com article points out that multiple insiders (including the CFO) have recently unloaded about $26 million worth of stock. The article also points out similar valuation concerns and states:
"Though New York's Mayor Bloomberg failed to shrink serving sizes, Americans are reducing soft drink consumption on their own. Economic problems in Europe and China continue to create headwinds for the company," Bennett wrote. "And at 19.5 times projected earnings over the next four quarters, Coca-Cola looks expensive, especially for a company expected to grow its bottom line roughly 6% this year."
4) Coca-Cola has been a great growth stock for the past generation, but it is true that there is a strong secular trend towards healthy eating. While Coca-Cola has moved into this area, its flagship product and other sugary beverages could see much lower growth in the future as consumer health trends change. That is another reason why this stock may not deserve the rich valuation it currently enjoys. With major gains in this stock in the past few weeks it could make sense to follow some of the insiders and cash in on this rally.
Here are some key points for KO:
Current share price: $42.66
The 52 week range is $35.58 to $42.77
Earnings estimates for 2013: $2.15 per share
Earnings estimates for 2014: $2.34 per share
Annual dividend: $1.12 per share which yields 2.6%
Data is sourced from Yahoo Finance. No guarantees or representations are made. Hawkinvest is not a registered investment advisor and does not provide specific investment advice. The information is for informational purposes only. You should always consult a financial advisor.
Disclosure: I have no positions in any stocks mentioned, and no plans to initiate any positions within the next 72 hours. I wrote this article myself, and it expresses my own opinions. I am not receiving compensation for it (other than from Seeking Alpha). I have no business relationship with any company whose stock is mentioned in this article.