Monster Beverage (NASDAQ:MNST) is the best performing drink manufacturer stock in the last month (March 20th - April 19th), outperforming Pepsi (NYSE:PEP), Coca-Cola (NYSE:KO), Reed's (NASDAQ:REED) and Dr. Pepper (NYSE:DPS). But even after a consistent 12.05% increase in price, the stock is trading only slightly above its 52 week ($39.99 - $ 83.96) average, which suggests that further increases in the next weeks are absolutely possible.
(click to enlarge)

Click to enlarge
A more detailed trading analysis on the stock chart shows that Monster has a high probability of moving higher; as both the bullish Relative Strength Index (RSI) and the Moving Average Convergence Divergence Indicator (MACD) are rising; moving from a previous high achieved on December 12th last year.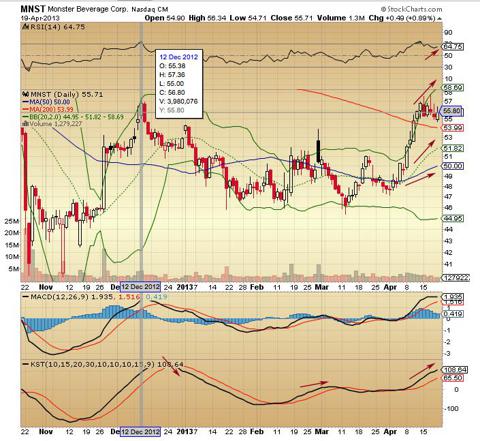 Click to enlarge
The stock is enjoying a great momentum, amid speculations that a larger rival might buy the company. Let us remember that the stock hit its 52 week high last April mainly due to of rumors of a possible acquisition by Coca-Cola, which distributes Monster. As merger & acquisition activities in the U.S. heat up, we think rumors are getting stronger again. After all, Monster could be a sound investment for Coca-Cola, because at the moment the firm is doing great even without being well known abroad. Immediate access to Coca-Cola's network of 200+ countries could change that in weeks.
Investors can also benefit from Monster. As I explain in the next paragraphs, Monster could experience monstrous growth in its international operations in the next 2 years.
Monster is currently not profitable abroad, but this is a good signal, as the company is taking a long investment horizon in international promotion. That being said, my DCF fair estimate for Monster is currently $43 per share, which is equivalent to saying that the stock is overvalued by $12 per share. However, I do not think this is a big issue at the moment, due to the bullish momentum the firm is experiencing and to the increasing free cash flow 10 year trend.

Click to enlarge
It's all about growth
Nobody knew about Monster in 2003 but now it is the world's second largest energy drink manufacturer, only behind privately owned Red Bull. Revenue grew from $50 million in 2003, to $1.9 billion by 2012, thanks to a smart marketing campaign and to it's star product line, Monster Energy Drinks, which represent about 92% of its total sales. Net income also experienced massive growth (35% in 2011, 19% in 2012).

Click to enlarge
Of course, nobody expects Monster to keep growing at these rates forever. But Monster is still far away from reaching market saturation, especially in international markets.
Let us start with the domestic market. According to Morningstar, the average American consumes 10 cans of Monster per year, compared with around 400 cans of Coca-Cola products per year. Considering that a great percentage of Coca-Cola servings occur due to caffeine, we think that as Monster continues experimenting with new products and demographic segments, it can continue gaining market share in the next years at a 4% growth rate.
But the real growth opportunities are in international markets, were Monster is still relatively unknown. Red Bull, on the other hand, already has a strong network of 160 countries.
International sales only made up 21% of total sales in 2012 but the company is investing heavily in advertising and distribution partnerships. For example, in Japan (an excellent market for energy drinks) Monster is selling an energy drink can for ¥200, while a Red Bull can for the same size costs ¥275. This has caused Monster to incur losses in its international operations, for the time being. Once Monster gains a decent scale in operations by establishing its flagship product abroad, both revenue and margins will increase monstrously.
Valuation
In this article, I will use a DCF model, even though it is not the most appropriate model at this moment for an aggressive growth stock like Monster. In the future, I shall complement this initial valuation with other models. I assume a growth rate of 18% for the next 10 years and a discount rate of 9%, since the balance sheet of Monster is strong. I assume a conservative terminal growth rate of 3%. I use Oldschoolvalue software for the calculations. I obtain a fair value of $43.75 per share, $10 dollars below the current stock price.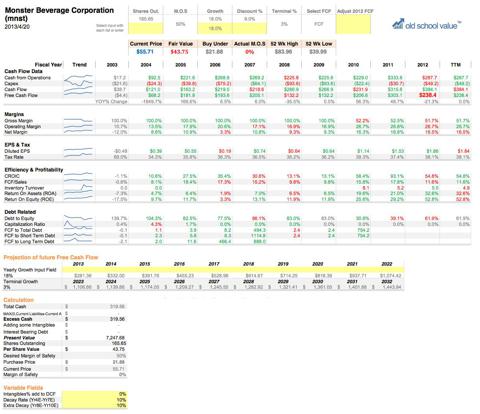 Click to enlarge
Share Repurchase Programs
Buying companies that are active in buying back shares is a well-known Buffett secret. Monster is an active buyer of its own shares. It recently announced a $200 million share repurchase program. It also carried out a $250 million repurchase in November 2012.
Final Remarks: I have no positions. Oldschoolvalue software was used for the valuation. Data comes from Morningstar.
Rate: Buy
Price Target: $60
Investment Horizon: 3 months
Potential Risks: Caffeine regulation, taxation
Catalyst: A possible acquisition by Coca-Cola
Disclosure: I have no positions in any stocks mentioned, and no plans to initiate any positions within the next 72 hours. I wrote this article myself, and it expresses my own opinions. I am not receiving compensation for it (other than from Seeking Alpha). I have no business relationship with any company whose stock is mentioned in this article.