It shouldn't surprise anybody reading this article that J.C. Penney Company, Inc. (NYSE:JCP) is in serious trouble. The following points describe the company's current situation.
The company's sales plummeted from $17.3 billion in 2011 to just $13 billion in 2012. Prior to this the company's sales peaked in 2007 at $19.9 billion after rising for several previous years. The trend clearly indicates a sustained downtrend, which I doubt will be arrested.
The company's management has changed several times recently as it tried to reinvent itself. In 2011 Ron Johnson, the "genius" who masterminded Apple's (NASDAQ:AAPL) Apple Store took over the CEO position, only to preside over the company as its sales plummeted. After less than 2 years, he was replaced by the former CEO Mike Ullman, whose position is supposedly only temporary.
The company must find ways to preserve capital, despite the fact that in its current situation, it needs to increase its marketing budget in order to revamp its image. There is seemingly no way out of this Catch 22.
The company is unable to create excitement or enthusiasm for its store or for its products.
Some bondholders have challenged J.C. Penney for supposedly having violated the terms of its bond agreements in late January. While the claim has since been dropped, the fact that it was filed speaks to the troubling situation that the company is in.
In this article, I argue that there is little chance that the company will be able to turn its situation around and avoid perpetual losses into bankruptcy: while the prevalent brand that has persisted for generations will likely live on, the common equity will not.
There are three primary reasons for this.
The company's financial situation is precarious and deteriorating.
There is no evidence that the company can turn its sales around.
The company faces these headwinds in the face of potential macroeconomic weakness.
I hope to make clear that these are not insurmountable hurdles, but the scenarios in which the company can overcome them are limited and remote. Consequently, investors should consider taking a short position in the company's shares.
J.C. Penney's Financial Situation
J.C. Penney's financial situation is precarious and deteriorating quickly as the company continues to lose money. That isn't to say that bankruptcy is an immediate risk, given the fact that the company does not have any significant amount of long-term debt coming due until October of 2015 ($200 million); nevertheless bankruptcy does appear to be in its future, assuming it is unable to meaningfully increase its sales during the next several months.
Given the high level of volatility that the company's sales are experiencing, I cannot accurately estimate how long it will survive, especially given that it can potentially raise capital by issuing stock. Nevertheless, I suspect the situation may be more dire than the company's most recent financial statement indicates. Furthermore, I suspect that the company may be being less than forthright in telling its shareholders just how critical its financial situation actually is. The following points come to mind:
In the company's fourth quarter presentation, management brags about its $175 million in SG&A savings given its total operating expense of $4.63 billion, and its net loss of $552 million.
Just a few days ago, or less than half way into the new quarter, there were reports that the company recently borrowed $850 million from its $1.85 billion credit facility. This leads me to believe that the company is burning through cash at a dangerous rate given that it began the quarter with $930 million in cash and short-term equivalents.
The most recent quarterly report from J.C. Penney was a disaster. Even somebody who is as pessimistic about the company as myself could not foresee such a debacle, and I doubt that there will be a repeat unless there is a severe recession in the United States. Nevertheless, given the rate at which the company is burning through cash, it needs to show a substantial improvement to survive. During the quarter the company reported a loss of $552 million. This was during the fourth quarter, which includes the holiday season, and in which J.C. Penney and its peers typically see a substantial portion of their profits. Competitor Macy's (NYSE:M), for example, made $1.83 per share during its fourth quarter, or 56% of the year's total profits.
For the year the company lost nearly $1 billion. The substantial loss is due to the company's sales numbers falling off a cliff.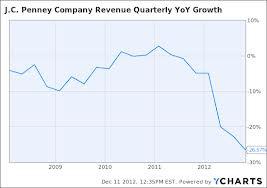 This is completely unsustainable, especially considering that the company lost $151 million in 2011, while its sales in 2012 were down 32% from a year ago--even given $600 million in 2012 cost cuts the company would have to exhibit high double-digit sales growth (at least 30%, given that 47% would be break-even with 2011 levels) in order to staunch the bleeding of precious cash. The company will have to exhibit this sales growth despite the fact that it has just $1 billion left in its credit facility and just $1.1 billion in working capital, while it has expenses of over $1 billion per month. Can the company exhibit such astronomical sales growth? If not it does not have much time before the bondholders begin once again to pressure the company into filing bankruptcy.
Can J.C. Penney Turn Itself Around?
Many analysts who believe that the company can turn itself around point to the fact that it is reversing the mistakes it made during the Ron Johnson epoch. According to Marketwatch, they believe that the company will lose less than half of what it did last year. Such an estimate entails strong sales growth from current levels.
Given the company's high level of brand recognition and longevity this may not seem so farfetched. However, I am skeptical that such an approach will bring disgruntled/disinterested customers back into the store. Such customers have likely found other retailers to be loyal to. In order for the company to turn itself around it is going to have to radically reinvent itself and regenerate consumer enthusiasm. Currently management hopes to revert back to the company's old ways, but putting a few items on sale and mailing out some coupons will likely be insufficient. Even if it chooses to try to reinvent itself, with its limited resources for doing so, there is a very high probability that it is too late: time is running out for J.C. Penney as I have argued above.
America's Tepid Retail Market
The broader macroeconomic picture in the United States is not looking promising, and as I will suggest, retailers are particularly vulnerable. I argue this point in greater detail in my article The Case For Shorting The American Economy. Here I will point out a few trouble spots that are specific to retailers.
Trouble for American retailers broadly may bode well for discount retailers such as dollar stores and Wal-Mart (NYSE:WMT), but department stores such as J.C. Penney will suffer: macro-economic tailwinds will only exacerbate the specific problems that currently face the company. Let us look at a couple of these headwinds.
Increased taxes on the middle and lower classes in the U. S. at the beginning of 2013 have begun to hurt retail sales and consumer confidence. As the following chart illustrates retail sales in the U. S. have begun to roll over.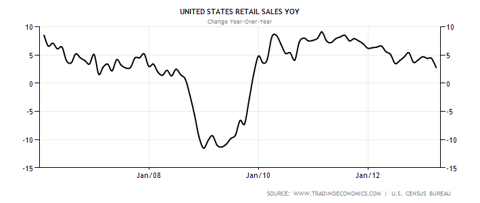 (Source: TradingEconomics.com)
The fact that retail sales are rolling over is not a result of American consumers becoming more conservative: they simply have less disposable income as a result of higher taxes. This is evidenced by the fact that the roll-over in retail sales has coincided with a plunge in the savings rate.
Given that Americans have less income, so much so that both their spending is increasing more slowly and their savings are down, it is no wonder that consumer confidence has begun to roll over as well.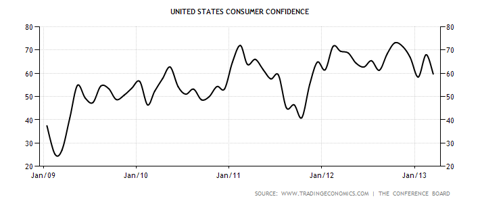 Thus far the data does not point to a definitive decline in consumer spending. In fact other than in 2008 there have been no meaningful periods where retail sales have declined in recent history.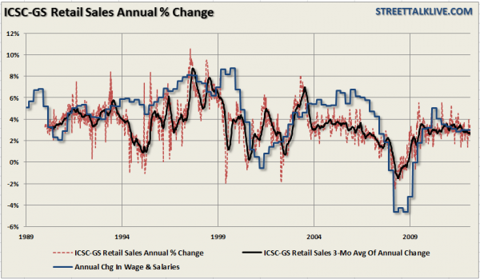 Nevertheless the trend is clearly down since 1999, and it suggests that there is a meaningful chance that a decline is right around the corner. In such an environment only retailers that cater to discount seekers and retailers that have the strongest secular tailwinds will be able to increase their sales. A retailer such as J.C. Penney caters to those consumers--the middle class--whose incomes have already suffered as a result of the increased payroll tax. If we also consider the fact that the company has already estranged a significant portion of its customer base it is difficult to imagine how it will win these customers back if they are hurting financially.
Risks Entailed In Shorting JCP
There are three primary risks to shorting J.C. Penney. The first is that the aforementioned theses do not play out. This would entail that the consumer turns out to be healthier than the data I present suggests, or that J.C. Penney is able to execute an unforeseen turnaround.
Another possibility is that J.C. Penney is bought out by a private equity firm, or a group of such firms. Such an effort could theoretically be led by hedge fund manager Bill Ackman who owns nearly 20% of the company. Such a move could easily push shares to a price twice as high as they currently are, and this would be devastating for anybody who is short. One way to eschew this risk is to buy put options instead of shorting the company outright.
Finally, short investors should be aware that 26% of the shares outstanding are currently sold short. Clearly the ideas I present in this article are not entirely original, and consequently sentiment is so bad that any news that is less than disastrous for the company could lead to a short squeeze of epic proportions. One strategy that investors should consider is to wait for such an event to take place before putting on a short position. A less than disastrous announcement could lead to a rally of 50% or more very easily given the high short interest, and yet such an announcement would unlikely materially change the intermediate (1-2 year) term outlook for the company: remember that even a deceleration in losses is not enough to prevent the company from flirting with bankruptcy.
Disclosure: I have no positions in any stocks mentioned, but may initiate a short position in JCP over the next 72 hours. I wrote this article myself, and it expresses my own opinions. I am not receiving compensation for it (other than from Seeking Alpha). I have no business relationship with any company whose stock is mentioned in this article.