The ultimate goal for investing is to fund retirement needs, not build wealth. Retirees are living longer and have more active lives than in the past when many lived retirement years quietly at home. Social Security was designed to supplement personal savings for retirement. Investors need to save for retirement.
Corporate stocks have been a major investment because of their record of growth from capital appreciation and dividends. Capital appreciation has provided at least 65% of investment gains. However the investment world has changed in recent years.
The Dow Jones Industrial reached a peak at 11,612 in January 2000 (shown below). Since then, there have been 2 substantial pullbacks followed by recoveries before the Dow set a new record at 14,756 last week. Gyrations have been substantial and the gain from the record high 13 years ago has been limited. The Dow grew at a compounded annual rate of less than 2% from the peak in 2000 to the latest peak.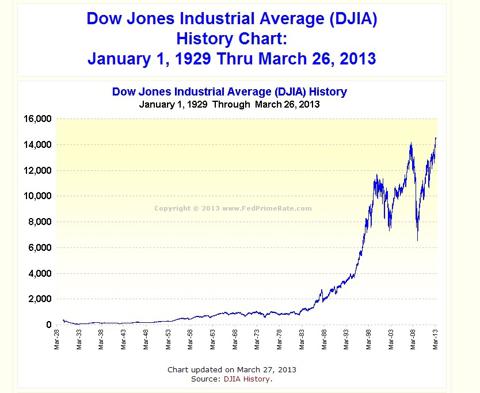 The balance of investment gains come from dividends, and they are getting more respect after the track record of measly growth. The best of the dividend payers are the Dividend Aristocrats. 51 S&P 500 companies, along with of a handful of companies not included in the S&P 500 (out of thousands of stocks), qualify. Each company has been raising annual dividends for a minimum of the last 25 years. Many have streaks of 30, 40 or even 50+ years:
| | | | |
| --- | --- | --- | --- |
| Company | Price | Yield | Dividend |
| HCP (NYSE:HCP) | $51.55 | 4.1% | $2.10 |
| Kimberly-Clark (NYSE:KMB) | $101.36 | 3.2% | $3.24 |
| Emerson Electric (NYSE:EMR) | $53.32 | 3.1% | $1.64 |
| McDonald's (NYSE:MCD) | $101.91 | 3.0% | $3.08 |
| Genuine Parts (NYSE:GPC) | $75.30 | 2.9% | $2.15 |
| Coca-Cola (NYSE:KO) | $42.10 | 2.7% | $1.12 |
| Exxon Mobil (NYSE:XOM) | $86.62 | 2.6% | $2.28 |
| VF Corporation (NYSE:VFC) | $167.66 | 2.1% | $3.48 |
| Brown-Foreman (NYSE:BF.B) | $70.70 | 1.4% | $1.02 |
| Sherwin-Williams (NYSE:SHW) | $174.88 | 1.1% | $2.00 |
1) HCP Inc (HCP), the only REIT in the group, invests in healthcare real estate: senior housing, medical office, nursing and hospitals. Last year, almost 76% of the dividend was taxable. The stock has doubled in the last decade and the dividend has been raised for the last 28 years.
2) Kimberly-Clark (KMB) is a paper company with popular brands such as: Kleenex, Scott, Huggies, Pull-Ups and Kotex. These brands typically hold #1 or #2 share positions in more than 80 countries. The stock has been increasing annual dividends for 41 years and has doubled in the last decade.
3) Emerson Electric (EMR) is a diversified global technology company that designs and supplies product technology and delivers engineering services around the world. The 5 business segments are: Process Management, the Industrial Automation, the Network Power, Climate Technologies and Tools and Storage. The dividend has been increased for 57 consecutive years, and the stock has doubled in the last decade.
4) McDonald's (MCD) restaurants are familiar to consumers around the world. MCD is committed to global expansion, with the greatest growth expected in Asia. The stock offers one of the highest yields in MCD's history. The dividend has been increased annually since its IPO in 1976, and the stock is up 6 fold in the last decade (partially because it began from a depressed base).
5) Genuine Parts (GPC) distributes automotive replacement parts, industrial replacement parts, office products and electrical/electronic materials through 2000 operations across the US, Canada and Mexico. At less than $12 billion, it has the smallest market cap in the group. The annual dividend has been increased for 57 consecutive years, and the stock has more than doubled in the last decade.
6) Coca-Cola (KO) is the largest provider of non-alcoholic beverages in the world, with the most famous brand name on earth, Coca Cola. Business is split into sparkling beverages (carbonated) and still beverages (Minute Maid, Dasani and vitaminwater). This is the 51st year of dividend increases, and the stock has doubled in the last decade.
7) Exxon Mobil (XOM) is the world's largest energy company, with 37,000 gross and 31,000 net operated wells. In recent years, XOM has been investing heavily in gas production around the globe. The annual dividend has been increased for 31 consecutive years. The stock has more than doubled in the last decade.
8) VF Corporation (VFC) is the world's largest apparel company and a global leader in branded lifestyle apparel, with more than 30 brands that include: Wrangler, The North Face, Lee, Vans and Nautica. The dividend has been increased for 41 consecutive years, and the stock quadrupled in the last 10 years.
9) Brown-Forman (BF.B) has been selling fine alcoholic beverages since 1870. Its 25 brands of wines and spirits include: Jack Daniel's, Southern Comfort, Finlandia, Canadian Mist and Gentleman Jack, which are sold in 135 countries. The dividend has been raised for 30 years, and the stock has more than tripled in the last 10 years.
10) Sherwin Williams (SHW) manufactures and sells paint, coatings and related products to professional, industrial and retail customers primarily in North and South America, with additional operations overseas. The stock reached a record $73 in 2007, fell and recovered to $174 (a new record). The stock is up 5 fold in the last decade, and the dividend has been raised for the last 35 years.
English novels in the 19th century mentioned wealth as (for example) £5,000. That referred to an annual annuity, not assets (used in the US). Everybody needs income to enjoy retirement, and part of that includes the ability to pay for extra expenses in later years.
Even with the Dow and the S&P 500 near record highs, uncertain and difficult times lay ahead for the global economy. Europe is in a recession while it is trying to solve sovereign debt problems, and China's rapid growth rate has been slowing. The US economy has had an anemic recovery from its worst recession in decades, and federal budget cuts will hurt growth going forward. However, these stocks can be depended on to continue raising dividend income as they have for decades. Lower yield stocks are more attractive for younger investors with longer time horizons, because they are looking for more substantial dividend increases. Higher yielding stocks are for investors needing current income. Best of all, rising income feels good if and when the stock market sells off.
Disclosure: I am long KO, VFC. I wrote this article myself, and it expresses my own opinions. I am not receiving compensation for it (other than from Seeking Alpha). I have no business relationship with any company whose stock is mentioned in this article.