Home Depot's (NYSE:HD) recent 34% dividend increase has pushed its dividend yield over 2%. Investors will now receive $0.39 per share quarterly. In this article, I will be looking at HD's history, while using Lowe's Companies (NYSE:LOW) for comparison. By looking at dividend growth, EPS growth, and revenue growth, among a few other things, I will determine which of the two is the better stock to own.
Revenue: Climbing back up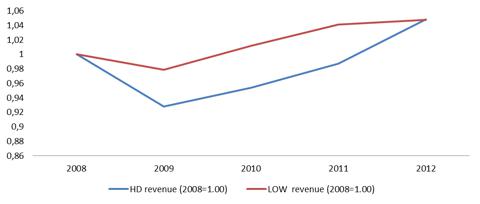 Click to enlarge
I'd like to start by looking at the growth in HD's revenue compared to LOW's. In the 2008 to 2012 period, both companies have grown their revenue by just under 5% (4.86% for HD vs. 4.75% for LOW). HD's revenue took a big hit in 2009, when it ended up over 5 billion dollars lower than in 2008 (a decrease of just over 7%). LOW's revenue dropped by only 2% in the same year.
Income: Home Depot is going up, LOW is going down.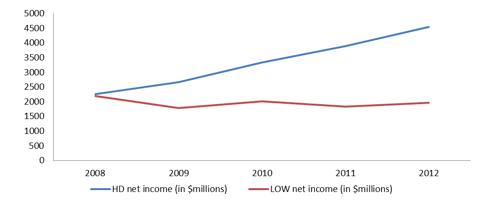 Click to enlarge
In 2008, HD had $2.26 billion in net income, while the much smaller LOW had almost the same at $2.20 billion. However, since 2008, Home Depot's net income has doubled and is now at $4.53 billion. LOW hasn't been able to boost its earnings, and has instead lost a bit of income. Clearly, Home Depot has outperformed its main competitor over the last 5 years.
Returning money to shareholders: Dividends and share repurchases
As stated above, HD's increase in dividend gives it a 2+% yield. LOW is at only 1.68%.The industry average yield is at 1.6%. At first sight, HD seems like the better investment. However, the rate at which the dividend grows is very important, and as we can see in the following graph, LOW easily beats HD in terms of dividend growth.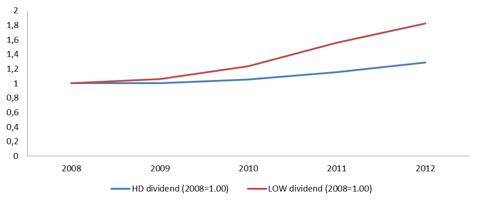 Click to enlarge
Another way of returning money to shareholders is the repurchase of shares. This lowers the total number of shares, which means each stockholder is entitled to a bigger portion of the companies' profit, making it an excellent way of increasing the EPS. Between 2008 and 2012, LOW has decreased its total number of shares from 1.47 billion to 1.15 billion. HD hasn't done quite as good but still managed to bring the total sharecount down by just over 10%.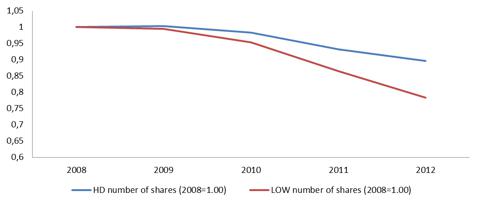 Click to enlarge
Dividends are paid from free cash flow [FCF], so to determine the sustainability of these dividends I have made the next graph, which shows dividends divided by FCF. Both HD and LOW have been higher in the past, but are now at close to 30%, which should mean a lot of spare cash for both companies.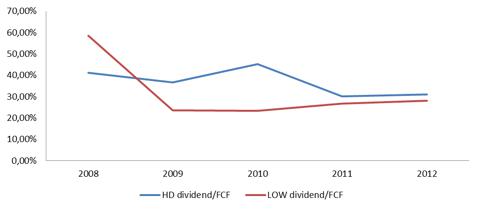 Click to enlarge
Valuation: Wait for a pullback before stepping in
From what we've seen so far, both LOW and HD are amazing companies. The growth in revenue has been somewhat disappointing in recent years, but both companies have been able to return large amounts of money to their shareholders. I wouldn't mind owning both of these companies, at the right price. Let's take a look at historical price to earnings ratios for LOW and HD.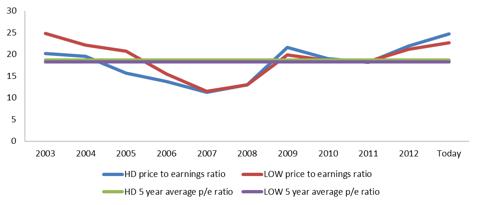 Click to enlarge
The 5 year average price to earnings ratio for HD is 18.7, which is just over LOW's 18.2. At today's prices, HD has a p/e ratio of 24.7, with LOW only slightly behind at 22.6. Both LOW and HD are great companies, and I would love to own them at a p/e ratio of somewhere near their 5-year average. I will be keeping an eye on Home Depot and Lowe's for the following months. Investors buying these stocks on a pullback should see some very nice returns.
Disclosure: I have no positions in any stocks mentioned, and no plans to initiate any positions within the next 72 hours. I wrote this article myself, and it expresses my own opinions. I am not receiving compensation for it (other than from Seeking Alpha). I have no business relationship with any company whose stock is mentioned in this article.