There was a steady barrage of bad economic news last week, similar to the train wreck of data that we saw the week before. What was markedly different, as can be seen in the chart below, was the stock market's reaction. It looks like the fundamentals are actually starting to matter. Two weeks ago the S&P 500 (NYSEARCA:SPY) sold off sharply to 1539.50 following the dismal payroll report, only to levitate four days in a row to new highs, despite the consistent string of discouraging economic reports that followed. The finale was the disappointment in March retail sales reported on Friday, April 12.
What changed on Monday morning of last week, I do not know, but the fundamentals that have been deteriorating for some time suddenly became relevant. The S&P 500 declined throughout the week, breaching the low of 1539.50 established two weeks prior, and briefly fell below the 50-day moving average for the first time this year. It must surely alarm the Fed that this decline occurred during a week when its balance sheet increased $58 billion, to a record $3.25 trillion. Is it possible that the positive relationship between QE and the stock market is breaking down at its current dosage level?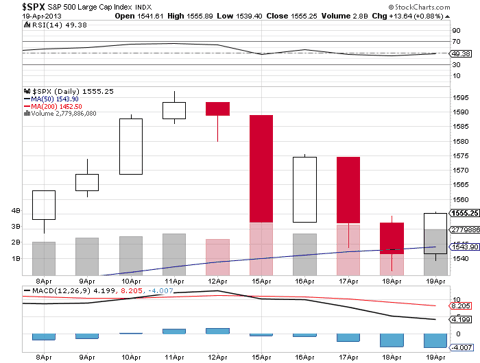 Last Monday's sharp decline was blamed on a report that China's economy grew a weaker-than-expected 7.7%, instead of the 8.0% most were expecting. This modest shortfall might be one reason for the decline, but I would also note the greater-than-expected decline in the Empire State Manufacturing Index, led by the order book moving into negative territory. There was also an unexpected decline in the National Association of Home Builders' [NAHB] confidence survey, which fell for the third month in a row to 42 in April. I'm also sure that the volatility in commodity markets was a factor.
Pundits scrambled to explain the meltdown in gold prices on Monday, the worst single-day decline in 30 years, along with the rest of the metals complex. Was it China's weaker-than-expected GDP report or the margin calls that resulted from Friday's lesser decline of 5% in combination with increased margin requirements? Could it have been Mario Draghi's assertion that Cyprus would sell gold to fund its bank bailout, leading to fears that a precedent would be established for future bailouts-bailouts that he suggests will not occur because Europe is on the mend? Or perhaps it was conjecture that QE may end sooner than expected, diminishing fears of inflation and the need to hedge?
I don't have the answers, other than to say that it only takes a few large players in the futures market to manipulate the prices of gold, oil and natural gas or the S&P 500 index, for that matter. It could be for no other reason than to incite a reflexive response in other inter-related markets to meet a short-term investment objective. In other words, I think it is manipulation in the short-term that doesn't have any bearing or meaning with respect to real-world economic fundamentals. It has most likely created an investment opportunity for long-term investors.
Last Monday's decline on heavy volume was followed by a bounce on lesser volume during Tuesday's trading session. It was reported that housing starts jumped 7% in March, but the increase was all in multifamily units, while single-family home construction fell 4.8% and the number of new building permits fell 3.9%.
On Wednesday, the selling resumed, following a disappointing earnings reports from Bank of America (NYSE:BAC). In what I think speaks volumes about our consumer-led economy, profits for the bank from loans, its primary business, fell 1.6% from the year-ago period, as overall consumer loans fell a stunning 7.5%. We saw similar performances from J.P. Morgan (NYSE:JPM) and Wells Fargo (NYSE:WFC) just a few days earlier, highlighting the lackluster demand for new loans. What was a surprise on Wednesday was the reaction to a headline reported at approximately 11:00 am that morning. It has come to be expected, when the market begins to swoon, that a Fed governor will throw the bulls a bone in the form of a sound bite for the algorithms to feed on. The Pavlovian market response is an abrupt knee jerk higher, righting the uptrend. But Wednesday's bone, thrown by St. Louis Fed Chief Jim Bullard, failed to illicit the desired response. He suggested that the Fed could increase the size of its asset purchases if inflation softens further, stating that "I'm very willing to defend the inflation target from the low side." This wayward bone was a misfire. The market didn't flinch.
The selling accelerated on Thursday with more disappointments on the economic front. This time, it was the Philadelphia Fed Manufacturing Index that fell to just 1.2, when the consensus was expecting a modest increase. The Leading Economic Index [LEI] also unexpectedly declined, falling .1% when an increase had been expected, the first decline in the LEI since August of last year. By the end of the day, the S&P500 had surrendered all of the previous week's gain, falling below its 50-day moving average.
Alas, Friday was a return to dislocation, and perhaps a day for the record books. The stock prices of three market bellwethers, all members of the Dow Jones Industrial Average, were hammered on huge volume following disappointing earnings announcements. IBM declined 8%, while General Electric (NYSE:GE) was down 4% and McDonalds (NYSE:MCD) fell 2%, yet the S&P 500 and Nasdaq were sharply higher throughout the day and the Dow Jones Industrial (NYSEARCA:DIA) inched out a gain just prior to the close, as though these earnings reports were rumors rather than reality. I can't remember ever seeing such a pronounced divergence between the Dow Jones and its largest component (NYSE:IBM), much less three. It was as though the invisible hand was at work again, levitating the broad market indices in defense of the 50-day moving average, despite investors aggressively selling the shares of these three companies.
What McDonalds' earnings report tells me is that we are on the cusp of a consumer-led recession. This fast-food chain is a staple for many Americans. When same-store sales decline 1.2% for the quarter, it reflects an American consumer under tremendous stress. Sales in Europe, now nearly one year deep into recession, were down just 1.1%. Is everyone suddenly becoming health conscious? I seriously doubt it. McDonalds' sales have been in decline for months, as it was last November that same-store sales fell for the first time in ten years, declining by 2.2% in both the US and Europe, but the market didn't seem to notice at that time.
Our economic growth is derived from consumption, and sadly, consumption has been the focus of nearly every fiscal stimulus effort dating back to the financial crisis, which is why the rate of growth is slowing today. Consumption is derived from income, savings, and what consumers are willing and able to borrow. Real disposable income is declining year-over-year. I expect it to take an additional blow in the months ahead as the Sequester results largely in furloughs that shorten the workweek, rather than layoffs. The savings rate has fallen to a miniscule 2.6%. Whether it is due to demand or credit availability, consumers are not borrowing. According to a new Associated Press poll, only one in four Americans expects his financial situation to improve over the next year.
This is not good news for the growth-comeback story, but that is the story that continues to be told by the Federal Reserve and the purveyors of bullish stock market outlooks on Wall Street. For those who buy this story, I would sell you a securitized package of sub-prime mortgage debt, but the Fed would beat you to it. I expect to see a continuation of the disappointment in US economic vital statistics, but what is more important is how the market responds. The Federal Reserve has done its best up to this point to manipulate that response. My guess is that we are at a turning point in this market cycle, in which the stock market begins to fall in line with the economic realities. Last week was the first indication that this might be happening, as the fundamentals clearly started to matter.
Disclosure: I have no positions in any stocks mentioned, and no plans to initiate any positions within the next 72 hours. I wrote this article myself, and it expresses my own opinions. I am not receiving compensation for it (other than from Seeking Alpha). I have no business relationship with any company whose stock is mentioned in this article.
Disclaimer: Lawrence Fuller is the Managing Director of Fuller Asset Management, a Registered Investment Adviser. This post is for informational purposes only. There are risks involved with investing including loss of principal. Clients of Fuller Asset Management may hold positions in the securities mentioned in this article. Lawrence Fuller makes no explicit or implicit guarantee with respect to performance or the outcome of any investment or projections made by him or Fuller Asset Management. There is no guarantee that the goals of the strategies discussed by will be met. Information or opinions expressed may change without notice, and should not be considered recommendations to buy or sell any particular security.