In the last few weeks, we have seen a huge spate of negative world economic and oil news. Much of the EU economic news has been negative, especially the industrial production numbers. Plus EU GDP growth for Q4 2012 was down -0.9% year over year in the Euro Area and down -0.6% in the EU27. The Chinese Q1 GDP growth disappointed at 7.7% versus an expected 8.0%. The US non-farm payrolls data for March disappointed at 88,000 versus an expected 192,000 and the previous month's 268,000. Further the household survey showed that 496,000 people left the US workforce in March 2013 versus a decline of only 130,000 in February 2013. This belies the reduction in the unemployment rate to 7.6%. More people are clearly out of work. The above are just a few of the highlights. There has been a huge amount of negative economic news in a short period of time.
With respect to oil, Barclays, the only major bank to maintain an average 2013 Brent forecast above $120/barrel, cut its forecast to $112/barrel for 2013. Goldman Sachs had cut its forecast for FY2013 steeply in October 2012. Further the EIA expects US crude oil production to grow rapidly in the next two years from 6.5 million bopd in 2012 to 7.3 million bopd in 2013 to 7.9 million bopd in 2014. This is expected to put a damper on oil prices, especially in the US and Canada. If a US recession comes, US oil prices (WTI) could fall to a range of $60-$80 per barrel. Even without a recession they may fall more than they have so far.
The market has clearly already applied this overall negative economic and oil outlook for FY2013 to the stock price of Continental Resources (NYSE:CLR). The stock price may fall more before the year is out, but now may be a good time to begin to average in for a long-term investor. For a trader it may be an even better time. Some may reiterate that old sage adage, "don't try to catch a falling knife." However, I maintain that the knife is no longer falling, at least for the near term. For the longer term, investors/traders should get ample notice if the knife starts falling again.
The first item that makes me think the knife has stopped falling is the price of gold. Gold Futures fell in the last few weeks from approximately $1580/ounce to an intraday low of $1321.5/ounce (the real bottom may have been at approximately $1360/ounce -- a 14% fall). Gold Futures have since rebounded to a value of $1422/ounce as of this writing. Many think gold will recover about 50% of its recent fall. If you average $1360 and $1580, you get $1470/ounce. If you believe in the 50% recovery theory, gold needs to get back to $1470/ounce before it will head lower again (providing there is not intervening great economic news in the meantime).
In many ways oil and gold are very alike. Many people invest in them to hedge against inflation. Not surprisingly oil prices fell almost in lock step with gold prices (from approximately $97.25/barrel for WTI to an intraday low of $85.9/barrel). Oil prices did not fall quite as much on a percentage basis; and they have not recovered as much on a percentage basis either. The price of Nymex oil is $88.25/barrel as of this writing on April 22, 2013. This leaves a potential profit window for oil traders/investors.
Further this week the market will get the first reading on the US Q1 2013 GDP growth. The forecast is for 2.8% GDP growth. Some are even forecasting numbers over 3.0%. Certainly the auto sales and the airplane sales were good in Q1. All told this number is not that hard to believe. People celebrated when the sequester was put off until March 2013. Many hoped for a deal. Many upped their spending in relief even though the average US citizen's take home pay had been cut down by 2.9% with the increase in the payroll taxes at the beginning of January 2013. It was only with the reality of the sequester in March that people began to spend less. US Retail Sales were down -0.4% in March 2013.
Eventually I would expect all of the negatives such as the worsening EU recession, the payroll tax hikes (plus the other tax increases on the rich), and the sequester to take their toll on US businesses. The Japanese gross debasement of their currency should hurt too, as it will make US goods less competitive both at home and worldwide.
The US will likely see lower oil prices in 2013. Perhaps it will see much lower oil prices. However, the market typically likes to believe everything is as rosy as possible for as long as possible. It is much easier for the market salesmen to sell the market this way. That probably means that oil prices will recover in the short term. It probably means that CLR, which is far oversold, will recover in the short term.
The two year chart of CLR below shows just how oversold CLR has become.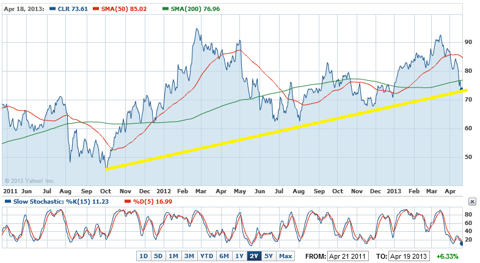 The chart shows that CLR has fallen from a high of $92.70 to a low on Friday April 19, 2013 of $73.07 per share. This is a 21% fall. That is far more than the price of oil (-11.7%) and the price of gold (-14%). This means that if there is not something drastically wrong with CLR, it is likely to rebound nicely in the short term. The slow stochastic sub chart confirms that CLR is far oversold. The rising support line (the wide yellow line) confirms that CLR is likely to find strong support at its current value. In other words, you can seldom draw up a more technically perfect bounce scenario.
The fundamentals support a bounce too. There is a good reason for CLR's rising support line. It is the #1 oil producer in the Rockies and the Williston Basin (Bakken) -- the Rocky Mountain Oil Journal. It averaged production of 106,831 Boepd in Q4 2012. This was up 42% over Q4 2011. It had 58% production growth in FY2012 over FY2011. It is predicting 35%-40% production growth for FY2013.
CLR beat on adjusted EPS for Q4 2012 by 19.50%. That is not weakness. Plus analysts' EPS estimates for Q1 2013 have risen from $1.00/share to $1.14/share in the last 90 days. CLR's FY2013 EPS estimate has gone up from $4.65/share to $5.16/share over the last 90 days. The average analysts' next five year EPS growth estimate per annum is 37.15%. Analysts' average EPS growth estimate for FY2013 is 53.60%. That is not weakness.
CLR's production is 70% oil. Admittedly oil prices have been falling while natural gas prices have been rising, but overall oil has been much more stable over the last couple of years than natural gas. It has been good to be in oil in the US. That situation is likely to remain the same for many years to come.
On top of this, CLR has been successfully working to lower costs. An example of this is CLR's adoption of Pad drilling (see chart below).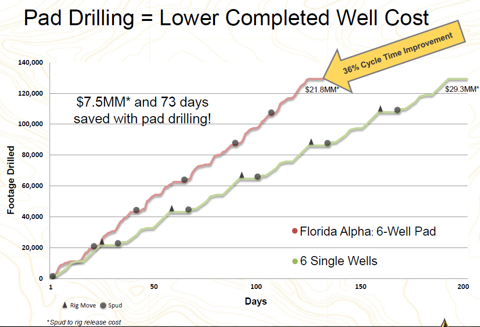 The chart shows that Pad drilling reduces cost substantially. If you are reducing costs and growing production/reserves strongly, you are a successful oil company.
The chart below shows CLR's last five years of production and reserves growth.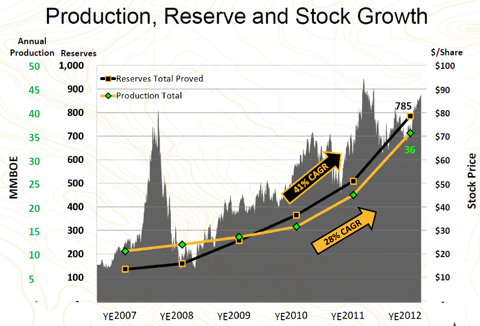 When you are as big a producer as CLR is, the 28% CAGR production growth and the 41% CAGR reserves growth are fantastic numbers. When you combine these with great growth in EBITDAX numbers and generally great margins, you have to really like CLR as a company (see charts below).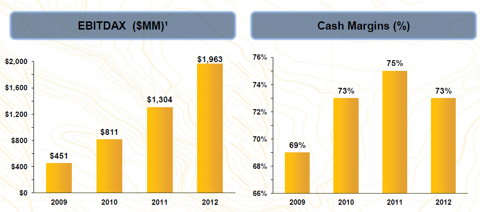 In sum there is very little not to like about CLR. It has also found a Bakken II for itself -- the SCOOP (South Central Oklahoma Oil Province). It has been getting fabulous results here. It currently has 245,000 net acres (as of February 2013) in this play; and it is apparently slowly buying more as good prospects become available. CLR believes its SCOOP resources have 2B Boe net unbooked reserve potential with 3,035 net undrilled locations. It believes these represent a 40%-70% ROR.
If all of this wasn't enough, don't forget that CLR raised its estimate for the total original barrels of oil in place in the Bakken by 57% in December 2012 to 903 billion barrels (up from 577 billion barrels). This was effectively a 57% jump in all of CLR's Bakken assets, which are considerable at approximately 1.1 million net acres of some of the best Bakken prospects. Yet as you can see by CLR's chart far above, the stock price does not at this moment reflect that upgrade. It also does not reflect CLR's great results both in the Bakken and in the SCOOP. In sum you are getting a second opportunity to get into this stock at the bargain price it represented in December 2012.
Some might cry, "watch out for the recession", but CLR is actually reasonably well hedged for oil. It has 24 million plus barrels of oil hedged for FY2013. Its production at the end of Q4 2012 was approximately 107,000 boepd. This amounts to approximately 39 million boe for FY2013. However, only 70% of this is oil production. This means only about 27 million barrels of oil would be produced at Q4 2012 end production levels. This does not leave much oil production unhedged. One could argue that the 35%-40% production growth expected in FY2013 might lead to another 20%-25% of actual production above the cited level. However, few oil companies like to hedge beyond their current levels of production. CLR may well acquire further hedges as its oil production increases in 2013. In fact I would expect it to do so. It may have to settle for slightly lower prices on those hedges, but it should still do fantastically well.
CLR should be a great buy for the long term investor, although in this case the investor may wish to try to average in over the course of 2013 and perhaps the first part of 2014. A recession is a very real possibility. Still the price is low enough now to make CLR very attractive. For the trader, the technicals add further to the attractiveness of a short term CLR investment. CLR is a buy for both cases. Its PE of 17.95 and FPE of 10.83 confirm this. When viewed in the context of analysts' estimated 37.15% next five years EPS growth rate, CLR is even more attractive. It carries an average analysts' recommendation of 2.0 (a buy); and it more than deserves that rating at the current time.
Of course some traders may want to know if other good Bakken oil companies also present the opportunity for a rebound play. I have not done all of the research on these companies, but I know them to be generally good companies. I have included the two year charts of each for interested traders. Each is a big Bakken oil producer.
The two year chart of Whiting Petroleum (NYSE:WLL) is below: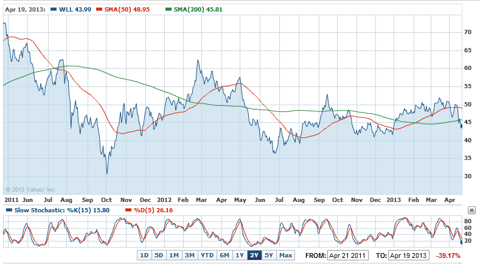 WLL is also oversold; and it is positioned for a rebound. It does not have as strong an uptrend as CLR, and it does not have as extensive hedging as CLR. Still it will probably rebound nicely.
The two year chart of EOG Resources (NYSE:EOG) is below.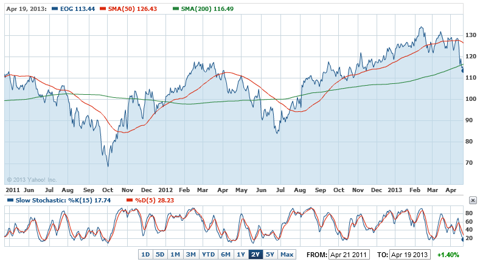 EOG did not fall as much on a percentage basis; but it too has a good uptrend in place in its long term chart. It too is oversold in the shorter term. It may well be a good rebound play on oil.
The two year chart of Rosetta Resources (NASDAQ:ROSE) is below.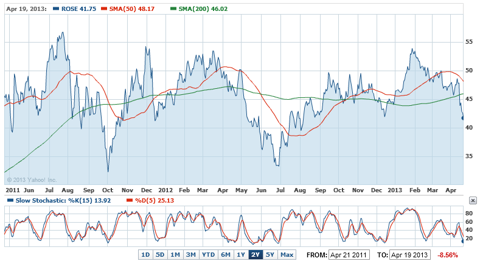 ROSE is oversold. It does not have a great uptrend on its main chart; and I know it is not as well hedged as CLR. Still it would probably yield good results for a short term rebound play.
NOTE: some of the above fundamental fiscal data is from Yahoo Finance.
Good Luck Trading.
Disclosure: I have no positions in any stocks mentioned, but may initiate a long position in CLR, WLL, EOG, ROSE over the next 72 hours. I wrote this article myself, and it expresses my own opinions. I am not receiving compensation for it (other than from Seeking Alpha). I have no business relationship with any company whose stock is mentioned in this article.