The attraction to REITs today has been driven by the strong investor demand for income. After all, most REITs obtain rent from a variety of tenants and the more successful REITs are the ones that lease out space to highly sustainable users. It's clear to see that the most attractive REITs today have the most sought after facilities that make the demand fundamentals the strongest.
One of the most appealing asset sectors today is healthcare. Unlike some of the other sectors - like retail, self storage, and office - everyone has to visit a healthcare property. Accordingly, the healthcare sector has become a most reliable asset category that is driven by the necessity-based characteristics that make the income stream all that more durable.
In a Market Overview Report dated January 2013 (Source: U.S. Healthcare Industry and Medical Office Market Overview) by Rosen Consulting Group (or RCG), Randall Sakamoto, Executive Vice President wrote:
The healthcare industry has been growing at a strong pace for decades. Looking forward, this trend is expected to accelerate as baby boomers reach retirement age and echo boomers begin to establish their own facilities. As demand for medical services increases, this will further increase the need for physicians, lab technicians, and other medical support staff, driving demand for the high-quality medical office buildings (or MOBs) that house them.
The MOB industry has evolved over the years, mostly driven by consumer choices. As Sakamoto explains:
Evolution in the healthcare industry is also contributing to opportunities in the medical office space. Driven by shifting consumer preferences, limited space in hospitals, and lower costs, procedures that have traditionally been performed in hospitals, such as surgery, have been moving to outpatient facilities. Additionally, increased specialization in the medical field has been driving demand for medical office facilities suited to the needs of the particular profession...As the healthcare industry continues to evolve to serve a diverse and growing population in the most efficient way, opportunities for medical office development, acquisition and asset management should increase.
What Are The Healthcare Drivers?
According to Rosen Consulting Group, the total estimated population of the United States was 313.91 million people in 2012, a 38.2% increase from 1980 (when the population was 227.2 million). Going forward, the total U.S. population is expected to increase by an average of 0.6% annually through 2050. By 2050, the Census Bureau projects that the population will reach 399.8 million people.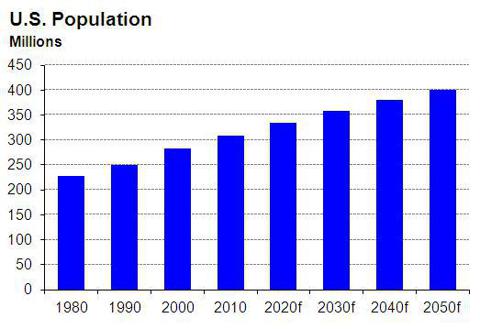 Advancements in medical technology and changes in the methodology of treatment have helped individuals live longer and resulted in a growing elderly population.
In 2011 (the latest data that is available), there were 41.4 million people over the age of 65, a staggering 61% increase from the 25.7 million people that made up the 65 and older group in 1980. This dramatic increase resulted in this 65 and older group accounting for 13.3% of the total population (versus 11.3% in 1980). Also, during the same period, life expectancy for this segment increased to 78 years, up from the expected lifespan of 74 years in 1980. According to Sakamoto,
The growth of the elderly population will drive increased utilization of medical care throughout the country. In addition to the absolute growth in the elderly population, this age cohort will continue to contribute to domestic migration trends and the location of healthcare demand.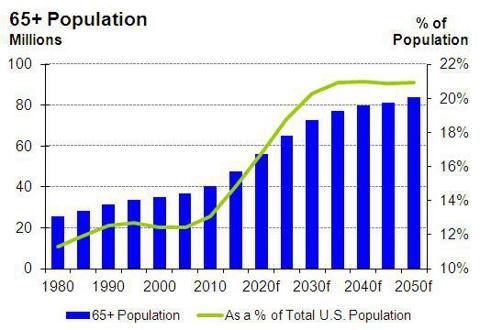 With the baby boomer population (ages 46 to 64) at the cusp of 65 years and older, this large segment of population will drive a surge in demand for medical care. This trend, coupled with shifting preferences toward delivery of care outside of hospitals, should produce a sustainable growth period with the medical office sector.
What About Rising Healthcare Spending?
According to RCG, annual healthcare spending has been on the rise since tracking began in 1960. Sakamoto explains:
Americans (since 2011) spent nearly $2.7 trillion, or 17.9% of total GDP, on healthcare expenditures, an increase of 3.9% from the previous year.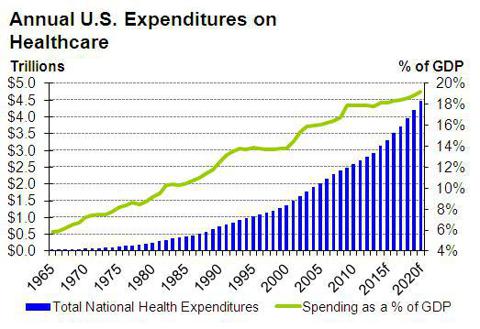 Sakamoto with RCG adds:
Annual healthcare expenditures increase as income levels increase. As people age, their incomes usually rise and they tend to spend more on healthcare because of lifestyle changes such as family, the effects of aging, and the ability to afford more advanced healthcare.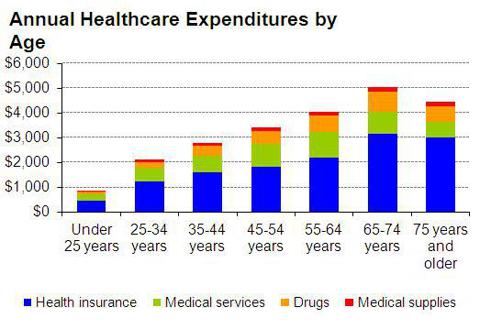 Employment in healthcare has steadily increased for at least 20 years despite three recessions.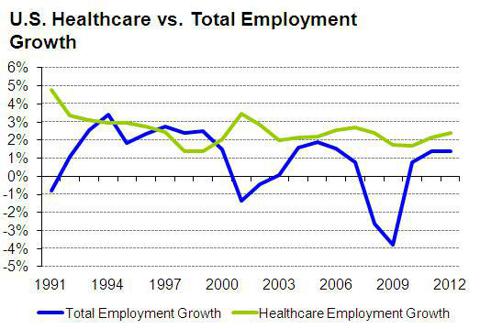 According to the Congressional Budget Office (source: Rosen Group), the Affordable Care Act will add an estimated 32 million insured Americans by 2016. This increased coverage will allow previously uninsured individuals to access healthcare and expand utilization. Conversely, as healthcare utilization increases, there will be an increase in the need for all types of providers, including doctors and on-physician workers. The growth in demand for these occupations is expected to increase sharply during the next several years.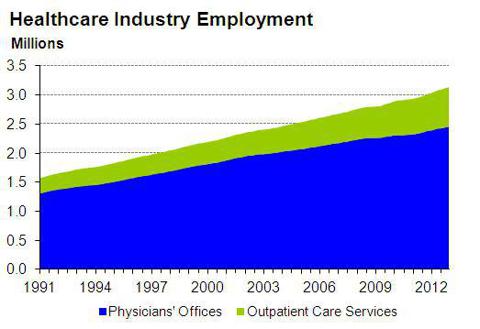 The number of physicians'' office visits increased from 682 million in 1994 to more than 1.0 billion in 2009 (source: Rosen Group). Between 1994 and 2009, the number of visits to physicians' offices increased by 46.6%. As Sakamoto with RCG explains:
We expect the total number of physicians' office visits and per capita visits to continue to trend upward, driving demand for medical services. In turn, this will lead to increased healthcare employment and greater need for medical office space.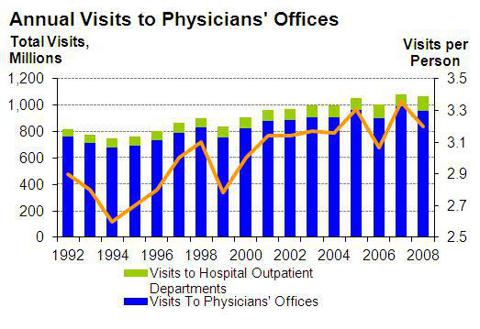 How Big Is The MOB Market Today?
According to Rosen Consulting Group, the U.S. investable medical office market was comprised of around 478 million square feet (in 2011), with an estimated 74.2 million or 15.5% of this total owned by publicly-traded healthcare REITs. As Sakamoto with RCG explains:
MOBs are typically classified as either on-campus, for facilities located on or connected to a hospital campus, and off-campus, for facilities outside of the hospital campus. Physicians are increasingly attracted to medical office space on or very near hospital campuses in order to leverage hospital services and increase traffic to their practice. Additionally, some physicians are affiliated with hospital systems and require proximity to its campus.
According to Sakamoto,
Construction activity in the medical office sector has been relatively constrained, particularly considering the two large population waves that are entering periods of increased healthcare utilization.
Here is a snapshot of MOB construction from 1994-Q312. Note, construction activity was reduced by 42% from the peak (2004) through 2011.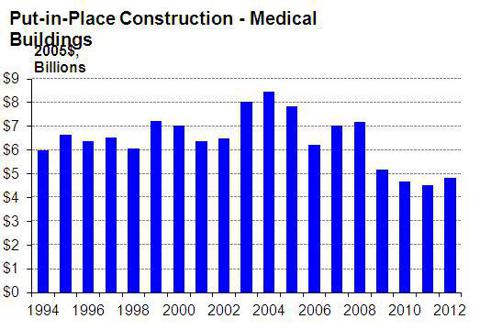 With the inset of the Great Recession and disruption in the capital markets, construction financing became scarce and new construction activity fell significantly. Here is a snapshot of MOB construction completions: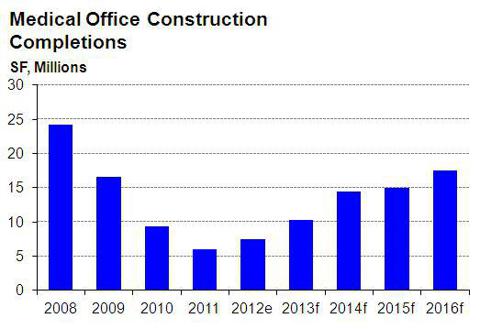 Rosen Consulting Group forecasts that around 10.25 million square feet of medical office construction will be delivered in 2013. This limited amount of new construction will limit tenants' relocation options, focusing options on existing properties. According to Rosen Consulting, new MOB construction should increase to around 14.5 million square feet in 2014.
MOB Absorption Trends Continue
Rosen Consulting Group explains:
The medical office vacancy rate has traditionally been lower than the office vacancy rate. Physicians need to remain near their patient base and as a result, medical office facilities tend to have a higher rate of retentions. Additionally, both higher medical office tenant improvement costs and the difficulty of relocating medical office equipment contribute to increased tenant retention for MOBs.
During the downturn, the vacancy rate for MOB space has been much more stable, largely due to the retention costs (referenced above) and the reduced supply of new product.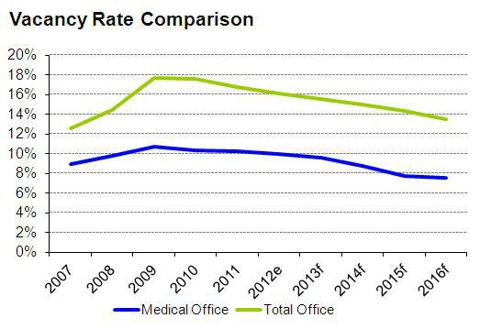 Also, due to the constructs of the healthcare industry, average asking rental rates for MOB space are less volatile as compared with traditional office space rents. In addition, less available space coming to market has contributed to lower volatility of asking rental rates.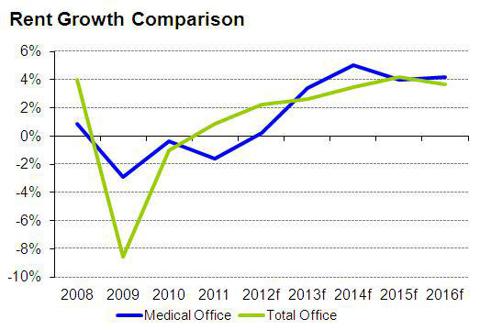 As the chart above indicates, MOB rents performed better (during the Great Recession) as average asking medical office rents decreased by 4.8% as compared with an 8.2% decline for traditional office properties. According to Rosen Consulting Group, MOB rental rates should begin to accelerate in 2013 (by around 40 basis-points) and continue to grow.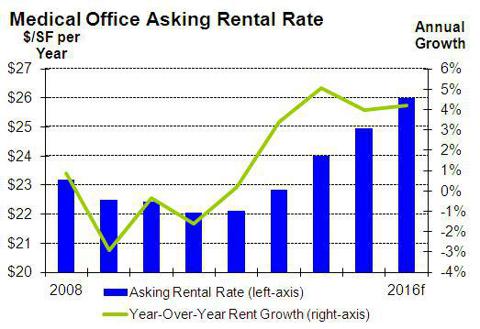 Picking The Best MOB REIT
The Healthcare REIT sector has evolved into a $79.9 billion industry (based on market capitalization) that is roughly 15% of the overall equity REIT composition. There are fourteen REITs that own healthcare assets ranging from the newest REIT, AVIV REIT ($924 million market cap) to HCP, Inc. (NYSE:HCP) with a $23.9 billion market capitalization.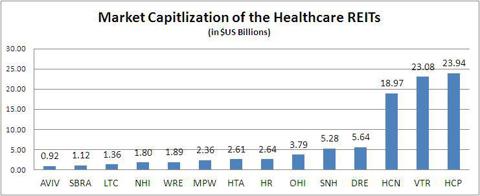 Ten of the fourteen Healthcare REITs own MOB properties and one them, Washington Real Estate Investment Trust (NYSE:WRE) has announced that it is exploring the sale of its MOB division. During a conference call on January 30 (2013), CEO George "Skip' McKenzie indicated that the company expects "significant gains" on the sale of the MOB facilities. McKenzie, who also announced his retirement, is hoping his company can prune the MOB portfolio and focus on more strategic initiatives.
It's likely that the public REIT bids for WRE will come in the form of the dominant diversified REITs: HCP, Inc., Ventas, Inc. (NYSE:VTR), or Health Care REIT (NYSE:HCN). Two other prospective bidders could be Healthcare Realty Trust (NYSE:HR) or Healthcare Trust of America (NYSE:HTA). The 17 property WRE portfolio (1.29 million square feet) could trade at premium valuations and I suspect the cap rate could be in the mid 6% range.
Last year I wrote a Seeking Alpha article, Healthcare REITs: It Pays Dividends To Have A Circle Of Competence, in which I explained the value proposition for the "pure play" healthcare REITs:
Although Ventas is not trading at a monster premium , investors can still find attractive pricing with the smaller non-mega REITs. By combining multiple "pure play" REITs, an investor can gain diversified exposure to healthcare while also maintaining a risk-adjusted "circle of competence" portfolio. By doing so, investors find that dividend yields are much more attractive and simply a better value proposition for "sleeping well at night."
That was my argument then and it is still my argument today, especially in the MOB sector. Let's take a look at the Healthcare REITs with MOB exposure: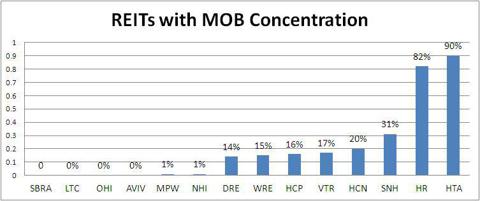 As you can see, there are two pure-focused MOB REITs today - Healthcare Realty Trust and Healthcare Trust of America - and both REITs have a market capitalization of around $2.6 billion. On June 6th (2012) I reported HTA's listing and since that time shares have grown from $9.90 to a market close of $12.12 (on April 19, 2013) - a 21% increase. Including a healthy dividend (4.74%), HTA has returned over 26% in the same 10 month period.
Unlike HR, HTA started out as a non-traded REIT and the Scottsdale-based REIT does not develop MOB properties. Accordingly, HTA's institutional base is beginning to grow as shares are starting to trade with more volume and investor demand is following HTA's prudent risk management profile. As a leader in MOB investments, HTA has assembled a portfolio of properties that totals approximately $2.6 billion based on purchase price and is comprised of approximately 12.7 million square feet of gross leasable area located in 27 states. It operates its properties through regional offices in Scottsdale, Charleston, Atlanta, and Indianapolis.
The biggest difference between HTA and HR is that HR spends significant time and capital developing new properties, while HTA spends its time and capital seeking to acquire fully occupied buildings from health systems and regional developers. Development can theoretically provide some additional yield for a REIT. However, when these projects do not lease up on schedule, development can create a significant drag on earnings and management's focus. Unfortunately, HR has demonstrated this risk over the last several years.
The differences do not end there. Both are investment grade, although HTA has significantly lower leverage and was recently placed on watch for an upgrade, which could lower its cost of capital. In addition, HR has material near-term lease rollover, with almost a third of its portfolio coming up for renewal in the next two years. This compares to just 15% for HTA. Finally, many industry analysts point out that HR has several corporate governance issues, such as a staggered board and anti-takeover provisions, while HTA does not. As we have seen from the recent news from CommonWealth REIT (NYSE:CWH) and Cole III, these corporate governance issues matter.
Based on all of this, HR clearly has more risk to its stock. However, it still trades at a premium to HTA and offers investors a dividend yield of 4.0% (versus 4.7% for HTA). This is probably because HTA is still new to the public markets, but I expect this to change over time.
HTA also has a healthy portfolio occupancy rate of 91% and over 40% of the tenants are investment grade rated (and 57% are credit rated). Also, HTA's rent coverage ratio is 9x and that provides a margin of safety as compared with the other less defensive healthcare sectors.
In most healthcare real estate sectors, operators are doing well if they have 1.5x rent coverage. That means that for every $1.50 of income a senior housing operator makes, they are going to spend $1.00 on rent. As a landlord, that is a pretty thin margin of safety.
That is not the case for MOBs. In this sector, physicians and health systems generate rent coverage closer to 9.0x. That means that for every dollar of rent being paid, a physician or health system is making $9.00 of income with which to pay the rent. That coverage is almost 6.0x as great - definitely the margin of safety that we are looking for in our SWAN investments.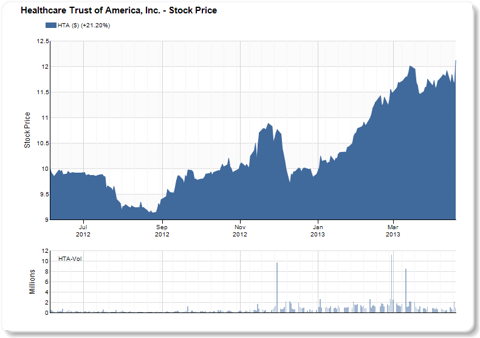 It's just a matter of time before MOB becomes a core asset class. As I explained in a previous article:
One of the keys to Warren Buffett's financial success is his belief in the circle of competence. The circle of competence is simply the theory that an investor should choose one particular area in which to focus his efforts. Ideally, this should be an area in which his skills and experience are above that of the average investor. According to Warren Buffett, a successful investor does not need to have a large circle of competence; he merely needs to know when he is operating outside his area of expertise.
In closing, ABCs is as simple as MOBs…Keeping it simple is the prescription for Sleeping Well at Night, That's just what The Intelligent REIT Investor ordered…

Source: SNL Financial, Rosen Consulting Group, and NAREIT
Other REITs mentioned: (NYSE:AVIV), (NYSE:LTC), (NYSE:MPW), (NASDAQ:SBRA), (NYSE:NHI), (NYSE:OHI), (NYSE:SNH), and (NYSE:DRE).
Disclosure: I have no positions in any stocks mentioned, and no plans to initiate any positions within the next 72 hours. I wrote this article myself, and it expresses my own opinions. I am not receiving compensation for it (other than from Seeking Alpha). I have no business relationship with any company whose stock is mentioned in this article.