We find ourselves buyers on these dips and sellers into the rips lately, which is working and leading to small 2-5% profits. It is not generally the type of investing we like to do, but it is profitable investing and that is something we strive to do. We will take winning trades, however, we can get them and until we can find another solid uptrend we shall remain traders in this market, not because we want to, but because the market dictates that we must.
On a side note, we have been proponents of readers investing smartly for retirement and watching for hidden fees. It is something we get on the soap box and tell to family, friends, clients and really anyone who will listen. The amount of money one can lose over time to hidden fees or simply fees which are out of control is astounding if you do the math. We saw this commercial which explains it in very simple terms (and very fun terms), so please enjoy (video is located here).
Chart of the Day:
Natural gas has been on an uptrend since the lows hit below $2/mmbtu, and recently crossed over $4/mmbtu. This is bullish as it has now broken out above prior resistance and managed to stay above this level as contracts rolled over. $5/mmbtu shall be the next target to watch, but the story is getting strangely bullish.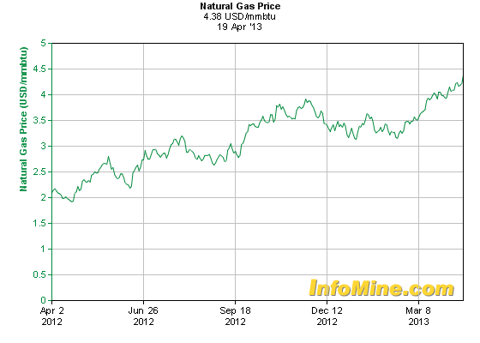 Click to enlarge
Chart courtesy of InfoMine.com
We have economic news due out today, and it is as follows:
Existing Home Sales (10:00 a.m. ET): 5.01 Million
Asian markets finished mostly higher today:
All Ordinaries -- up 0.66%
Shanghai Composite -- down 0.11%
Nikkei 225 -- up 1.89%
NZSE 50 -- up 0.88%
Seoul Composite -- up 1.03%
In Europe, markets are up this morning:
CAC 40 -- up 0.75%
DAX -- up 0.70%
FTSE 100 -- up 0.67%
OSE -- up 0.11%
Retail
This morning, we wanted to look at retail and where some of the names that we follow are at now. The two which caught our eye over the weekend are Home Depot (NYSE:HD) and Walgreens (WAG) - both of which are at 52-week highs, but Home Depot hit a new all-time high of $74.28/share on Friday and Walgreens is within a few coins of matching an all-time high set in August of 2006. As readers know, these are two of our favorite names in their respective sectors and we have been bullish of them for some time. We still like Walgreens for retirement portfolios and think, contrary to the new narrative out there, that housing will continue to recover and that the housing stocks (in some cases, but especially as it relates to the home improvement chains) shall continue to rise. Neither one of these uptrends will last forever; however, one must ride winners until there is no higher level to ride them to and that is what we shall do. Continue to play these names for the underlying trends (improvement in the housing market for Home Depot and a continuation of improved margins for Walgreens with generic drugs gaining traction).
Technology
There are a lot of rumors out there right now regarding IBM (NYSE:IBM) and the possibility that they might sell their lower-end server business to Lenovo, a possibility which we feel has a very high probability. This would mirror the deal where they sold their low margin desktop/CPU/laptop business to the Chinese computer maker and exited the business to focus more on the higher end tech gear and the services that businesses sought to help them manage their IT needs. Any deal may run into some headwinds in Washington, D.C. with many thinking that Chinese tech gear could one day be used (if not already as that is something many of the conspiracy theorists believe) to target our country's infrastructure and/or steal information such as business secrets or patented technology. It is something we think ultimately gets done, but this time the sale may not be so easy so it is something investors should be aware of. The company's shares finished near the lows of the day on Friday, closing at $190.00/share after falling $17.15 (8.28%) after the company missed their quarterly targets. They did leave full-year guidance unchanged though.
Biotechnology
For those wanting to be buyers, wait. It shall get cheaper in the coming weeks and/or months. There is no need to chase it.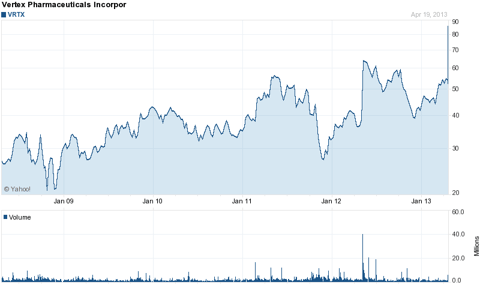 Click to enlarge
Chart courtesy of Yahoo Finance.
Continuing a trend which has been developing over the past decade, and has become even more pronounced in the past few years, (where many of the world's new drugs are discovered by smaller biotech firms rather than 'Big Pharma') Vertex Pharmaceuticals (NASDAQ:VRTX) announced positive results from their drug targeting cystic fibrosis, VX-661 when paired with Kalydeco (a drug already approved). It looks like further testing will be required, however, the positive news along with the company's comments that they would probably fast track this to late stage trials once further data has been gathered sent shares soaring. The stock finished the day at $85.60/share after rising $32.73 (61.91%) on the news with volume soaring to 24.9 million shares. In our opinion, this is something to watch further as the pairing of these two drugs, Kalydeco which treats one of the rarest forms of the disease, with VX-661 which could treat a larger portion of the population affected by the disease, may yield a blockbuster drug which could dominate the market. Already Kalydeco has over $100 million in sales, and there are less than 2,000 individuals who suffer from that subset of the disease in the country. Obviously, this is a huge opportunity, and we are adding this to our biotech watch list this morning.
Consumer Goods
The good news is that the mainstream media is finally starting to pay attention and buy into our thesis that the consumer goods companies are leading the way higher and that it is a sector which has brought a lot of new investor capital into the market. Unfortunately, it seems that they think the party is over before it has even begun. See this story from CNBC which lays it all out (located here). It provides a great counterargument to our thesis and is something readers should look over just to make sure you are getting both sides of the story. It is what we do when looking at ideas and something we encourage you to do when taking our ideas and running with them... a little 'fact checking' goes a long way.
These are the non-food & beverage consumer stocks hitting all-time highs Friday. It is impressive.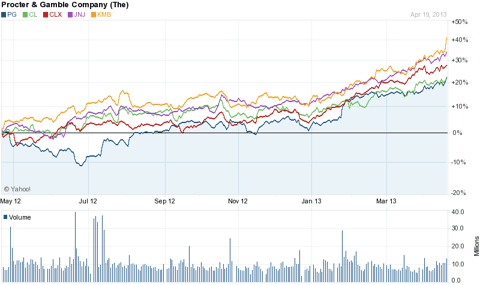 Click to enlarge
Chart courtesy of Yahoo Finance.
We are still bullish of Proctor & Gamble (NYSE:PG) which continues to set new all-time highs and is one of the leaders in the consumer goods names leading us higher. It is not just consumer goods, but the food & beverage names as well and all of this leads us to continue to believe that we have general investors re-entering the market after a long hiatus. With their re-entry, they are purchasing names which they know and trust and sometimes this is via their experiences as a consumer rather than an investor. Bottom line is that we think this story continues through at least the end of the year.
Disclosure: I have no positions in any stocks mentioned, and no plans to initiate any positions within the next 72 hours. I wrote this article myself, and it expresses my own opinions. I am not receiving compensation for it (other than from Seeking Alpha). I have no business relationship with any company whose stock is mentioned in this article.