Friday we were buyers once again in the commodity space and found ourselves buying more of our current positions. It is something we do not mind doing, especially when our conviction is so high and valuations for substitutes is just as high. Remember, we are having trouble finding value in this market and even with the pullback think that most of the commodity stocks trade in tandem. Thus those which have been "punished" more than others for no reason have grabbed our attention.
Gold and silver are rallying strongly this morning and we would not be surprised to see a 5-10% across the board rally in some of the precious metals names if this holds up in New York trading. If it does we could see bears retreat and even larger gains, possibly 20% in some of the names. Be careful out there though, for it is a minefield right now.
Commodity prices this morning are as follows:
Gold: $1431.30/ounce, up by $35.70/ounce
Silver: $23.485/ounce, up by $0.525/ounce
Oil: $88.59/barrel, up by $0.58/barrel
RBOB Gas: $2.7965/gallon, up by $0.0241/gallon
Natural Gas: $4.331/MMbtu, down by $0.077/MMbtu
Chart of the Day:
This is the same chart we used as the 'Chart of the Day' in our other article and we decided to "recycle" it here because it is that important and impressive. Natural gas is on a tear, and even at these prices the US still has the cheapest supply in the world (Canada we include with the US) and even with the rise shall be able to attract manufacturing jobs for those industries requiring vast amounts of natural gas (i.e., fertilizers, chemicals, plastics, etc).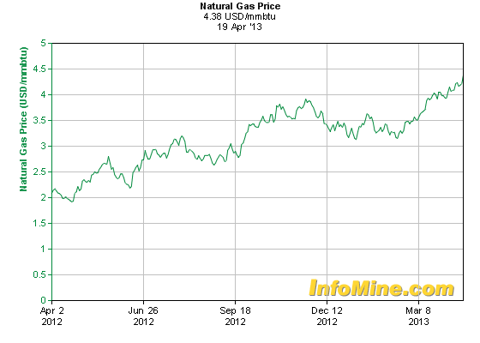 Chart courtesy of InfoMine.com
Oil & Natural Gas
We found ourselves buyers of EV Energy Partners, LP (NASDAQ:EVEP) once again on Friday as the value seems to be there. We recognize that we have said this all the way down from the highs, just as we said it all the way up to the highs, but in reality we are right back at the lows set roughly a year ago (around last May). We recognize that there is still the Utica data to be released by the State of Ohio which will most likely disappoint the market for a myriad of reasons, it being far more gassy than anyone expected and production be far lower than many expected simply because the infrastructure is not yet built. We are happy buyers with a yield above 6%, and shall continue to be so long as we see their latest natural gas buys making sense - and right now they surely are.
We could not help ourselves on Friday. It appears that there is value here and we have done the calculations many times...with the results being the same. Thus we are buyers here and shall be if shares get hit on any more perceived bad news (i.e., the release of Utica figures from Ohio).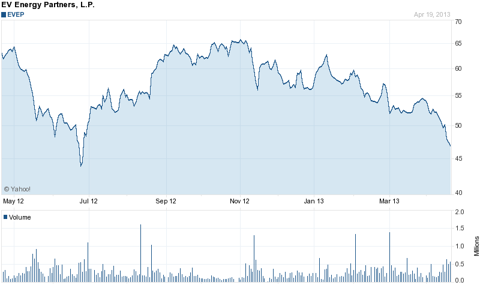 Chart courtesy of Yahoo Finance.
Apache (NYSE:APA) is another name where value is apparent and sadly it seems to continue to get cheaper. Good for those looking to build positions but for others who have had positions for some time now, it seems to have gotten painful (at least from some of the emails we have received since highlighting the company's shares). We are not worried as it is a situation we have been in before, and with the valuation continuing to become more appealing, we might be forced to put some speculative capital and/or long-term funds to work via a purchase of the company's shares in the near-term. It is something we are watching closely.
Regarding some of the emails and comments readers have posted and/or sent to us regarding Magnum Hunter Resources (MHR). We get that many, and we are guilty of this too from time-to-time, have a close relationship with their stocks and dislike when others attack them, but for those who think that this dismissal of the auditor is a nonevent and something which one can simply write-off we think you are trying to fool yourself. Look no further than the market's reaction to all this nonsense and you get your answer for whether it is a good thing or a bad thing, and once again this is not an indictment on BDO's part, but rather Magnum Hunter's. They should not have put themselves, their shareholders or their new auditor in this position...but what is done is done and the coming months shall be the tell. Remember great assets usually an bail out bad management or bad management decisions, so we shall see how bad of a decision this was and just how good their assets are.
Coal
Walter Energy (NYSE:WLT) could be entering a Cliffs phase and that would not be good for shareholders at all. The company is under attack from outside investors who want to be activists, and this is something which we ourselves cannot argue against at this time. Management has had ample opportunity to try to create value for shareholders and even when they have had the benefit of knowing that the so-called 'enemy' was at their gates they have failed to manufacture numbers which would appease the market. This is a name which was supposed to be sold long ago to a willing buyer, and it was not, now there are no willing buyers but (by our estimation) plenty of willing sellers. Are we being too hard? Well readers will surely let us know, but plenty of shareholder capital has been destroyed here and it shall be far more difficult to recreate it than it was to destroy it....it always is.
Uranium
The uraniums continue to languish except for the names which have had some exploration success over the past few months and we are getting more and more excited about this trade for the remainder of the year. To update readers, Ur-Energy (NYSEMKT:URG) has seen shares fall right back into the area where we are buyers, and although we have used up most of our firepower over the past few weeks we are going to do our best to move some funds around and once again be shareholders of Ur-Energy. No need to rush in and buy an entire position, buy a portion here and continue to wade in until an entire position is assembled. Remember this is a portion of your portfolio which will be non-marginable and illiquid at times, so one should strictly use their speculation capital here.
It appears safe to start to buy that first portion of one's position here in order to be prepared for what we believe is a new uranium bull that could send juniors higher by 3-5x.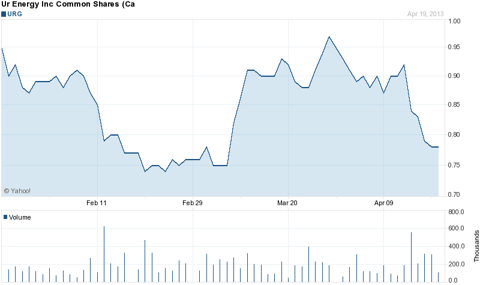 Chart courtesy of Yahoo Finance.
Disclosure: I am long EVEP. I wrote this article myself, and it expresses my own opinions. I am not receiving compensation for it (other than from Seeking Alpha). I have no business relationship with any company whose stock is mentioned in this article.