By: Todd McDonald, Analyst
Overview
Cree Inc. (NASDAQ:CREE) is slated to report 3Q 2013 earnings after the close of trading on Tuesday, April 23. Results are typically available at 4:00 p.m. EST. A conference call will follow at 5:00 p.m. EST. Cree is a light emitting diode manufacturing company that has garnered extra attention as of late, thanks in part to the improving housing market and an innovative new line of energy-efficient lighting devices.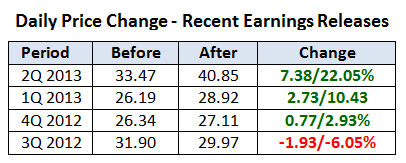 Outliers & Strategy
Non-GAAP Earnings Per Share: Cree reports a value of Non-GAAP earnings per share that is comparable to consensus estimates. The Street is looking for $0.34, with a range of $0.32 and $0.36. (Source: Yahoo! Finance)
Revenues: The current Street estimates are for revenues of $342.22 mln, with a range of $335.28 mln to $350 mln.
Gross Margin: According to Zack's Investment Research, gross margin estimates currently stand at 39.4%.
Cree Inc. issued guidance on 3Q2013 earnings on March 5. The company indicated that it expects Non-GAAP earnings per share in the range of $0.31 to $0.36, revenues in the range of $335 mln to $350 mln, and gross margins of approximately 39.5%. With the third quarter results potentially priced in, look to the following guidance measures to help shape your trading strategy:
Adjusted Earnings Per Share Guidance (4Q2013): Analysts are expecting 4Q2013 adjusted earnings per share of $0.37.
Revenues Guidance (4Q2013): Street estimates are for 4Q2013 revenues of $367 mln.
Sympathy Plays: Veeco Instruments (NASDAQ:VECO), Acuity Brands (NYSE:AYI), Revolution Lighting Technologies (NASDAQ:RVLT)
Implied Volatility: Over the past eight quarters, the average absolute move one day after earnings are released has been 9.46%. Using options premiums, traders are expecting a move of approximately 10.87%. Approximately 12% of the float is held short.
Recent News
04/02: According to a post on StreetInsider.com, Jefferies reiterated its Underperform rating and $32 price target on Cree. The firm believes that current levels assume a "near-flawless" execution and that exuberance on LED stocks is overdone.
03/05: Cree issued a press release "Cree Introduces The Biggest Thing Since the Light Bulb," highlighting the company's newest LED bulbs that use 84% less energy, at an affordable price-point. The new product is available exclusively at Home Depot (NYSE:HD).
03/05: Goldman Sachs reiterated its Buy rating on Cree, while raising its price target from $46 to $48, according to a post on StreetInsider.com.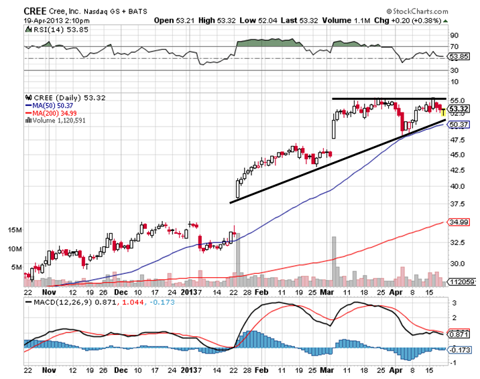 Technical Review
Cree Inc. has had a great start this year, rising almost 60% year-to-date. After an extended period of overbought conditions with strong momentum, shares have consolidated and the RSI is at a more reasonable level near 54. The price action has formed an ascending triangle pattern, with a double top at $55.55. If upcoming results surprise to the upside, look for a break of this continuation pattern to new 52-week highs. If earnings disappoint, initial support can be found at the 50-day SMA, followed the $48.75 area, and ultimately a potential gap-fill near $45.60. (Chart courtesy of StockCharts.com)
Summary
Cree has been a solid outperformer in 2013, thanks in part to an improving housing market, a more positive economic backdrop, and a strong demand for energy-efficient lighting solutions. Although sentiment is quite high, there are some analysts that believe the recent advance is unwarranted. After issuing preliminary results in early March, focus on the guidance for the 4Q2013 period to find a reliable trading signal. Any disappointments could cause a sharp sell-off.
DISCLAIMER: By using this report, you acknowledge that Selerity, Inc. is in no way liable for losses or gains arising out of commentary, analysis, and or data in this report. Your investment decisions and recommendations are made entirely at your discretion. Selerity does not own securities in companies that they write about, is not an investment adviser, and the content contained herein is not an endorsement to buy or sell any securities. No content published as part of this report constitutes a recommendation that any particular investment, security, portfolio of securities, transaction or investment strategy is suitable for any specific person.
Disclosure: I have no positions in any stocks mentioned, and no plans to initiate any positions within the next 72 hours. I wrote this article myself, and it expresses my own opinions. I am not receiving compensation for it (other than from Seeking Alpha). I have no business relationship with any company whose stock is mentioned in this article.