Seldom is it easy to identify a winner in a new industry that will change the world. Emergent technologies and the companies that lead those revolutions rarely are the ones to end up on top or even survive long in the pack. Today, one company can be singled out as a promise to deliver this rare achievement.
Orbital Sciences (ORB) has been in the space systems delivery business since 1982. It designs and manufactures small and medium size rockets for delivery of commercial, military, and civil government projects. The company has been building and operating launch platforms, satellites, low earth interceptor systems for military applications, boosters, and related space delivery systems and payloads for 3 decades now. The company on its website describes itself as
... one of the world's leading developers and manufacturers of smaller, more affordable space and launch systems. Founded in 1982, the company has pioneered new classes of rockets, satellites and other space-based technologies that help make the benefits of space more affordable, accessible and useful to millions of people on Earth.
It is the only publicly traded company with proven operating payload delivery systems and satellite development and launch capabilities. No other private company even approaches Orbital's history of successful commercialization of space as a fully integrated designer, builder, and operator of space vehicles, launch systems, delivery systems, and satellites.
Orbitial is in a very limited club of Commercial Space Launch Providers and is the only publicly traded company of this elite group.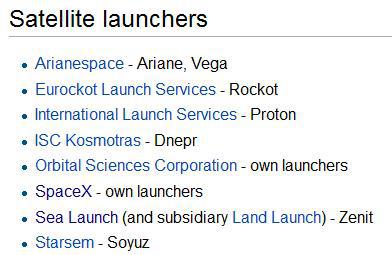 (source: wikipedia.com)
The company's stock delivered impressive results from late 2001 until the economic contraction and global financial shocks of 2008 while having established itself as a dependable provider of commercial space operations services.
(source: yahoo.com)
During this period it confirmed the ability to deliver as a reliable full service provider of commercial space services and showed steady profitability in doing so.
ORB Gross Profit TTM data by YCharts
Orbital shares have drifted in the $12.50 to $18.50 range since conforming to the post 2008 market adjustments and new macro economic outlooks. The current $16.21 price falls solidly in the middle of this trading range and is a pullback from its recent high of April 11th at $17.43. This is a 7% retracement within the trading range and comes off a double bounce from its 50 day moving average establishing that as near term support at $15.70.
Post 2008 has represented a period focusing on development of the Antares rocket system as the vehicle to meet Orbital's next organic growth step. This is the system designed to fulfill the commitments entered into by contract with NASA making Orbital Sciences one of two exclusive suppliers of payload cargo delivery for the International Space Station (ISS) for 8 missions it will provide through 2015. Oribital will earn $1.9 billion for its launches under this contract. Last year, the other company with such a contract, SpaceX received NASA certification and began deliveries of cargo to the ISS. SpaceX was founded by PayPal developer Elon Musk and includes a small group of other private investors. It is contemplating the possibility of an initial public offering for 2014. At this time, Orbital remains the only publicly traded launch company.
With its successful launch this Sunday, April 21st, of the new Antares Rocket system, Orbital has moved within one final step of becoming certified as operational for delivery of cargos to the ISS under its NASA contract. One more test delivery mission to the ISS is all that remains for later this year before the Antares system begins paid missions of cargo delivery under its $1.9 billion contract for such flight operations through 2015.
The estimated market value of SpaceX doubled upon its certification for cargo delivery to the ISS from $1.2 billion to $2.4 billion. A similar boost to value can be anticipated for Orbital due to this milestone and its opening of this on-going revenue stream in its future operations. At present, ORB market Cap of $968 million is about 25% less than SpaceX's valuation at the time of its ISS cargo delivery certification and the ORB NASA ISS contract of $1.9 billion is almost 20% larger than the same SpaceX contract. Thus, today's successful test is a very significant hurdle and represents a buying point for investors wishing to take advantage of another step up in the growth of Orbital Science as the leader in the commercial space industry. More cautious investors will await the April quarterly results release to see if they have any negative short term price effects. Still more cautious investors focused on complete certification of Antares will need to wait for the final ISS delivery test later in the year.
In the past two years, the commercialization of space has begun to blossom from dreams to reality in an aggressively expanding way. Many new companies are in early start up mode to provide some services that compete with Orbital. Others have been formed for asteroid mining, moon development projects, and even planetary colonization. However, no other private company has even announced plans to reach for Orbital's depth, width and breadth of integration of horizontal and vertical service sectors to the space industry.
Orbitial's publicly traded competitors are not integrated fully vertically and horizontally as full service space operations providers nor do any of them offer payload delivery systems to space based platforms.
(source: yahoo.com)
While ORB remains the small kid on the block among these aerospace-defense giants, it fills a niche with literally out of this world growth prospects over the coming years and decades that none of these others has any participation in. It is clear that even the limited $1.9 billion contract for ISS deliveries through 2015 by Orbital is an important new business market that will lift them up yet another step as the leading provider of access to space by private commercial systems.
Furthermore, Orbital's fundamental metrics stack up well against its giant aerospace-defense sector competitors. Its P/E, Gross margins, Operating margins and PEG ratio show it to hold its own with these already long established giants. Yet Orbital provides a platform of greater diversity and beyond the offerings of these nominal competitors.
ORB's P/E of 15.89 lags Boeing's (NYSE:BA) ratio of 17.23 and the Industry average P/E of 16.22 even while the company is poised for immediate rapid growth and faces a more favorable long term growth outlook with less direct competitive pressure than this peer group. Revenue growth, margins, and PEG ratio comparisons with Boeing as well as Lockheed-Martin (NYSE:LMT) and Northrop-Grumman (NYSE:NOC) also show Orbital in a position to outperform and at relative excellent value.
Conclusions and Recommendations:
21st century investors can not consider their long term growth portfolio complete without the presence of clear leaders of 21st century technologies. Orbital Sciences represents on of these leaders that can be easily recognized from its proven history coupled with its continuing current leadership in advances in the sector.
It is trading at reasonable, even conservative, fundamental metrics. The P/E for instance is very low for a growth oriented technology company. It already masks stronger basic performance due to suppressed earnings resulting from investments in developing new technologies and products that require current investment to generate significant future earnings.
Yesterday's successful Antares launch test brings these new earnings sources from such basic development investments over the past four years very close to realization and almost sure to follow before year end.
Since breaking through resistance marked by the 50 day simple moving average last December, shares have successfully tested this as a support level at least 6 times, including a recent double bounce off the $15.70 sma support trend line. Upside potential remains strong above this trend line for the near and mid term. Long term prospects should continue to raise the bar as the Antares contract revenues come on line later in the year and add to the extensive list of ongoing contract project revenues in Orbital's portfolio.
Investors should begin accumulating shares at this time. Hedging thru options strategies can be considered for any short term binary events such as the upcoming April earnings release. This strategy alleviates any need to forgo initiating long term positions at this time.
Disclaimer: I am not a licensed securities dealer or advisor. The views here are solely my own and should not be considered or used for investment advice. As always, individuals should determine the suitability for their own situation and perform their own due diligence before making any investment.
Disclosure: I have no positions in any stocks mentioned, and no plans to initiate any positions within the next 72 hours. I wrote this article myself, and it expresses my own opinions. I am not receiving compensation for it (other than from Seeking Alpha). I have no business relationship with any company whose stock is mentioned in this article.