It would be almost disingenuous to write about the Oil & Gas Sector fundamentals and not to acknowledge the presence of the 800-pound gorilla in the room - the fact that the sector may be in the middle of a steep, painful correction.
Last week was brutal for energy equities, particularly those with smaller market capitalizations and high leverage, with some stocks posting double-digit cumulative losses in just five trading sessions. The amplitude of intraday moves has noticeably increased. While it may be tempting to try to rationalize each specific stock's performance by fresh operating news or a change in commodity price outlook, trading patterns that were manifest last week indicate that the decline in oil and gas stocks was attributable first and foremost to fund flow factors and not to an abrupt change in the industry's fundamentals. Several trends and trading "anomalies" hint towards a correction that may be underway:
Flight to quality. Smaller capitalization stocks suffered the most during the week while the "mega-caps" (Super-Majors and Super-Independents) held their ground relatively well and performed essentially in line with the S&P 500 index.
Equity-commodity relationship breakdown. During last week, crude oil prices and U.S. natural gas prices continued to move in opposite directions: crude oil prices continued on a decline trend and natural gas prices extended their recent rally. The front month Henry Hub contract outperformed front month WTI contract by 8% during the week. That had little effect on the relative performance of oil-focused and natural gas-focused equities: both groups posted sharp declines, with natural gas group outperforming by a modest ~1-2% (which has low statistical significance). Capitalization seemed to play a bigger role than underlying commodity fundamentals.
"Popular" stocks seeing particularly steep declines. Examples would include EOG Resources (NYSE:EOG) (-8.6%), Continental Resources (NYSE:CLR) (-9.0%), Kodiak Oil & Gas (NYSE:KOG) (-10.2%), Halcon Resources (NYSE:HK) (-14.2%), Whiting Petroleum (NYSE:WLL) (-9.9%), and Hess Corporation (NYSE:HES) (-6.5%). While the decline in the oil price was clearly a contributing factor, it is difficult to blame the underperformance of these specific stocks on operating news. In that regard, the performance in the Energy sector was perhaps not dissimilar to other sectors where some broadly held and popular with hedge-fund stocks saw sharp and largely inexplicable declines. Apple Inc. (NASDAQ:AAPL), which dropped 9.1% during the week, would be a case in point.
Intraday amplitudes between the low and high price marks exceeded 10% for many smaller capitalization stocks, indicating position reductions and poor buying support.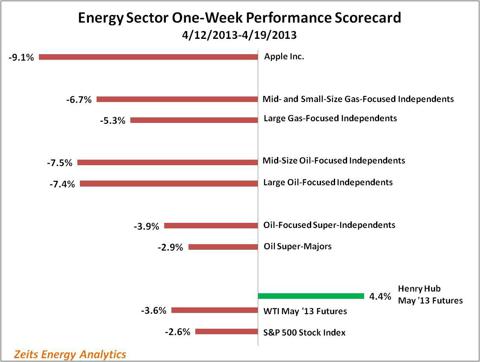 (Click to enlarge) (Source: Zeits Energy Analytics)
These patterns do not spell good news for energy equities. With leverage being a very big factor within the existing financial system (the presence in the marketplace of a vast number of hedge funds that are very VAR and loss-limit sensitive - effectively equates to leverage - and retail accounts that use margin borrowing would be just two of many mechanisms), sharp downward price moves beget voluntary and involuntary position liquidations. Such liquidations come shortly after the price move has occurred and often impact stocks not related by sector affiliation to the initial "decliner." The wave of downward pressure propagates further through intense correlation-based program trading. In this context, a continued slide in the mega-cap Apple stock may have a greater impact on the performance of the energy sector than oil price movement during the same week.
Should the wave of liquidations gain critical mass, the downward move may extend itself well beyond what would seem reasonable based on the changes in the macro environment. For the lack of a more rational and verifiable explanation, the concept of a "correction" that is often used seems be a convenient way out.
Corrections in the Oil & Gas Sector (excluding Super-Majors) have often been vigorous and relatively frequent in the past, with double-digit corrections (peak to trough move for a broad index of stocks in the sector) often occurring several times a year. I do not have any reason to think that this coming week will not bring a recovery in the energy stocks. However, based on the rationale above, an additional leg down would not be particularly surprising either, even in the absence of any sector-specific fundamental factors.
Below is a stock-by-stock performance table for last week with equities grouped by their capitalization and commodity exposure. While the 43-stock list is ad hoc and includes only select equities in the sector, it should provide a general idea of the price direction and magnitude of the move.


(Click to enlarge) (Source: Zeits Energy Analytics)
Disclaimer: This article is not an investment recommendation. Any analysis presented herein is illustrative in nature, limited in scope, based on an incomplete set of information, and has limitations to its accuracy. This article is not meant to be relied upon for investment decisions. Please consult a qualified investment advisor. The information upon which this material is based was obtained from sources believed to be reliable, but has not been independently verified. Therefore, the author cannot guarantee its accuracy. Any opinions or estimates constitute the author's best judgment as of the date of publication, and are subject to change without notice.
Disclosure: I have no positions in any stocks mentioned, and no plans to initiate any positions within the next 72 hours. I wrote this article myself, and it expresses my own opinions. I am not receiving compensation for it (other than from Seeking Alpha). I have no business relationship with any company whose stock is mentioned in this article.