Have you heard of Abenomics? It has to do with the man who wants to keep Japan once and for all out of the liquidity trap and the recession. In fact, Japanese Prime Minister Shinzo Abe is applying colossal economic measures to make Japan grow. In the early days after taking office in December 2012, he has focused on turning his country out of its deflationary malaise. His plan has monetary, fiscal and structural steps including several economic stimulus packages.
Abe, who is in his second term in office, had been prime minister from 2006 to 2007, and also had failed to pull Japan out of more than two decades of economic stagnation.
The Nikkei has reacted well to this plan as noted in the chart below, which also shows all the problems already mentioned.
Charts courtesy of StockCharts.com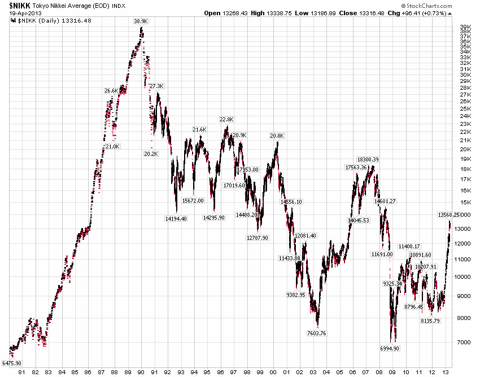 On April 8, the Bank of Japan started its new aggressive asset-buying program, saying it will acquire Y1T ($10B) of Japanese government bonds with maturities of 5-10 years, and Y200B ($2B) of bonds with maturities exceeding 10 years. This program could reach $1.4T in less than 2 years.
These money injections into the economy are based on a "Joint Statement of the Government and the Bank of Japan on Overcoming Deflation and Achieving Sustainable Economic Growth." The initial program was now increased substantially. In any case, the problems will take time to overcome given the recessionary situation and the current obstacles that affect the country's economy:
a) Industrial Production decreased 11 percent in February of 2013 over the same month in the previous year.
b) The inflation rate was recorded at -0.70 percent in February of 2013.
However, some recent reports are more encouraging as it is the case of Japan current account that recorded a surplus of Y637.40 Billion ($6.43B) in February of 2013.
www.tradingeconomics.com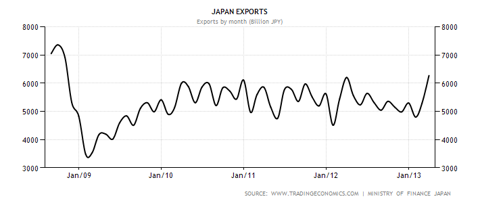 Will it be different this time? Maybe it will. I think that Japan never had such a large amount of monetary stimulus in such a short period. In addition, it is particularly significant that the global package goes far beyond monetary policies.
On the other hand, it is remarkable the ongoing devaluation of the yen. In fact, the U.S. dollar to Japanese yen exchange rate is [Friday April 19] at 98.98. Clearly, the chart below shows the steady devaluation of the Japanese currency, which means very good news for exporters. So far, it represents a depreciation of around 20% from one year ago.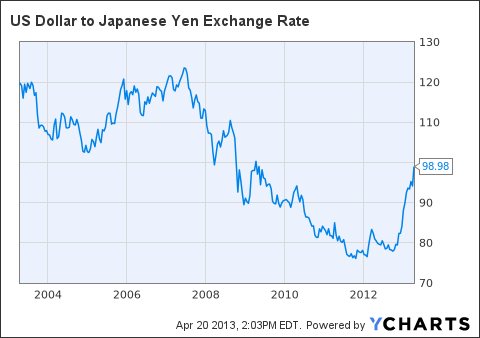 US Dollar to Japanese Yen Exchange Rate data by YCharts
Japan's aim is to devalue the currency sharply, initially pointing to a sustainable level of 100 (against one dollar). However, the real goal should be getting close to 120, an exchange rate that the yen had reached about 6 years ago. In my opinion, it will be the ultimate objective of the yen devaluation against the dollar.
Apart from the increase in exports, it is crucial to see if GDP also rises properly. The rate of inflation must also climb gently towards 2%. Let's see what happens in a few months.
Meanwhile, as I mentioned above the stock market is also giving signs of confidence. It is important to follow the iShares MSCI Japan Index ETF (EWJ), which seeks investment results that correspond to the performance of the MSCI Japan Index. The fund will invest at least 90% of its assets in the stocks traded on the Tokyo Stock Exchange (NYSE:TSE).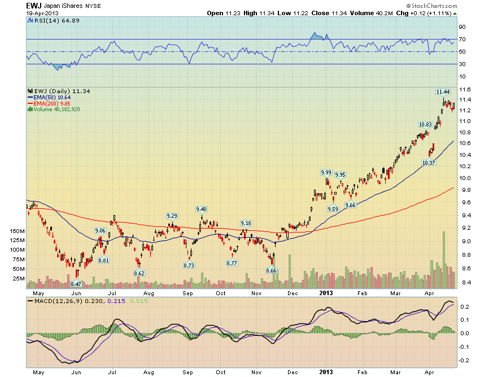 For the first time in many years, the TSE is well placed to build up a true bull market. Prices are in a strong uptrend since November last year. However, in order to come up with a real bull market the Nikkei has to exceed the 18,300 level and the above mentioned ETF needs to go beyond 14 (2006 chart below).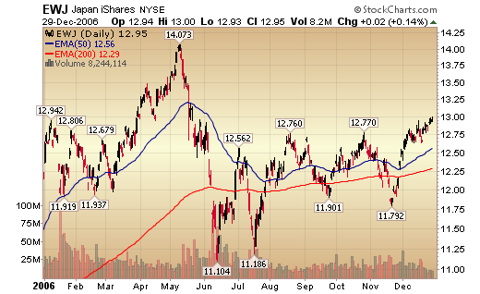 In fact, prices are breaking all areas of resistance and may have found their rising trend line for the medium term. On April 11, the trading volume of EWJ totaled more than 148 million units. It was certainly a sign of strength on the way up that seems to have enough support. There is the possibility of a minor correction soon, but if it happens, it will make more robust the subsequent rise.
Conclusion
So far everything seems to be going in a good way. However, Japan has serious problems that certainly cannot be solved quickly. As I stated before, a strong economic component associated with exceptional monetary stimulus makes the recovery more reliable than before. The problem lies in keeping the effects of the program on a sustainable basis. In case the yen devalues to 120, GDP starts to rise appropriately, and inflation approaches 2%, it can be said that Japan has succeeded. The task is immense, and still nothing is guaranteed.
Disclosure: I have no positions in any stocks mentioned, and no plans to initiate any positions within the next 72 hours. I wrote this article myself, and it expresses my own opinions. I am not receiving compensation for it (other than from Seeking Alpha). I have no business relationship with any company whose stock is mentioned in this article.
Disclaimer: The author of this article gives only his personal view and opinion, never making any investment advice to buy or sell specific securities. The information presented is from sources believed to be reliable, but its accuracy cannot be guaranteed. Before investing in financial assets, investors should do their own research, and consult a professional investment adviser.