A Leader in the Gaming Industry
Activision Blizzard Inc. (NASDAQ:ATVI) is the company responsible for the creation of such prestigious video game series as StarCraft, Warcraft, and Call of Duty. Year after year, ATVI releases impressive products that make their mark on the video game market. With improving products, the revenue is consistently rising, and the company most recently reported an annual revenue of $4.86 billion.
Right now, there is no doubt that ATVI is in the right industry. Despite the controversial morality of video games' effects on society, kids in the modern world definitely can't seem to get enough of gaming. A study released by the American Psychological Association claims that video games can be "as addicting as drugs."
The company's earnings reflect society's growing desire for video games. Revenues have risen an impressive amount in the past 10 years.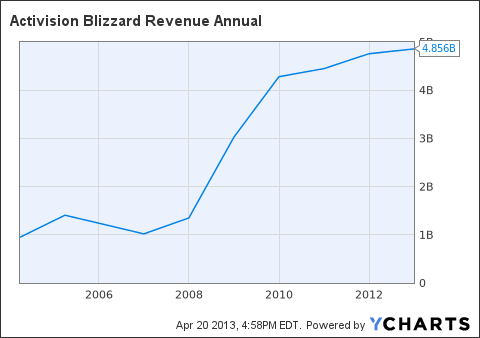 ATVI Revenue Annual data by YCharts
In late February, the company reported earnings in its 10-K. Combining North America and Europe, Activision Publishing was the No. 1 console and handheld publisher for the calendar year. Also, Blizzard Entertainment produced the No. 1 best-selling PC game, "Diablo III," along with the No. 3 best seller, "World of Warcraft: Mists of Pandaria."
Most of the revenue increases can be attributed to new releases in the World of Warcraft, Call of Duty, Skylanders and Diablo series. Diablo is the only one of these series that does not have new releases quite frequently. This is a strong sign for ATVI, as it shows that its revenue generating games are not a one-time thing. More importantly, the revenues that the games generated show that public interest in the company's products is not fading.
ATVI is currently trading at 14.12 times earnings, has a price/book of 1.39, and a price/sales of 3.24. The company has no debt, and $4.38 billion in cash. ATVI is an undervalued company that investors can expect a lot of growth and success from in the future.
A Growing Pharmaceutical Company
Cubist Pharmaceuticals (CBST) focuses on the research, development, and commercialization of medicine and other pharmaceutical products in the United States. It was founded in 1992, and has been experiencing growth and success in recent years.
Revenues have nearly doubled in the past five years, as they currently sit at $926.36 million. In the most recent quarter, CBST reported revenue growth of 15.50% as well as earnings growth of more than 450%.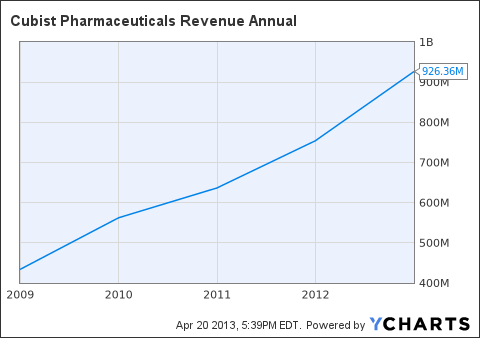 CBST Revenue Annual data by YCharts
CBST released its 10-K in late February as well. A few important points:
Product revenues from CUBICIN increased 16% in the U.S.
ENTEREG product revenues were $40.2 million. The product was just re-launched in 2012.
Under a co-promotional agreement with Optimer (NASDAQ:OPTR) for the launch of its product, DIFICID, there were service revenues of $23.2 million.
It currently has in development three key products:
Ceftolozane/tazobactam: Treatment for "certain infections caused by Gram-negative bacteria."
Surotomycin: Treatment for CDAD.
Bevenopran: Treatment for OIC.
If things go as planned, these products could all be contributing revenue to CBST in the near future.
From December 31, 2011, to December 31, 2012, cash, cash equivalents, and investments increased from $867.7 million to almost $980 million. Increasing revenues, income, and cash all point to a bright future for this growing pharmaceutical company.
CBST is trading at 22.07 times earnings. It has a price/book of 2.97 and price/sales of 3.18. Considering not only current success, but also potential for growth, this company is significantly undervalued.
Disclosure: I have no positions in any stocks mentioned, and no plans to initiate any positions within the next 72 hours. I wrote this article myself, and it expresses my own opinions. I am not receiving compensation for it (other than from Seeking Alpha). I have no business relationship with any company whose stock is mentioned in this article.