Enterprise Products Partners L.P. (NYSE:EPD), a Houston-based master limited partnership, owns and operates natural gas liquids, NGL, related businesses of Enterprise Products Company, EPCO, providing midstream energy services in North America. With increasing distribution and well managed capital structure, EPD remains a top MLP for investors to review.
Consistent Distribution Growth
EPD has consistent distribution growth. Since EPD's IPO, there were 44 distribution increases with 35 consecutive quarters where EPD had increased the distribution. EPD even increased distribution during the financial crises in 2008 and 2009.
Capital Projects
In 2012, EPD completed 26 major capital projects (total cost about $3B). EPD was about 3.3% under budget and had sold some assets in 2012. EPD sold the remaining energy transfer equity assets for about $1.1B and re-invested the proceeds in the organic growth projects.
Operation and Financial Highlights
For 2012, EPD had record natural gas NGL pipeline volumes and fractionation volumes, whereas the fee-based natural gas processing volumes had increased quite significantly. EPD has a record gross margin of $4.4B with distributable cash flow of $4.1B, including the $1.2B proceeds from the sale of assets. EPD had a healthy distribution coverage (5.6% increase in cash distribution, 1.3 times distribution coverage, excluding the proceeds from the sales of assets). $700M distributable cash flow was retained for reinvestment purpose.
CapEx and Rating Upgrades
For 2013, the CapEx is expected to increase to $4.2B (up from $4B) to spend on organic growth projects. EPD had received the ratings upgrade from S&P and Moody's. In the capital market, EPD was oversubscribed by over two times with strong investor support in both the equity and the debt offerings.
Analysts' Calls and Estimates
On April 19, 2013, Wunderlich reiterated a buy rating and increased its target price to $66 from $61 for EPD. On April 18, 2013, Deutsche Bank also reiterated a buy rating and increased its target price to $70 from $68 for EPD. Lastly, on April 17, Global Hunter Securities initiated coverage on EPD with an accumulate rating and a price target of $53.00.
Analysts currently have a mean target price of $63.07 for EPD, suggesting 3.78% upside potential based on the closing price of $60.77 on April 19, 2013. Analysts are estimating an EPS of $0.65 with revenue of $11.61B for the current quarter ending in March, 2013. For 2013, analysts are projecting an EPS of $2.73 with revenue of $47.45B, which is 11.60% higher than 2012.
Fundamentally, EPD's key stats will be compared to its peers in the industry of oil & gas midstream, including Kinder Morgan Energy Partners (NYSE:KMP) and Williams Partners LP (NYSE:WPZ), to see where it stands.
| | | | | |
| --- | --- | --- | --- | --- |
| | Enterprise Products Partners | Kinder Morgan Energy | Williams Partners | Industry Average |
| Cap Size | $55.13B | $33.94B | $20.94B | N/A |
| Closing Price (April 19, 2013) | $60.77 | $90.95 | $52.62 | N/A |
| Revenue Growth (3 Year Average) | 18.6 | 7.3 | 16.7 | 7.1 |
| Operating Margin, %, ttm | 7.2% | 27.1% | 20.7% | 11.2% |
| Net Margin, %, ttm | 11.4% | -0.9% | 16.8% | 5.3% |
| Debt/Equity | 1.1 | 1.4 | 0.9 | 1.4 |
| Forward P/E | 20.5 | 28.2 | 21.2 | 14.3 (S&P 500's average) |
| Cash Distribution | $0.67 per unit, payable on May 7, 2013 | $1.30 per unit, payable on May 15, 2013 | Last distribution was $0.8275 per unit, paid on February 8, 2013. | N/A |
Source: Morningstar
EPD has the highest revenue growth (three-year average) among three companies. EPD also has a higher net margin comparing to KMP and the industry average. EPD also has a healthy debt/equity ratio of 1.1, which is below the industry average of 1.4. From the valuation perspective, EPD is undervalued compared with KMP and WPZ with a lower Forward P/E of 20.5.
Technically, EPD is on the long-term uptrend since December, 2012, and is currently trading above its 50-day and 200-day MA, as seen from the chart below.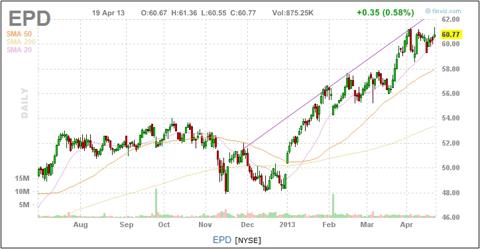 Click to enlarge
Source: Finviz.com
Bottom Line
With a healthy distribution coverage and increasing distribution (35 consecutive quarters), EPD continues to be a strong cash flow generator. EPD remains a top-tier MLP in all market conditions. Investors can also review the following ETFs to gain exposure to EPD:
Alerian MLP ETF (NYSEARCA:AMLP), 9.35% weighting
MLP ETF (NYSEARCA:MLPA), 4.92% weighting
Sustainable North American Oil Sands ETF (SNDS), 2.76% weighting
Note: Investors and traders are recommended to do their own due diligence and research before making any trading/investing decisions.
Disclosure: I have no positions in any stocks mentioned, but may initiate a long position in EPD over the next 72 hours. I wrote this article myself, and it expresses my own opinions. I am not receiving compensation for it (other than from Seeking Alpha). I have no business relationship with any company whose stock is mentioned in this article.