Amazon (NASDAQ:AMZN) is one of those companies that appear to be highly overvalued when analyzed using traditional valuation metrics, with a one year forward P/E of over 70 that is by far the highest in the industry. However, bulls argue that such earnings multiple is justified because Amazon is an industry disruptor and is currently making investments that will pay off handsomely in the future. When Amazon reported its Q4 2012 earnings in January, the stock was up almost 5% the next day despite the fact that the online retailer missed consensus analyst estimates for revenue, EPS and Q1 guidance as investors focused on the better than expected operating margin. Will investors be that forgiving of Amazon this time in case of a miss? In this article, I will discuss some of the key developments for the company during the first quarter of the year. I will also look at some of the key metrics that would be under the focus when Amazon announces its Q1 results after market close on Thursday, 25th April.
The analysts' estimates for Q1 earnings are summarized in the following table:

Source: Yahoo Finance
Amazon has forecasted Consolidated Segment Operating Income of $0-350 million on revenues of $15-$16.6 billion.
Here's a look at some of the important happenings for Amazon over Q1:
Amazon continued to add content to its Prime video service and signed several licensing agreements with content producers:
Amazon announced two acquisitions in Q1:
On January 24th, Amazon announced the acquisition of IVONA software, a leading text-to-speech technology company serving thousands of developers, businesses and customers around the world.
On March 28th, Amazon agreed to a deal to acquire Goodreads, a leading social network for book readers that allows its more than 16 million members to find, share and recommend books to other readers.
Amazon also announced plans to add five new fulfillment centers in the US to its already vast network:
On January 8th, Amazon announced plans to open a new 1 million square-foot fulfillment center in Robbinsville, New Jersey, which would be the retailer's first fulfillment center in the state.
On January 22nd, Amazon announced plans to open a new 1 million square-foot fulfillment center in Tracy, California.
On January 30th, Amazon announced plans to open three new fulfillment centers in Texas in cities of Haslet, Coppell and Schertz.
As you can see above, Amazon continued its focus on investing for future growth during Q1. The new content licensing agreements add to the library of thousands of TV shows and movies available online for Prime customers, thus increasing Amazon Prime's value to its subscribers. New fulfillment centers will help expand the already vast network of Amazon's warehouses across North America, and help Amazon reduce shipping costs and delivery times. Acquisition of IVONA and Goodreads enhances the strategic value of the company.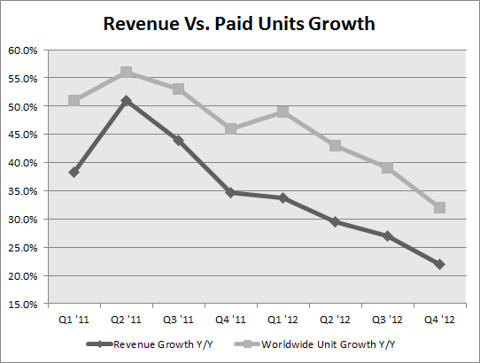 Data From Company Reports and Earnings Call Transcripts
You can say what you want about Amazon's valuation, but the sentiment around the stock remains focused on revenue growth, with profits taking a backstage for the moment. And growth will be in the focus again in Q1 earnings results. In the chart above, you can see that the growth in the top line has been falling. If we take the midpoint of Amazon's guidance, which is usually quite conservative, the revenue growth should drop to 20% in Q1. However, the analysts' consensus of $16.18 billion revenue assumes the fall in growth to level off in Q1 and start to rise again from Q2. Therefore any revenue figure below consensus, especially if it is also below the midpoint of Amazon's guidance, would be a huge negative and give rise to concerns about valuation.
In addition to revenue growth, investors will also look at worldwide paid units' growth which has closely mirrored overall revenue growth in the past and is a measure of the underlying strength in Amazon's core business. Based on the consensus of 22-23% revenue growth, I expect the paid units' growth to remain the same as that in Q4 at 32-33%.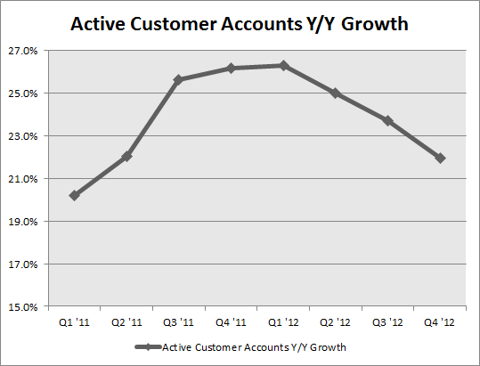 Data from Amazon Earnings Call Transcripts
Another metric that I will be eager to see is the growth in Active Customer Accounts. The chart above shows that after peaking in Q1 2012, the growth in Active Customer Accounts has been falling for the past three quarters now which is obviously not helpful. Further fall in growth in this metric would raise concerns about future revenue growth because a slowdown in customer growth may be seen as evidence of the impact of the new sales tax regulations on Amazon's business.
Technical Take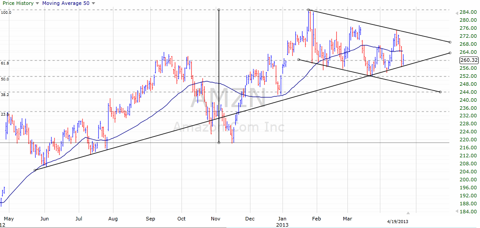 Source: freestockcharts.com
The chart above shows that Amazon's stock price has been moving sideways in the past few months which shows that the bulls and bears are waiting for some evidence from the Q1 results for the stock to break out. The stock faces stiff resistance at $275 and $285, and will find support at the upward sloping trendline at $256-260 and then a stronger resistance at the 0.50 retrace of the move from the November low to January high.
Conclusion
There is no doubt that Amazon is an amazing company and has revolutionized the retail industry. However, even the best companies have their price, and concerns are rising that Amazon stock may be a little expensive at the moment; the weak confidence among Amazon bulls can be seen in the sideways movement of the stock price while the broad market (NYSEARCA:SPY) and retail stocks (NYSEARCA:XRT) have been making new highs recently. Therefore, I believe that this time, Amazon investors won't be buying the stock if the company misses on both revenue and EPS. However, if Amazon beats expectations on key metrics including CSOI, I can see Amazon making new highs in the next quarter.
Disclosure: I have no positions in any stocks mentioned, and no plans to initiate any positions within the next 72 hours.
Business relationship disclosure: This article was written by Dividend Pros' analyst covering technology.