Rural America continues to be a bright spot in an ever-dimming economic environment as the Rural Mainstreet Index (RMI) and farmland price index posted above growth neutral readings. Farmers are the driving force behind the growth as 4 out of every 5 sales transactions are purchased by farmers.
The RMI increased to 58.3 from 56.9 in the March survey. "Crop farmers and businesses linked to crop farming and energy continue to experience very positive economic conditions with improving balance sheets," commented Creighton University economist Ernie Goss.

Agriculture
The farmland price index dropped slightly from 67.2 in March to 66.9 in April but has been above growth neutral for a staggering 41 consecutive months. However, there are some negative results from the growth, "Increased agriculture land prices and rent cost are hurting our smaller operators as well as younger, beginning farmers," said David Callies, CEO of Miner County Bank in Howard, SD.
Bankers were asked this month what percentage of farmland transactions were purchased by nonfarm investors and what proportion of sales were purchased with cash. Only 19.8 percent of farmland transactions were purchased by nonfarm investors. Cash transactions made up 28.6 percent of farmland purchases.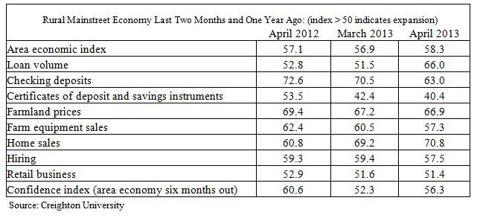 Survey
This survey represents an early snapshot of the economy of rural, agriculturally and energy-dependent portions of the nation. The RMI is a unique index covering 10 regional states, focusing on approximately 200 rural communities with an average population of 1,300. It gives the most current real-time analysis of the rural economy.
Disclosure: I have no positions in any stocks mentioned, and no plans to initiate any positions within the next 72 hours. I wrote this article myself, and it expresses my own opinions. I am not receiving compensation for it. I have no business relationship with any company whose stock is mentioned in this article.