This is the third in a series of articles dealing with gold and silver royalty and streaming companies. In part 1 I introduced the reader to the business model employed by gold and silver royalty and streaming companies. Unlike mining companies these companies make deals with mining companies whereby they give mining companies an up-front payment in cash or stock in exchange for a royalty or a stream on an agreed upon mine. A royalty agreement entitles the royalty company to a portion of the resources produced by the mine in question, while the mining company operates the mine. A stream entitles the royalty company to the right to purchase resources produced by the mining company at an agreed upon price. In general royalty companies offer investors exposure to the mining industry with lower risk than if they were to purchase mining shares.
In part 2 I discussed Franco-Nevada Corporation (NYSE:FNV), the largest gold royalty and streaming company run by the world-acclaimed mining manager Pierre Lassonde, and I suggested that buying Franco-Nevada shares is a good way for investors to gain leveraged exposure to the price of gold with limited downside risk and substantial upside potential. In part 3 I introduce the reader to Silver Wheaton (NYSE:SLW), which is the world's only publicly traded silver streaming company.
Silver Wheaton is the largest of the royalty/streaming companies. It currently has a market capitalization of $8.1 billion after its shares recently underwent a substantial correction. Just this year the stock is down 36%, and it is down over 50% from its $47 2011 high. This correction has made it arguably the most attractive of the royalty/streaming companies on a valuation basis, as it trades at just 14X trailing earnings and it pays a 2.5% dividend. Furthermore the company has extremely high profit margins, which exceeded over 50% in 2012.
Silver Wheaton sets itself apart from its peers in a few of ways. First, of the three major royalty/streaming companies it is the only one that is solely a streaming company. While this means that Silver Wheaton has to pay for all of its metal, it offers investors more leverage, and it can generally make its deals with a lower cost.
Second, unlike Franco-Nevada and Royal Gold (NASDAQ:RGLD) (which I will discuss in part 4), Silver Wheaton primarily has silver agreements, although it recently made two enormous deals with Vale (NYSE:VALE) for gold streams. While these deals diversify the company into gold it remains predominantly a silver company. This likely explains the relatively low valuation of Silver Wheaton's shares, as the silver price has corrected substantially more than the gold price over the past couple of years, and in general there is more pessimism in the silver market and in the silver mining shares than there is in the gold market and in the gold mining shares. Nevertheless, unless you are bearish on silver prices, you can view Silver Wheaton as a value stock at current levels, especially given its growth rate.
Third, Silver Wheaton has far fewer deals than its peers. The company has just 19 producing properties despite the fact that its peers have over 30 each while they have a combined market capitalization that is roughly equal to that of Silver Wheaton's. Furthermore Silver Wheaton has only a handful of development and exploration projects, while its peers have over 100 each. The difference is in the size of the deals Silver Wheaton makes. This has largely to do with the nature of silver mining. Recall that in part one I claim that there are two primary reasons why a mining company would enter into an agreement with a royalty or streaming company. The first is that it is a small company and it needs money to avoid diluting its shareholders and taking on debt with a high coupon. The second is that the company views the metal that it is selling off as secondary. Silver is primarily mined as a byproduct of other metals (gold, copper, zinc, lead…etc.). Silver Wheaton is well aware of this (it points out in its company presentation that only four of the leading 10 silver companies by resource quantity are focused on silver (p. 55)), and it consequently deals primarily with gold and base metal mining companies.
The fact that Silver Wheaton makes fewer deals is a double-edged sword. On the one hand it requires less capital for research and labor, and so the investment process is less costly to shareholders. On the other hand Silver Wheaton is far less diversified than its peers, and the success or failure of individual projects can materially impact the company's value. For example, one development project that they have that I am particularly worried about is Barrick Gold's (NYSE:ABX) Pascua Lama project in Chile. This mine is scheduled to go into production in the second half of 2014, although I am skeptical that this will occur (see my article The Case For Shorting Barrick Gold). If this one deal falls through then Silver Wheaton will lose an estimated 9 million ounces of silver production per year, which it would purchase at $3.90 per ounce. Assuming a silver price of $23.90 (for simplicity's sake) this is a loss of $180 million in revenues annually. Given the company's high profit margin this is significant. That being said the company still offers more diversification then any silver mining company.
Silver Wheaton's management has done an excellent job creating value for its shareholders. Consider the following points.
Since the company's shares began trading on the New York Stock Exchange in 2005 they are up over 600% despite the fact that they have fallen by more than 50% since their 2011 peak. Consequently they have outperformed the silver price (despite crashing in 2008) as the following chart illustrates: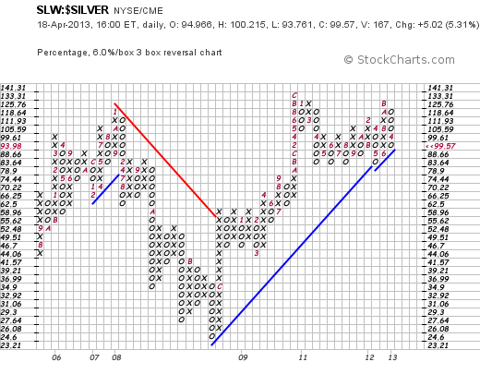 The company's revenues have soared from $70 million in 2005 to $850 million in 2012, far outpacing silver prices.
The company has greatly increased its silver resources per share as the following chart from the aforementioned presentation illustrates. With a silver price of $23 per ounce and five ounces of silver resources per share, and given that the company purchases silver at approximately $4 per ounce, the company has anticipated future revenues of $95 per share with the stock trading at just $23. This represents excellent value for shareholders, especially given that the company has had a history of expanding its silver resources.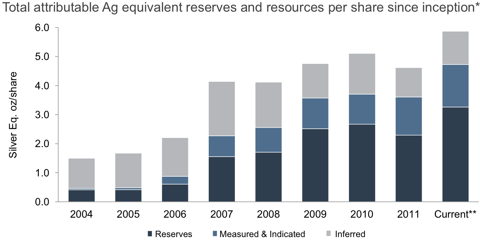 Silver Wheaton's Most Important Projects
Given that Silver Wheaton has far fewer deals than its peers, in an analysis of this company it is essential to provide a general overview of the company's most important streaming agreements. The following chart, provided by Silver Wheaton in the aforementioned presentation (p. 19), provides investors with a detailed breakdown of where the company will be getting its silver from in 2013.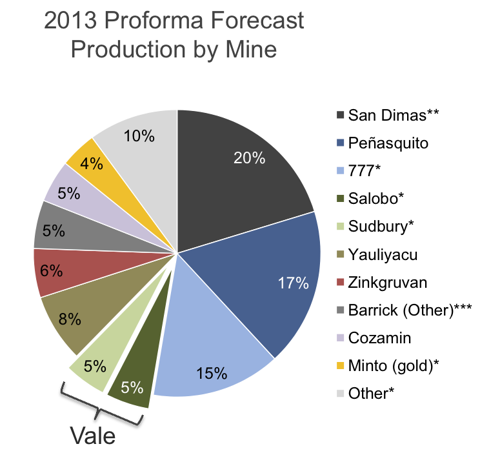 Let us look at the company's most important projects
Mine
Operator
Location
Annual Production Streamed to SLW (Ag. unless otherwise noted)
Life of Agreement
San Dimas
Primero Mining (NYSE:PPP)
Mexico
5+ million ounces
15+ years
Penasquito
Goldcorp (NYSE:GG)
Mexico
Roughly 7 million ounces
22+ years
777
Hudbay (NYSE:HBM)
Canada

820,000 ounces of Ag.

68,000 ounces of Au.

9+ years
Yauliyacu
Glencore International (OTCPK:GLCNF)
Peru
Up to 4.75 million ounces
10+ years
Zinkgruvan
Lundin Mining (OTCPK:LUNMF)
Sweden
2 million ounces
10+ years
Cozamin
Capstone Mining Corp (OTCPK:CSFFF)
Mexico
1.5 million ounces

7+ years
I must note that with the exception of the 777 project the company pays roughly $4 per ounce of silver (it pays close to $6 for the silver at the 777 project).
In general these projects appear to be fairly safe and consistent, especially given their locations. Only the Yauliyacu project in Peru gives me reason for concern, as Peruvian mines run the risk of being nationalized.
Conclusion
Silver Wheaton is an excellent company that provides investors with a low risk vehicle for gaining leveraged exposure to the price of silver with enormous upside potential. Here are some of the key points that readers should take away:
Silver Wheaton is very inexpensive after its shares have corrected in price. It trades at just 14X earnings with a 2.5% dividend yield, making it cheaper than the other royalty/streaming companies as well as the S&P 500.
Silver Wheaton offers investors more diversification than any silver mining company with exposure to 19 producing mines. That being said investors should be aware that this is the least diversification of the major royalty/streaming companies. Furthermore, the company has significant exposure to Barrick Gold's Pascua Lama project, which is at risk of not going into production. Other than this I cannot think of any significant red flags for the company.
The company has given investors gains that far outpace those of the price of silver and silver mining companies.
The company has vastly increased its silver resources while its partners have increased production, and consequently the stream sizes.
Investors who want a low risk way of gaining exposure to the price of silver should seriously consider purchasing Silver Wheaton shares. While its mining company counterparts may provide more potential upside, they do so at a much higher risk level.
Disclosure: I am long SLW. I wrote this article myself, and it expresses my own opinions. I am not receiving compensation for it (other than from Seeking Alpha). I have no business relationship with any company whose stock is mentioned in this article.