This month Kiplinger provided its annual list of Kiplinger's 25. I wanted to do a comparison of those funds with either their benchmark ETFs or ETFs in similar families (i.e. Large Cap Value). Comparisons include:
Performance over 1, 3, 5 and 10 years (when available)
P/E and P/BV
Top 10 Holdings and their % of holdings
Historical theoretical growth of $10,000 over time.
For Large Company Stock funds, Kiplinger has five funds that have all performed favorably to the S&P 500. I have actually further split them out into Large Cap Value and Large Cap Blend. For this article, I would like to focus on the two Large Cap Value Funds listed and their comparable ETFs.
Large Cap Value Funds:
Artisan Value (MUTF:ARTLX) is the first fund listed. Its goal is to pursue long-term capital growth by investing in companies across a broad capitalization range. There are three main characteristics this fund pursues: Attractive Valuation, Sound Financial Condition, and Attractive Business Economics. Artisan Value's top 10 holdings (as of March 31, 2013) are: Samsung, Apple (NASDAQ:AAPL), Apache (NYSE:APA), Berkshire Hathaway Class B (BRK-B), Microsoft (NASDAQ:MSFT), National Oilwell Varco (NYSE:NOV), Baker Hughes Inc. (NYSE:BHI), The Chubb Corp (NYSE:CB), and Cigna Corp (NYSE:CI).
Vanguard Dividend Growth (MUTF:VDIGX) is designed to provide some income while offering exposure to dividend-focused companies across all industries. Vanguard Dividend Growth's top 10 holdings are: Johnson & Johnson (NYSE:JNJ), United Parcel Service (NYSE:UPS), Roche Holding AG (ROG.VX), Target (NYSE:TGT), PepsiCo Inc. (NYSE:PEP), International Business Machines (NYSE:IBM), Exxon Mobil (NYSE:XOM), Procter & Gamble (NYSE:PG), Medtronic (NYSE:MDT), and Automatic Data Processing (NASDAQ:ADP)
Two alternative ETFs in the Large Cap Value family are the iShares Russell 1000 Value (NYSEARCA:IWD) and the iShares S&P 500 Value (NYSEARCA:IVE). The Russell 1000 Value ETF has about three times more assets under management at $16.7B vs. $5.7B for the S&P 500 Value ETF. Although the percentage of holdings are up to 2.31% different, these two ETFs also have 6 of the same top 10 holdings: Exxon Mobile , General Electric (NYSE:GE), Chevron (NYSE:CVX), AT&T (NYSE:T), Proctor & Gamble , Berkshire Hathaway B (BRK-B), Wells Fargo (NYSE:WFC), and JP Morgan Chase & Co (NYSE:JPM).
Here is the short and long-term return comparison for the four different funds.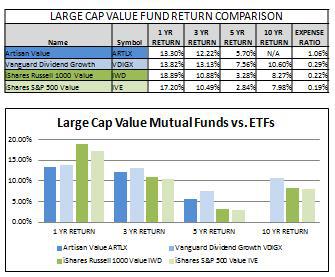 From this information, it is obvious to see that in the last year the ETFs have been on average 33% stronger over the last 12 months. This coupled with the variance of management fees, particularly compared with Artisan Value. However, when you look at the longer horizon, the mutual funds with their greater focus and management have had greater returns.
Now let's focus a little on the top holdings of each fund: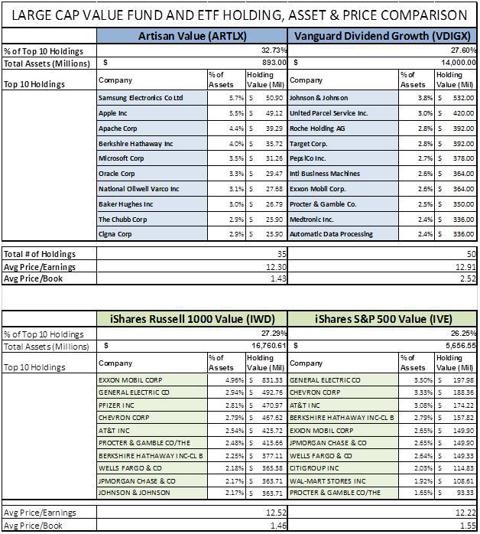 Of the 20 top holdings of the mutual funds, it is interesting to note that only four are held in the top 10 of either of the ETFs: Berkshire Hathaway B, Johnson & Johnson, Procter & Gamble and IBM. In terms of P/E and P/BV rations, Artisan Value seems right in line with the two ETFs, however Vanguard Dividend Growth has higher ratios. On average the P/E ratio is 4.4% higher and the P/BV ratio is 66.8% higher. If these are two criteria that you seriously look at for individual stocks, it undoubtedly is worth investigating this further for Vanguard Dividend Growth.
Sometimes the best thing to see is how our money will grow. Using the hypothetical growth over time, with dividend reinvestment included, here is how the four compare since the inception of Artisan Value in 2006.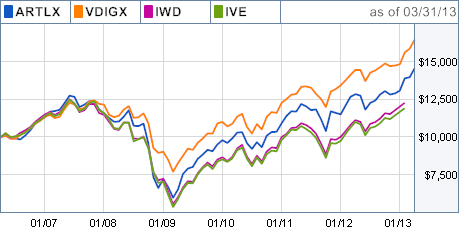 As always, (and I will always close each ETF vs. Mutual Fund article with this), there are pros and cons to both. The focus and heavier management of mutual funds can be a comfort, but it does come with a price. I believe that Kiplinger has done a great job of providing 25 that are typically very low in their management fees.
(Click here to read Part 2.)
Disclosure: I have no positions in any stocks mentioned, and no plans to initiate any positions within the next 72 hours. I wrote this article myself, and it expresses my own opinions. I am not receiving compensation for it (other than from Seeking Alpha). I have no business relationship with any company whose stock is mentioned in this article.