If you have followed my thoughts about Toll Brothers (NYSE:TOL), you'll know I think this stock is going up.
The analysts who follow Toll seem to share my opinion. The analyst community expects Toll to trade at a consensus $36.79, a 19% premium to its current $30.91 share price. A 19% potential profit looks particularly attractive considering that the average Dow stock is only 3% away from the analysts' forecast.
More important, the whole home builder group has pulled back. The group hasn't participated in this year's climb. And it is this lag that gives investors an opportunity to find an industry that is growing but is still undervalued. Of the group, Toll has had the worst two-month performance. It is my belief that Toll Brothers gives investors a chance to get in on the housing recovery without buying a house; easier to get in and out and make a profit.
According to the home building analysts, Toll has the most room to rise. KB Home (NYSE:KBH) and NVR are expensive compared with their price targets and Standard Pacific (SPF) looks fully valued. DR Horton (NYSE:DHI) and Lennar (NYSE:LEN), while trading below their target prices, don't provide as much upside.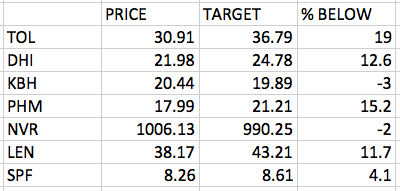 (Sourced from Yahoo.com.)
These price targets matter. After all, money managers pay to read this research. And when you pay for something, you put more credence in the advice. Money managers who read the reports will be wondering why they should buy KB Homes or NVR when Toll has much further to rise.
And that is not all. When the analysts set those target prices, Toll was higher. When the analysts update their research and notice how far away Toll is from their price targets, they will likely upgrade Toll on a lower valuation basis.
And I have a good reason to suggest that. Keefe Bruyette just did that because it felt Toll's share price was too low. And I don't think that Keefe Bruyette will be the last firm to raise its rating on Toll. Deutsche Bank boosted its price target to $39 in February, when Toll was trading much higher. When it revisits Toll, I wouldn't be surprised if it became more bullish and made the stock an outperform. KeyBanc slapped on a $39 price target last year, a target that looks more compelling at current share prices. KeyBanc will also become more favorable to Toll.
This market has taken so many stocks higher that many are in danger of overrunning their analyst price targets. Toll doesn't have that problem.
So, you can wait for analyst upgrades to occur and then buy Toll along with all the money managers. Or you can buy Toll before the reports. I suggest you pick up Toll before the analysts upgrade the stock.
Disclosure: I am long TOL. I wrote this article myself, and it expresses my own opinions. I am not receiving compensation for it (other than from Seeking Alpha). I have no business relationship with any company whose stock is mentioned in this article.
Disclaimer: The opinions in this document are for informational and educational purposes only and should not be construed as a recommendation to buy or sell the stocks mentioned. Past performance of the companies discussed may not continue and the companies may not achieve the earnings growth as predicted. The information in this document is believed to be accurate, but under no circumstances should a person act upon the information contained within. We do not recommend that anyone act upon any investment information without first consulting an investment advisor as to the suitability of such investments for his specific situation.