Brian Moynihan has been the CEO of Bank of America (NYSE:BAC) since January 1, 2010, and for most of his tenure he has had to work on unwinding mortgage related problems caused by the acquisition of Countrywide coupled with work towards a stronger balance sheet. With shares trading in the teens for the last four years, many investors believe that now is the time for a significant rebound. Always looking for value, it's hard to pass on a big company like BAC, which is currently trading for $11.66 per share, below the recently reported book value of $20.30 and tangible book value of $13.46. And, even more so when turning to pre-recession earnings and revenue for a glimpse of what could be.
Last week, shares pulled back after reporting 1st quarter income of $2.6 billion ($0.20 per diluted share) on revenues of $23.467 billion net of interest expenses. The back peddling may have been because of a slight miss on EPS but I think it was due more in part to better news from the other banks. Wells Fargo (NYSE:WFC) posted 1st quarter net income of $5.2 billion (up 22% from the first quarter of 2012) while JPMorgan (NYSE:JPM) reported net income of $6.5 billion.
Other Notable Highlights
Net Interest Margin of 2.43% compared to Wells Fargo's 3.48%.
Efficiency ratio of 76.57% (improvement) compared to WFC's stronger 58.3%.
Return on Tangible Common Equity of 3.66% compared to JPMorgan's 17% return.
This list could go on and to be fair, Bank of America did show some improvements but I am starting to become more and more skeptical of management. For one, how long is the focus going to be on strengthening the balance sheet? A better balance sheet is necessary but a rebound will only occur when BAC starts to turn in better earnings. How long are investors willing to wait? And, how effective has management even been at reducing debt? Unfortunately, I would argue not as well as they would have you think.
From the earnings highlights, "Long-term Debt Down $75.3 Billion From Year-ago Quarter, Driven by Maturities and Liability Management Actions; Time-to-required Funding Remains Strong at 30 Months.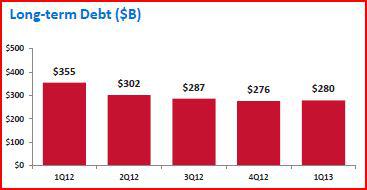 Sounds good at first glance but, how would you feel about management if I told you it actually increased by $4 billion from the amount reported in December...that somehow didn't make the highlights.
Also, from the highlights and reported 1st under the subtitle "Business Momentum Continues (and as the first highlight overall)," is "Deposit Balances up 5 Percent From Q1-12 to $1.1 Trillion."

Another win, right? Second look, we find the following on page 7 of the supplemental information:

I don't know if I'm reading that wrong, but I keep coming up with $1.095 trillion, which was down $10.078 billion from the previous quarter (not a highlight). And, why boast a better (and incorrect) deposit amount when anyone taking a look at the mix of deposits would easily find that non-interest-bearing deposits worldwide declined $15.3 billion (Not Good) while interest-bearing ones increased $5.2 billion. This $15.3 billion dollar drop in good interest-free liabilities had to be paid off somehow and looking at the other side of the ledger, we see assets declined $35.3 billion. So, management would have you believe it sold assets to pay off liabilities (stronger balance sheet) when close to half of the asset decline was to pay off interest-free debt and total long-term debt (a highlight) actually increased.
Bottom Line
Investors have given BAC management the benefit of the doubt for too long. Yes they stepped up to the plate when the bank was in a bad place and, yes, they have made improvements, but now they are taking advantage of investors' patience by throwing out highlights during the last quarter that clouded the true actions and results of the previous three months. The stock has performed better than most over the past year, but I would argue that the after-earnings pullback is a sign that BAC is losing steam and hopes of a significant recovery are farther away than most would have you believe. Be careful and dig deeper!
Disclosure: I am long WFC. I wrote this article myself, and it expresses my own opinions. I am not receiving compensation for it (other than from Seeking Alpha). I have no business relationship with any company whose stock is mentioned in this article.