I can recall playing the board game Monopoly as a kid. The simple lessons that were learned still ring true, even in a global market: Construction, utilities (or energy), and a strong rail system are still basic foundations for a strong economy.
We might have preferred landing on Park Place, but we always bought the railroads if we landed on them. Even that little lesson rings true today. As the economy recovers, and the nation gets moving again, our railroad systems are integral components of all aspects of growth. I believe that CSX Corporation (NYSE:CSX) is a best-of-breed stock in this somewhat overlooked business sector.
Record Earning Even With Flat Revenues Shows Strength
Bulls (like me) will look at earnings with great anticipation; if earnings can increase as revenue is flat, just think how much better earnings will be as revenue increases. Bears will look at the flat revenues, and argue that there is simply no growth, and future prospects seem weak. While both sides of the argument have merit, I believe the stronger case could be made for the bulls. Keep in mind, that as our economy recovers, there will be more products moved by rail than any other transport system on the planet.
CSX reported first-quarter earnings last week and aside from the flat revenues, they were stellar. At $0.45/share not only did they beat all estimates, but beat the year-over-year results for the same period last year of $0.43/share, which to me points to earnings strength and a recovering economy.
With $459 million in net earnings for the quarter, CSX deposited $875 million in total operating earnings for a new company record:
These revenues, combined with strength in operations, drove first-quarter operating income of $875 million, and an operating ratio of 70.4 percent. These results were achieved with industry-leading safety levels.
In describing the company's results, CEO Michael Ward had this to say:
'CSX continues to create value by supporting its customers with high levels of service in an economy that is still gradually recovering,"'said Michael J. Ward, chairman, president and chief executive officer. 'At the same time, we are prepared for the economy to accelerate and have great confidence in the long-term outlook for the business.'
I suppose that sums up the way I feel about the company, and specifically the stock. Of course, the bullish opinion does not stop there. While delivering the record earnings, the company also announced a dividend hike and a share repurchase increase:
In addition to its quarterly results, CSX announced that its Board of Directors has approved a 7 percent increase in the quarterly dividend on the company's common stock, and a new $1.0 billion share buyback program ... Since 2005, CSX has invested $14.2 billion in its business, increased its quarterly cash dividend 11 times representing a 29 percent compounded annual growth rate (including the dividend increase announced today), and repurchased $8.0 billion worth of shares. These actions reflect the company's ongoing commitment to deploy cash in a balanced framework to drive near- and long-term value.
Reinvesting within the business itself, increasing dividends at a brisk pace, and upping the share repurchase amount by 20%, is an impressive combination for just about any investor to see the shareholder value already built into owning CSX stock. Even though the company projects earnings growth of between 10%-15% per year through 2015, those forward looking estimates still are either equal to, or below, levels in the past, which of course is also the bearish argument. That said, shareholders will see greater value, higher dividends, and less outstanding shares, which should continue to help the share price increase higher than it stands today.
Exporting Could Drive Revenues and Earnings in the Future
The one thing about railroads is that they have the ability to ship products to places where other transport systems simply cannot reach, such as ship yards as a prime example. From these ship yards, the cargo can be easily loaded on vessels that will move exports to other nations around the globe.
One of the largest growth engines we are seeing is the exportation of energy products to emerging (as well as established) markets around the globe. Coal is the cheapest fuel source for nations that are either facing strict budget constraints, or are seeking economic growth by using the least expensive fuel source available.
While the environmentalists here in the U.S. have been effective in reducing the use of coal within our shores, the same standards are not in place elsewhere in the world. As reported in this article, Asia is not the only region that has increased its usage of coal for energy needs:
Green-friendly Europe has a dirty secret: It is burning a lot more coal. Europe's use of the fossil fuel spiked last year after a long decline, powered by a surge of cheap U.S. coal on global markets and by the unintended consequences of ambitious climate policies that capped emissions and reduced reliance on nuclear energy.
Click to enlarge images.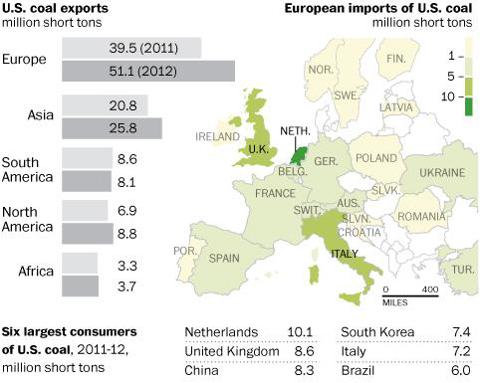 As you can see, Europe is importing about twice as much coal as Asia (as of 2012). What obviously helps CSX is the fact that shipping coal from the U.S. to the European nations comes from the East Coast ship yards, where CSX has the strongest rail systems.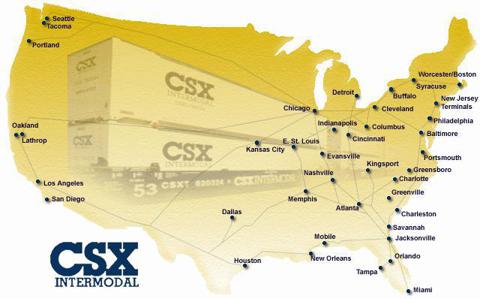 It should be noted that thus far, the exportation of coal has not fully offset the decline in the use of coal here in the U.S., but that has not deterred the entire rail industry in expanding it's efforts. To be sure, new facilities are being built in the Northwest to service the increasing demand of coal in Asia.
As reported in this article, efforts are clearly under way for the Northeast to become another gateway to ship our product:
U.S. coal companies are facing some tricky math these days. Production levels have remained more or less the same since 2005, according to the Energy Information Agency ((NYSEMKT:EIA)), but during that time domestic consumption has dropped nearly 11 percent. The coal industry is hoping to accelerate that export trend, but their ability to keep delivering steady volumes of coal is entirely dependent on their ability to open up new export terminals at coastal ports around the country, particularly in the Pacific Northwest where the dirty rock could be more directly shipped to the burgeoning Asian markets. (emphasis added)

Just as important is to have our leaders in Washington, D.C., showing more support of late, as well as local support. Perhaps economic needs are trumping some environmentalists ideals? Note the 67% positive Elway Research poll results for local jobs, when considering coal port decisions: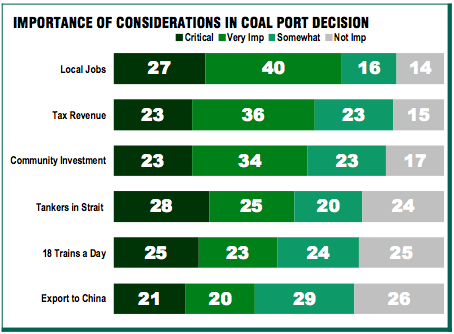 Washington's coal export terminal proposals are winning the battle for public opinion, a new survey finds ... The survey was conducted by the non-partisan firm Elway Research and first reported by the online news and opinion site, Crosscut. It asked state residents about two major coal terminals proposed in Washington - one near Bellingham at Cherry Point and one near Longview. They are among the five facilities proposed in the Northwest that would receive coal by the trainload (or the barge-full, under one proposal) and send it across the Pacific Ocean on Asia-bound ships. (emphasis added)
As you can see from the CSX rail system map above, the company is involved in that area to some extent, and as more terminals are opened, either through partnerships or directly, CSX will be involved, and add to its already impressive shipping points on the East Coast, for the European nations.
It should be noted that the coal producers themselves are facing even greater issues here in the USA, and will more than likely team up with CSX and other rail systems to move their products.
Arch, Alpha and the rest of the industry hope that increased coal demand from fast-growing China and India will help turn the tide. But that poses additional problems. U.S. companies are scrambling to increase their access to ports in the Gulf Coast and East Coast to ship coal abroad.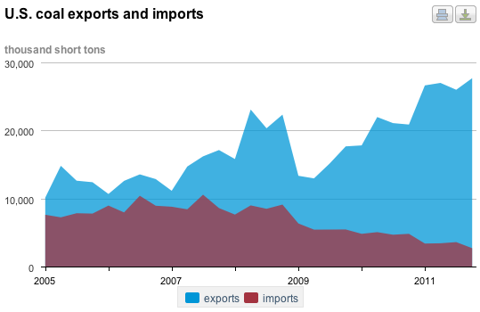 To further emphasize the use of coal in Asia, this article notes these findings:
The U.S. Energy Information Administration (EIA) released an alarming statistic about China's consumption of coal. The statistics released on Jan. 29th show that China consumes almost as much coal as the rest of the world combined. China alone consumed 3.8 billion tons of coal in 2011 while the rest of the world only consumed 4.3 billion tons. If these trends continued through last year, as seem likely, that means that China could already be consuming more than the rest of the world.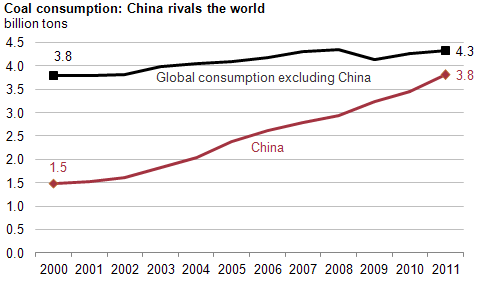 I always believe that as one "window" closes, a few "doors" open up, and it seems clear to me that the exportation of coal, and the use of CSX to ship products, is a positive opportunity, not just a negative write off. Let me stress that exportation is not the only way for CSX to grow. Keep in mind that the rail systems bring products of need to every part of our nation as well. As a matter of fact, more housing products, such as lumber, is shipped via rail (CSX being one of the largest) to just about every corner of this country. As the housing recovery continues to improve, more products will be transported.
Remember that Monopoly board? Construction, energy, and railroads.
The Fundamentals Are Very Compelling
In making a bullish case for owning shares of CSX, we should also take a look at the basic fundamentals of the company.
CSX: Price: $23.70/share, Dividend Yield: 2.60%, ESS Rating: Bullish
Enterprise value of roughly $33 billion.
A rather low forward P/E ratio of 11.73 (below last year's P/E as well as the S&P P/E ratio).
A 7% increase in dividends paid, effective this coming quarter ($0.15/share).
A very manageable dividend payout ratio of 31%.
Nearly 70% of all outstanding shares are held by institutions.
Operating margins of nearly 30%.
A tepid price-to-book ratio of 2.70.
Analyst consensus is quite strong as well, as noted in this chart: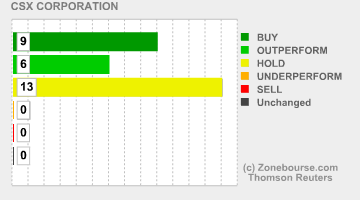 We see 15 outperforms or buys, 13 holds, and no underperforms or sell ratings anywhere, and future growth is clearly anticipated: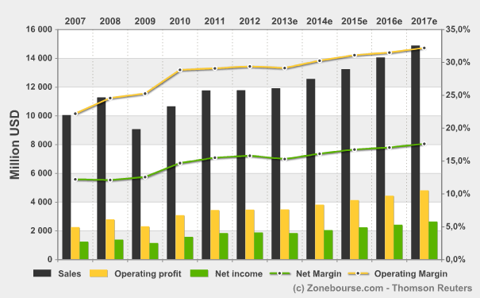 Along with growth in revenues and profits comes the obvious potential for even greater dividend payouts. As these metrics improve, the payout ratio should decline in lock-step.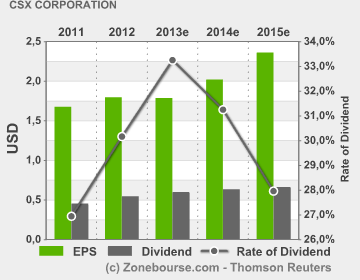 Based on these assumptions, I believe that CSX will continue to increase dividend payments, be able to manage them quite easily, and regain a foothold as a dividend winning stock to hold for any retirement portfolio. As a matter of fact, the Team Alpha Retirement Portfolio added CSX back on Dec. 5, 2012.
Here is the article announcing the purchase, and suggesting the stock to others.
Nothing is sweeter for us retired folks (or dividend seeking investors in total) than adding a really big company that has a darn good dividend yield, to our Team Alpha core portfolio. It is even sweeter when the stock has dipped to bargain levels. CSX Corp. (CSX) has shown up on my radar for those very simple reasons.
Shares were purchased at roughly $19.75/share on that day.
My Opinion
I believe that CSX has the ingredients required to be a core holding in any dividend income portfolio. Not only is the company raising dividends, but the upside for capital appreciation is quite clear to me. Based on the company efforts to grow its infrastructure to meet the economic demands of today, as well as positioning itself for the economic growth of the future, CSX has much more bullish appeal than bearish.

Disclosure: I am long CSX. I wrote this article myself, and it expresses my own opinions. I am not receiving compensation for it (other than from Seeking Alpha). I have no business relationship with any company whose stock is mentioned in this article.
Disclaimer: This article is not a recommendation to buy or sell any security, and should not be solely relied upon to make any investment decision. Keep in mind that these are my own opinions and analysis of the facts I have found. Do your own research prior to making any investment decisions.