Those who follow our work know that we've been watching the progress of PetroLogistics (NYSE:PDH) for some time now. We've written a couple of articles (here and here) discussing the merits of the recently listed (May 2012) company, and we've been actively investing/trading in the name. We recommended longs re-enter the trade at $14 per share, after taking profits in February near $16.
In hindsight, it appears we were a bit early as shares have been trading around $12-$13 and, technically, the chart looks weak (please see Thomas Sobon's excellent comments on the technical side). In addition, high-volume trading earlier this year indicated that some pre-IPO investors likely divested some shares. However, we believe the time has come for PDH to shine with a forthcoming dividend that should knock the cover off the ball and bring PDH into the limelight of dividend investors.
PDH produces propylene (PGP) from propane (see our past articles for details on the business) so their profitability and distributions depend on the spread between the prices of these two commodities (PDH is a variable distribution MLP). Recently, in the first quarter, the spread reached extremely high levels as plant outages, refinery turnarounds, and a rebound in the economy with low inventories helped to trigger a big increase in PGP prices. On the other hand, rather large stocks of Mont Belvieu propane kept PDH's input prices well tamed. All told, our analysis suggests that a 65- to 70-cent dividend is in the cards for this past quarter and, looking into Q2, another 35 cents seems doable.
Shown in the chart below is data from PDH's prospectus, relating the "spread" to distributions, along with observed data (Q2 2012 to Q4 2012), and our estimates for the next two quarters. As you can see, the actual spread and distributions over the last three quarters match what the company stated in their 424B4. There are slight variations due to unseen events, such as PDH's plant outage last quarter, but in all the relationship between the propylene/propane (PGP-MB) spread and distributions has been borne out.
Chart 1: PDH's Dividend Vs. the PGP-Propane Spread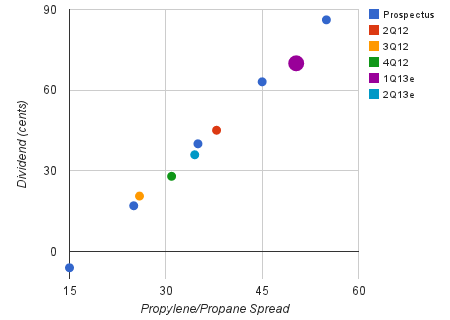 The larger purple dot represents our estimate for this quarter's dividend. In particular, the actual Q1 PGP-MB spread is pretty well known at this point (although PDH's levels will vary) and was around 50 cents on average. Using the relationship shown above would imply a 75-cent dividend, although we believe that PDH may have had fewer spot sales of PGP (above their contracted amounts) as they rebuilt inventory from last year's outage as well as prepare for their planned outage later this year.
Thus, our estimate is that we will have a 65- to 70-cent dividend announced on Wednesday, after the market close, which should shed some positive light on this lagging stock. We warn against annualizing this dividend, which many financial publications do, as that distribution level is not sustainable. In fact, we look for Q2's distribution to come back to earth at around 35 cents based on the recent decline in PGP prices and the firming of propane around the so-called shoulder season, when stocks hit their annual lows. That said, $1 in dividends for the first half of 2013 should entice income investors to look hard at PDH.
Looking over the first year of operation (Q2 2012 to Q1 2013), PDH's trailing annual dividend will likely be $1.64. Using our time-series models, we forecast that $1.50-$1.75 is sustainable going forward. Needless to say, we are being quite conservative on what distributions will be in the latter half of this year. If it turns out that our macro view on PGP and propane is correct -- abundant supplies of (shale) propane coming on line with reduced PGP production capacity -- there is upside to our estimates.
At a 10% yield, a pps forecast of $15-$18 a share seems reasonable once investors are more comfortable on what the distribution stream will look like. We use a higher than "MLP average" for our yield given the variable distribution and the risk that PDH is not diversified with only one dehydrogenation plant as its income producing asset. If we perform a discounted cash flow analysis, assuming a base PGP-MB spread of 35 with a 2% annual increase, we get a fair value $15 using a 10% discount rate. That is conservative as it assumes no growth in their capital stock, which dwindles down within 15 years.
Recently, PDH has lagged in price with low trading volumes, especially compared to the very high volume in mid-Q1. Based on the volume pattern, and subsequent filings, it would appear that some pre-IPO investors may have sold some shares. That said, there has been strong interest from other investors with, for example, Robert Pitts' Steadfast Capital taking a sizable stake. In addition, it appears as if the market was not too keen on the (private) issuance of senior notes bearing a 6.25% interest rate. We were confused by this since it is being used to pay down a more senior, higher-cost term loan that has been on the balance sheet since IPO.
In addition, there was a negative article on another financial website that may have made matters worse. Unfortunately, the author of that note does not understand PDH's financials. The high receivables that he warns about is a payment due from pre-IPO investors (who still own a substantial portion of PDH) on propane swaps that existed prior to the IPO used to hedge their book. They are not account receivables and, therefore, his analysis is flawed. So it appears as if a bad technical picture along with some confusing news has contributed to this stock underperforming our estimates of late. That said, we expect that after this quarter's earnings report and conference call, PDH will begin to shine again.
Disclosure: I am long PDH. I wrote this article myself, and it expresses my own opinions. I am not receiving compensation for it (other than from Seeking Alpha). I have no business relationship with any company whose stock is mentioned in this article.