The construction machinery manufacturer is none other than Caterpillar (NYSE:CAT) and today we want to discuss three indicators of stabilized demand 1) Global Truck demand 2) Non-residential Construction Recovery and 3) the architectural billing index (ABI) as well how CAT is in position to prosper from this stabilization.
Demand for Global Trucks
Global truck and construction markets are positioned for a sustained recovery. Total share of machinery to global GDP (Gross Domestic Product) is now 6% above mid-cycle levels. Growth will be driven by peaking China construction equipment and military vehicle demand.
The chart below illustrates that demand for global construction machinery is now modestly improving.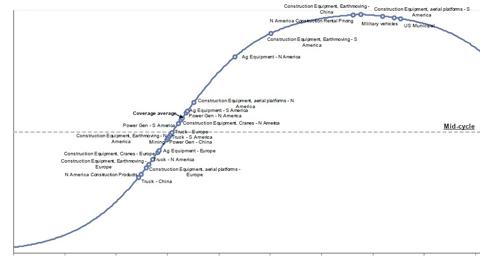 Source: Goldman Sachs
Analysts forecast healthy outlooks for U.S. construction spending and industrial production. But they expect limited cyclical upside and potential multiple compression risk for construction rental and aerial platform this year. Crane manufacturers, rental companies, and wallboard suppliers are significantly earlier in the cycle in U.S. construction.
The chart below shows that machinery stocks trading at a sharp discount to the S&P 500 against the historical range P/E multiples.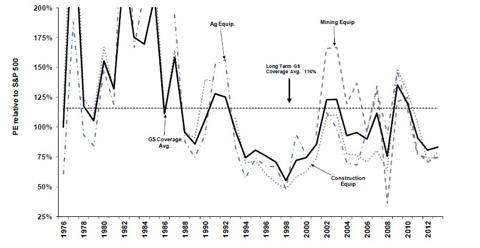 Source: Company Data, Factset Research
Market strategists expect pricing growth to slow following another year of supply increases, with used equipment values and rental rates now back at prior cycle peak. Aerial platform equipment values have recovered by 60%, off its 2009 trough, back to the prior cycle peak driven by a strong industrial cycle and swift supply cuts in 2009 to 2010. Similarly, spot rental rates are now above prior cycle peaks while monthly rates are set to approach peak levels in 2013.
Non-Residential Construction Recovery
Non-residential construction activity is in the early stages of a cyclical recovery, off a multi-decade trough, and now with the fiscal cliff addressed. Improved visibility on rising employment rates and lower commercial vacancy rates are core to its recovery. Over the past four years, U.S. non-residential construction has decreased nearly 40%, with the sharpest declines in Lodging (-71%), Office (-54%), Commercial (-48%), and Communication (-40%) end markets. The chart below shows that declining vacancy rates support non-residential construction recovery.
Annual Changes in Non-Residential Spending vs. Vacancy Rates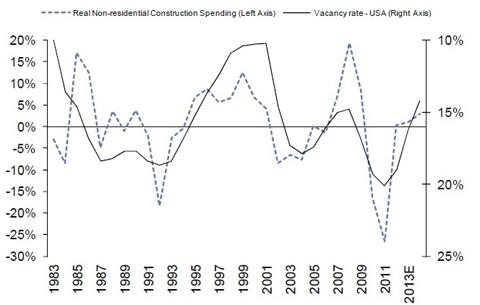 Source: Census Bureau
Architectural Billings Index
Lead indicators have shown signs of improvement. The Architectural Billings Index , which has historically led non-residential construction by 9-12 months, has been in positive territory for the past four months with recent acceleration to levels not seen since December 2010.
In addition, the residential construction cycle has historically led non-residential activity by 12 to 24 months on average. Strong residential construction growth in 2012 and improving housing market fundamentals into 2013 are positive signs for a pick-up in non-residential activity.
The chart below shows that the lodging and office real estate markets are way below its peak levels:
Non-Residential Spending Component as % of Prior Peak Levels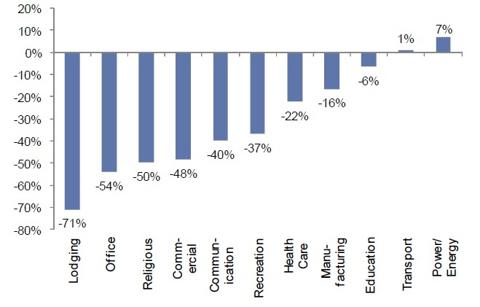 Source: Census Bureau, Company Data
Cash is King
With approximately $5.5B in cash, Caterpillar has capital to invest as the industry stabilizes. In addition, CAT could generate enormous cash in 2013 following the acquisition of Bucyrus International in 2011. Because of this, CAT's manufacturing Net Debt-to-Capital diminished by approximately 18% in fourth quarter last year from 26% of the same period in 2011. Free cash was approximately 33% of net income in 2012.
However, investors are seemingly in doubt as to what CAT will do with its excess cash given a forecasted inventory reduction. Cash levels are forecasted to equal net income or possibly higher while Net Debt-to-Capital is forecast to decline to low mid single digits towards the end of 2013.
The management tries to address investor concerns by explaining future cash deployment will be at normal levels and balanced by "organic investments," such as the research and development capex plan of integrating components of CAT in Bucyrus products.
Other uses of cash will be cash dividend declarations and share repurchases with the company's $7.5 billion share authorization. Management has more flexibility to return cash to shareholders over time, attributed to accretive earnings generated from share repurchases.
Nurturing Profit Margins
CAT management is pressuring its strategic business units to squeeze out more savings. Investors believe that CAT is enthusiastic in achieving its "profit curve" (achieving better margins at each volume level). The company has already cut down on overhead costs, thus enabling CAT to keep labor costs under control.
Price or product costing could possibly be a source of some upside potential to CAT margins this year and in 2014. CAT management has guided a nominal average 1% price increase this year. Investors, however, are cautious about CAT's pricing model, not holding up in industries such as mining, where pricing actually tends to be relatively sticky.
Excess Inventories
Investors argue that CAT is still at the relative beginning of a significant supply chain initiative to unload excess inventories, but they are still uncertain how CAT is going to implement this change. But there is an incremental margin and cash flow opportunity if CAT can learn how to diminish and standardize its supply chain products/inventory.
Growth Prospects and Stock Valuations
CAT is aggressive regarding its overall build-out in China, and management is comfortable that it can still have a strong presence in China over time. However, investors often overlook the company's strategy of building out its dealers and building out non-excavator products such as engines. It should be noted, though, that CAT's ability to offer a full suite of products is its strongest reason that it would be able to gain market share.
CAT's share price value trades at the low end of its historical mid-cycle P/E range.
Caterpillar's Mid-Cycle P/E Range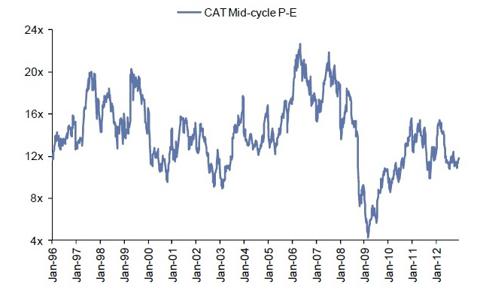 Source: Company Data
CAT's 2013 forecasted P/E multiple has decoupled from credit spreads over the past year following a two-year span of extremely tight correlations (see table below). This means that CAT can achieve a compelling risk/reward potential in stock valuations, which should drive earnings estimates and multiples eventually.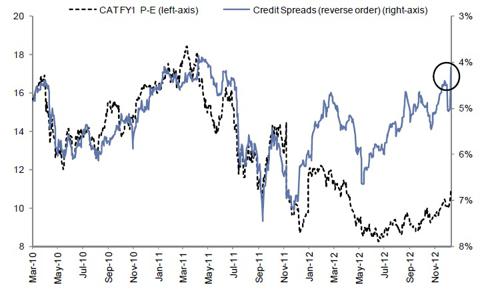 Source: Company Data, Goldman Sachs Research Estimates
CAT is trading at 12X mid-cycle P/E compared to a full cycle average of 14X and analysts have applied a 12-month price target forecast of 15% expansion in P/E multiples in 2013.
Disclosure: I have no positions in any stocks mentioned, but may initiate a long position in CAT over the next 72 hours.
Business relationship disclosure: Black Coral Research is a team of writers who provide unique perspective to help inspire investors. This article was written Hans Centena, one of our Senior Analysts. We did not receive compensation for this article (other than from Seeking Alpha), and we have no business relationship with any company whose stock is mentioned in this article.
Additional disclosure: Black Coral Research is not a registered investment advisor or broker/dealer. Readers are advised that the material contained herein should be used solely for informational purposes. Investing involves risk, including the loss of principal. Readers are solely responsible for their own investment decisions.