Within the last few years, natural gas production (NYSEARCA:UNG) has increased significantly in the U.S. As a matter of fact, this source of energy is now more accessible and cheaper than 30 years ago with the profusion of shale gas that has been discovered throughout North America and with a relatively new technology, hydraulic fracturing and horizontal drilling which improved significantly the performance and efficiency of recovered gas.
The abundance and the increasing demand for this resource caused the commodity price to go down as a result. New applications for natural gas appeared, assuring a more constant demand. Actually, natural gas is cheaper in the U.S. than in much of the rest of the world. Emerging markets are in great need of energy to sustain its swift growth and natural gas represents an alternative to oil. For more information about the shale gas revolution, please take a moment to read my article discussing about the possible greatest boom ever for the U.S. economy here.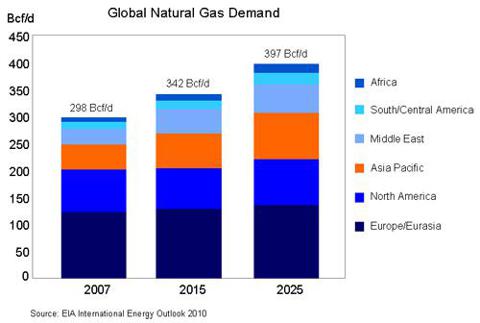 Click to enlarge
In the first article of this series, I will discuss about the rising demand for LNG (liquefied natural gas) and why some specific companies making business with natural gas are set to benefit from this great opportunity. Finally, a thorough analysis of the top three promising U.S. LNG exporters will be assessed, starting with the third U.S. promising player in this article.
A Fast Increasing Demand For LNG
LNG is the fastest-growing part of the global natural gas market, increasing at a 6% annual rate over the last decade. It represents a fast and cost-effective way for countries lacking natural gas resources and delivery infrastructure to inject this source of energy as an alternative to more expensive fuels or energy sources.

Click to enlarge
Source: Chevron
LNG is a clear, colorless, non-toxic liquid that can be transported and stored more easily than natural gas because it occupies up to 600 times less space. When LNG reaches its destination, re-gasification facilities return it to gas. It is then moved through pipelines to homes, businesses and industries.
How Natural Gas Is Processed Into LNG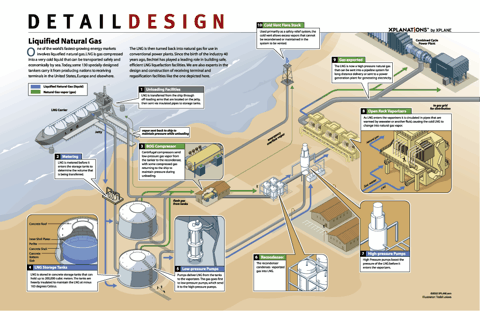 Click to enlarge
Source: Coroflot
LNG has been transported for more than 50 years and has a strong safety record. A LNG spill would not damage the ground or leave any residue as it evaporates. In water, LNG is insoluble and would simply evaporate, making water-spill cleanup unnecessary. LNG is not stored under high pressure and is not explosive. Although a large amount of energy is stored in LNG, it cannot be released rapidly enough into the open environment to cause the overpressure associated with an explosion. LNG vapors (methane) mixed with air are not explosive in an unconfined environment.
In 2007, 17 countries were importing LNG. Currently there are 25 LNG-importing countries in Europe, Asia, South America, Central America, North America and the Middle East. Numerous developing countries including Poland, Croatia, Bangladesh, Jamaica, Colombia, Panama, El Salvador, Costa Rica and Lebanon among others, are considering plans to build new LNG terminals and enter the global LNG trade.
Worldwide, there are 91 import terminals designed to receive LNG shipments, 28 LNG liquefaction export terminals and more than 200 LNG storage facilities. Japan, with more than 29 LNG import terminals, has gone without a major safety incident since it began receiving LNG shipments 35 years ago.
LNG Exports, A New Investing Opportunity
The ongoing energy boom is reshaping the U.S. economy. If history can teach us something, some of the biggest gains in the history of the oil business came from the men who were smart enough to own the infrastructure required to get the oil and the gas to the market.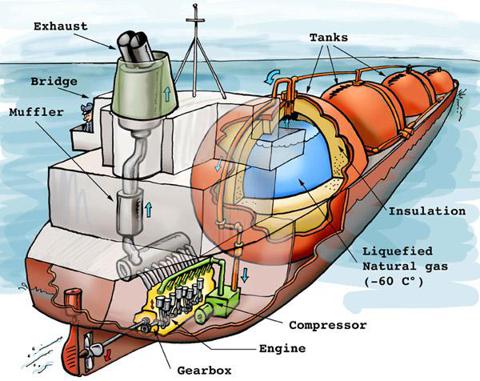 Click to enlarge
Investing in much-needed infrastructure construction to move this commodity into global markets makes a lot of sense. LNG export terminals are scarce in the U.S. as only one company is detaining a license for exporting LNG for now. Therefore, let's see a company conducting business worldwide with significant holdings in Africa, Australia, Southeast Asia, the Caspian region, Latin America and North America.
Chevron (NYSE:CVX)
Chevron has a long history, which began when a group of explorers and merchants established the Pacific Coast Oil Co. on September 10, 1879.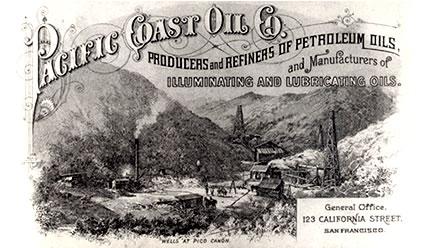 Source: Chevron
Since then, the company's name has changed more than once. Chevron has grown from a San Francisco-based company with a five-state market in the Western U.S. to a major corporation whose subsidiaries conduct business worldwide in a variety of activities: exploration and production of oil and natural gas, manufacturing and selling petroleum products, shipping via pipelines and ships, power producing, mining and creating innovative energy solutions.
Based in San Ramon, California, Chevron produces a wide line of products: oils, gasoline, diesel, jet and aviation fuels, natural gas, chemicals, additives and lubricants to name some of the petroleum-based products.
Natural gas is a growing segment of Chevron's energy portfolio. Its natural gas resources span six continents with significant holdings in Africa, Australia, Southeast Asia, the Caspian region, Latin America and North America. Chevron has a net production of more than 4.9 billion cubic feet of natural gas per day, including equity shares in affiliates and the company is expecting to substantially increase its volume output over the next decade.
Furthermore, Chevron is one of the leading suppliers of LNG exports around the globe and is engaged in every aspect of the natural gas business: production, liquefaction, shipping, re-gasification, pipelines, marketing and trading, power generation and GTL (gas-to-liquids). They hold several assets including the North West Shelf Venture, the Angola LNG Project as well as Wheatstone and Gorgon projects in Australia.
LNG Producing Assets And Projects Under Way
North West Shelf Venture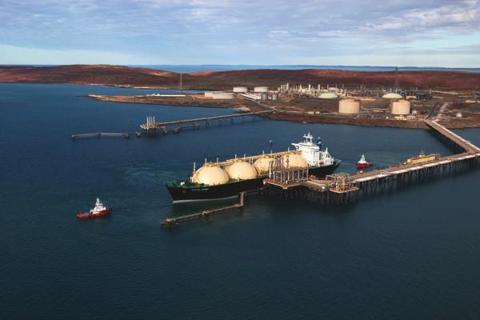 Click to enlarge
Source: Gas Today
Chevron is participating in the North West Shelf Venture since 1984, in which it operates offshore producing fields and extensive onshore facilities including five LNG processing units or "trains" and a domestic gas plant. Located on the Burrup Peninsula near the Port of Dampier and the town of Karratha in Western Australia, the project is based on vast undersea natural gas and crude oil resources.
Woodside Energy (OTCPK:WOPEY) is the operator for the project. Other partners are subsidiaries of BHP Billiton Petroleum Ltd. (NYSE:BHP), Chevron, BP Developments Ltd. (NYSE:BP), Japan LNG and Shell (NYSE:RDS.A).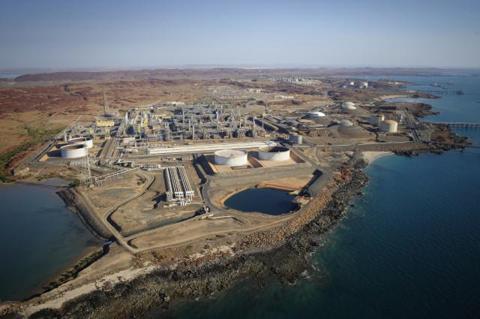 Click to enlarge
Source: Woodside Energy
Approximately 70% of the natural gas is sold in the form of LNG to major utilities in Japan, South Korea and China, primarily under long-term contracts. In November 2012, the project celebrated the delivery of 3,000 LNG cargoes to Japan. Moreover, the project is Western Australia's largest producer of domestic gas providing about 65% of the State's total production. It also accounts for more than 40% of Australia's oil and gas production and is a major producer of LNG, LPG (liquefied petroleum gas), condensate and crude oil.
The operations consist of production from five major oil and gas fields and a number of smaller fields. These include the North Rankin, Goodwyn, Perseus, Angel and Echo Yodel natural gas fields and the Wanaea, Cossack, Lambert and Hermes crude oil fields. Venture facilities include three fixed offshore platforms, one floating production, storage and off-take vessel and Australia's largest onshore gas processing facility near Karratha.
Angola LNG Project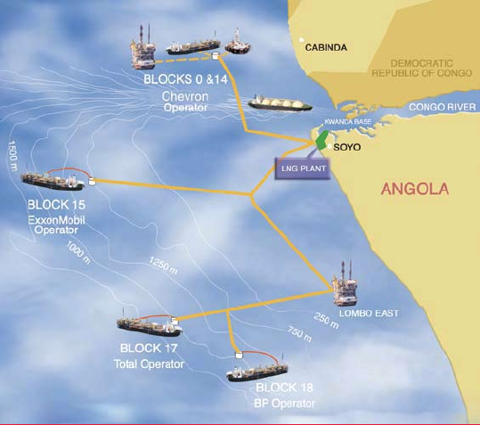 Click to enlarge
Source: Angola LNG
Angola LNG's operation is located in Soyo, 195 miles north of Luanda in Zaire Province, Angola. The project is a joint-venture consisting of Sonangol (the state oil company of Angola) at 22.8% and affiliates of Chevron with 36.4%, Total (NYSE:TOT) at 13.6%, BP at 13.6% and Enersis (ENI) with 13.6%.
The project is an integrated gas utilization project with offshore and onshore operations to monetize gas resources from blocks located offshore of Angola. Initially, the project has a one-train plant of nominal 5.2 million tonnes per year of LNG production capacity and includes production of LPG and condensate.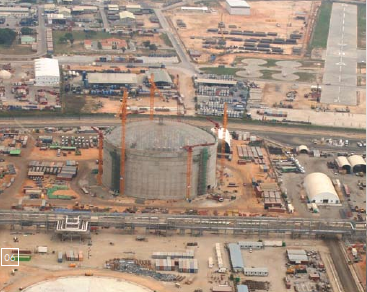 Source: Angola LNG
The Potential is estimated at 125 million standard cubic feet per day of natural gas and it would be available from date of plant start-up for domestic use. The rest of the products would be available for export. Reserves are over 10 trillion cubic feet of gas and are expected to rise as oil and gas operations increase.
Wheatstone Project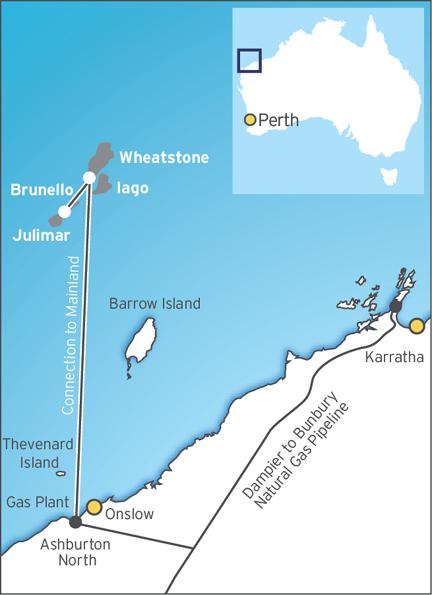 Source: Chevron
The Chevron-operated Wheatstone Project includes a two-train 8.9 million tonnes per annum LNG facility with maximum daily production of 1.4 billion feet of cubic natural gas and a separate domestic gas plant, both located at Ashburton North, 7.4 miles west of Onslow in Western Australia's Pilbara region. The facilities will be fed by natural gas from the Wheatstone and lago fields, as well as third-party gas.
Chevron discovered Wheatstone in August 2004 and in March 2008, announced its intention to develop the gas resource as a greenfield onshore LNG and domestic gas project. The final investment decision was announced in September 2011 with construction beginning soon after in December 2011.
As of now, the first two phases of camp are completed and site preparation at plant site has started. In conjunction with the Gorgon Project, it reinforces Chevron's position as a leading natural gas supplier and LNG operator in the Asia-Pacific region.
The Wheatstone Project is a joint-venture between Australian subsidiaries of Chevron at 64.14%, Apache (NYSE:APA) at 13%, KUFPEC (Kuwait Foreign Petroleum Exploration Company) at 7%, Shell at 6.4%, Kyushu Electric Power Company (OTCPK:KYSEY) at 1.46% and PE Wheatstone (part owned by TEPCO) with 8%.
About 80% of LNG is committed under long-term contracts. LNG customers include TEPCO, Kyushu Electric Power Company, Chubu Electric Power Company (OTC:CHUEF) and Tohoku Electric Power Company (OTC:TEPCF). Start-up is expected for 2016.
Gorgon Project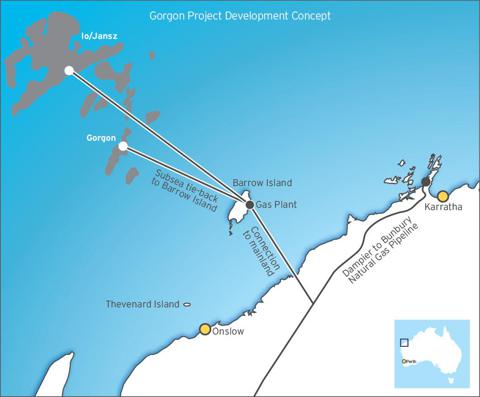 Click to enlarge
Source: Chevron
Located within the Greater Gorgon area, about 81 miles off the north-west coast of Western Australia, Gorgon is one of the world's largest natural gas projects and the largest single resource project in Australia's history. The project includes a 15 million tonnes per annum LNG facility on Barrow Island, a domestic natural gas plant with the capacity to provide 8333.33 MW/H per day to supply gas to Western Australia and a carbon dioxide injection project.
The Gorgon Project is a joint-venture operated by Chevron's subsidiary with about 47% in ownership while Australian subsidiaries of Exxon Mobil (NYSE:XOM) owns 25%, Shell 25%, Osaka Gas (OTC:OSGSF) 1.25%, Tokyo Gas (OTCPK:TKGSF) 1% and Chubu Electric Company, 0.417%.
Work on the project is progressing on schedule with approximately 60% of construction completed on Barrow Island and in fabrication yards in various countries. Furthermore, about 65% of LNG is committed under long-term contracts. Plant start-up is planned for late 2014, leading to the first LNG cargo in Q1 2015.
Shown on the chart below is the expected natural gas production for Angola, Gorgon and Wheatstone projects between 2013 and 2017.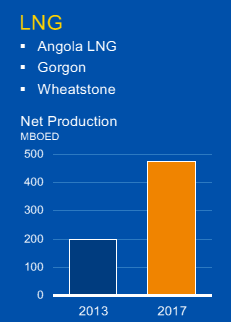 Source: Chevron's March 2013 Security Analyst Meeting
Kitimat LNG Project
Chevron and Apache each own 50% of the Kitimat LNG Project. Chevron will market LNG, run the plant and pipeline assets. Apache will operate upstream development of 644,000 acres in British Columbia's giant Horn River, Liard shale gas discoveries. Initial plant would have a capacity of 5 million tonnes per annum of LNG with a potential output up to 10 million tonnes. Estimated reserves are about 19 trillion cubic feet of combined marketable, technically recoverable natural gas resources.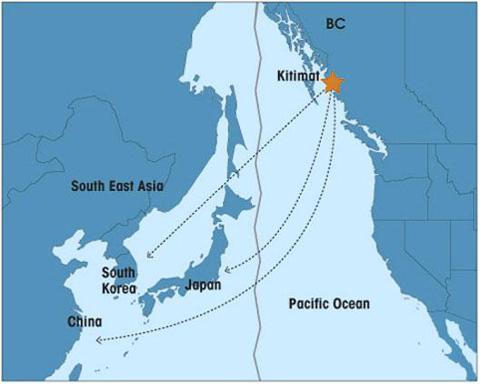 Click to enlarge
Source: Kitimat LNG
For more information about this project, please refer to my article discussing about Kitimat LNG.
Shipping Of LNG
Chevron operates 35 ships tankers from conventional crude and product carriers to high-tech shuttle tankers and LNG carriers. The company also operates four modern U.S. flagged tankers. Furthermore, in 2012, Chevron began managing three LNG carriers owned by Sonangol, Angola's national oil company.
LNG ships are equipped with sophisticated leak detection technology, emergency shutdown systems, advanced radar and positioning systems designed to alert the crew to other traffic and hazards around the ship. Distress systems and beacons automatically send out signals if the ship experiences difficulty, ensuring the safe and secure transport of LNG.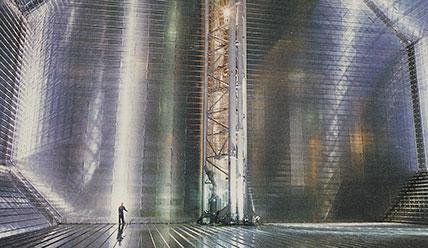 Source: Chevron
LNG ship tankers are double-hulled and heavily insulated with a special membrane system to prevent any rupture or leak.
Producing GTL From Natural Gas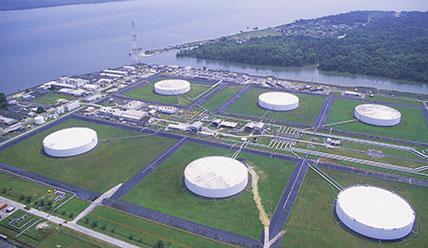 Source: Chevron
GTL (gas-to-liquid) is a technology that enables the production of clean-burning diesel fuel, liquid petroleum gas and naphtha from natural gas. The GTL process transforms natural gas into super-clean diesel fuel. With the expected rise in demand for diesel, GTL technology provides an option to make a fuel with qualities that can enable significant reductions in emissions.
Chevron has partnered with the Nigerian National Petroleum Corporation to build a GTL plant expected to convert 325 million cubic feet of natural gas per day into 33,000 barrels of liquids, principally synthetic diesel. When completed, the plant is expected to supply clean-burning, low-sulfur diesel fuel for cars and trucks. The plant is expected to begin production in 2013.
Financial Highlights And Analysis
For 2012, Chevron reported earnings of $26.2 billion, down 3% from $26.9 billion in 2011. Cash and cash equivalents totaled $20.9 billion, an increase of $5 billion from $15.9 billion in 2011.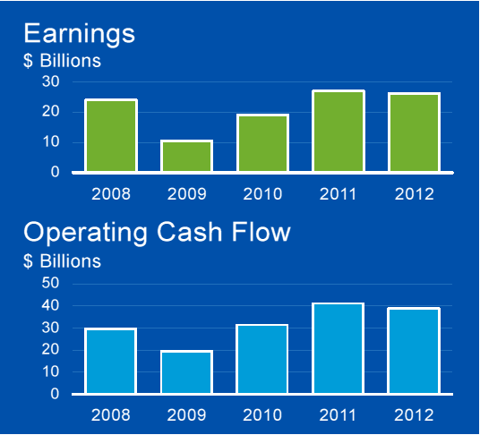 Click to enlarge
Source: Chevron's Security Analyst Meeting, March 2013
As we can see on the chart below, the indexed cash flow per share has increased from $100/share to more than $150/share in five years, reaching highs in each of the last three years.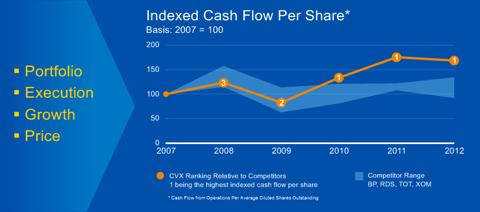 Click to enlarge
Source: Chevron's Security Analyst Meeting, March 2013
Chevron produced 5.07MCF/D of natural gas in 2012 compared to 4.09MCF/D in 2011, a significant increase of 24%. Production should grow as well this year with several projects under way with Angola LNG Project expected to start-up production in Q2 2013. As for liquids, the company had a net production of 1.76MB/D last year compared to 1.85MB/d in 2011, a slight decrease of 0.09MB/D.
Total debt at the end of 2012 stood at $12.2 billion, a rise of $2.0 billion from a year earlier with $10.2 billion. Capital and exploratory expenditures in 2012 were $34.2 billion compared with $29.1 billion in 2011. I believe that Chevron is well placed financially to provide enough cash flow for the development of its current projects even if its capex increased by 15.5% last year. However, its total debt raised at more than $12 billion, which is a little high right now. As depicted below, if everything goes according to plans, Chevron should see its massive investment generate revenue this year.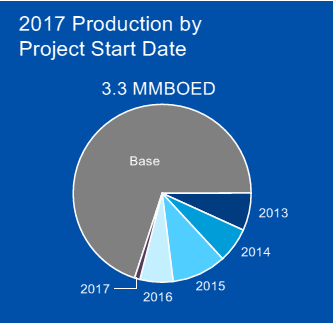 Source: Chevron's Security Analyst Meeting, March 2013
Future Outlook
The company added about 1.07 billion barrels of net oil-equivalent proved reserves in 2012 while they produced about 0.96BBOED, totaling 11.35BBOED from 11.24BBOED the year before. These additions, which are subject to final reviews, equate to 112% of net oil-equivalent production for the year.
According to Chevron, total net production of liquids and gas are estimated at 2.65MBOED this year compared to 2.61MBOED produced in 2012 with the objective of reaching 3.3MMBOED by 2017. To accomplish this goal, the company is assuming that the BBL price for the Brent will be at $79/BBL level, its current producing base will only decrease by 4% annually and Angola LNG will start producing as expected by Q2 2013.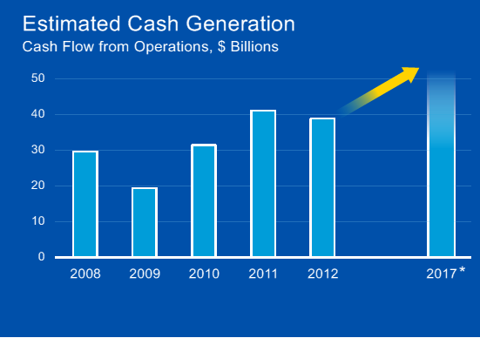 Click to enlarge
Source: Chevron's Security Analyst Meeting, March 2013
Chevron is estimating its cash flow from operations to grow from $39 billion in 2012 to more than $50 billion by 2017. With more than 50 operating sites, production of crude oil is widely spread across the globe and is accounted as follows: 724 MBOED in North America, 612 MBOED in Africa and South America, 570 MBOED in Europe, Eurasia and Middle East and finally, 695 MBOED in Asia-Pacific.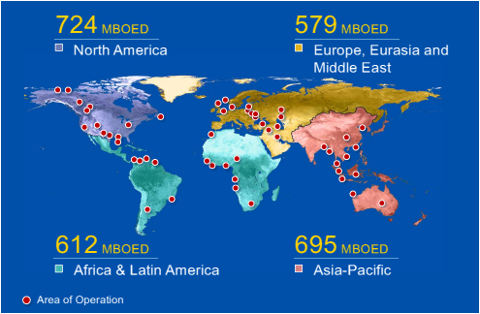 Click to enlarge
Source: Chevron's Security Analyst Meeting, March 2013
New discoveries are adding to a strong portfolio base with downstream major capital projects constantly driving its earnings growth with new production. Shown below, Chevron is expecting to add 50 projects that will drive its shares for more than $250MM and 16 with more than $1 billion, start-ups estimated to be materialized between 2013 and 2017.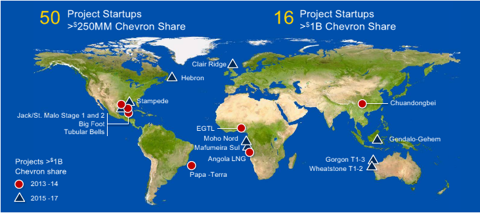 Click to enlarge
Source: Chevron's Security Analyst Meeting, March 2013
Moreover, Chevron's producing versatility allows its derivatives such as chemicals and additives to solidify even more its earnings down the road with its world leadership in producing premium base oils for various purposes. New significant plants are planned to start-up within four years.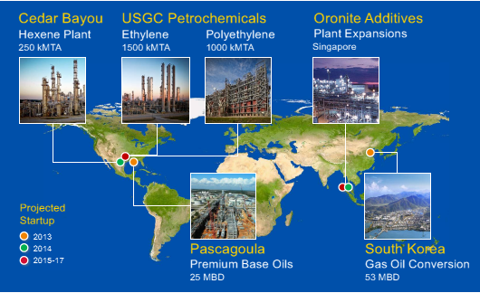 Click to enlarge
Source: Chevron's Security Analyst Meeting, March 2013
Bottom Line
As we have seen, the next four years will mark an important step for the company as its major capital projects should be in operation. Chevron has massively injected new funds the last few years not only to sustain its production level but to add significant assets with great potential that should translate into more value for its shares.
Chevron raised the dividend of its common shares for the 25th consecutive year last year as well as repurchasing $1.25 billion of its common stock in Q4 2012 under its share repurchase program. Repurchases for the full year totaled $5 billion, counteracting the diluted ratio of its shares, which is adding even more value to the table for its shareholders.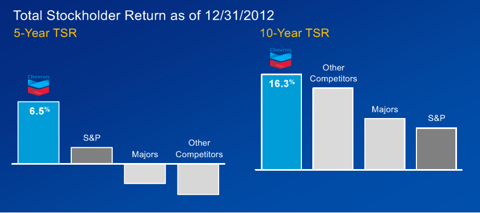 Click to enlarge
Source: Chevron's Security Analyst Meeting, March 2013
Furthermore, as depicted above, Chevron has a 5-year total stockholder return of 6.5% and 16.3% on a 10-year basis as of 2012 compared to negative results for its competitors on a 5-year basis. It's a strong statement for Chevron in delivering steady growing dividends along with increased stock value.
I believe that Chevron is a great asset to add for investors looking for an energy stock that should grow in the next four years in value appreciation, backed with solid company's financials. Offering a dividend yield of 3.06% to investors represents a nice yield with moderate risk in the purpose of mitigating a portfolio composed with more risky stocks driven with higher yields. Picking Chevron as a conservative stock pillar to your portfolio thereby makes a lot of sense.
Within the next few days, I will publish the second player on the top three promising U.S. LNG exporters that are bound to profit from natural gas boom opportunity.
Disclosure: I have no positions in any stocks mentioned, and no plans to initiate any positions within the next 72 hours. I wrote this article myself, and it expresses my own opinions. I am not receiving compensation for it (other than from Seeking Alpha). I have no business relationship with any company whose stock is mentioned in this article.