Johnson & Johnson (NYSE:JNJ) reported adjusted (non-GAAP) earnings of $1.44 per share for the first quarter, beating analyst estimates by 4-cents per share. The strength in earnings was broad-based: all its major product segments registered growth from the same period a year earlier. The table below summarizes these results by business segment:
J&J Sales Growth In Q1-2013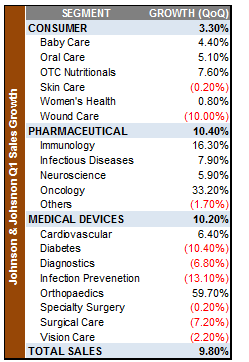 Source: J&J Investor Relations
J&J's stock rallied 2% on the day of its earnings release, suggesting that markets are pleased with its results. In our view, J&J's report simply confirms the market's confidence in it: prior to reporting its earnings, it had already risen by 17.5%. Consequently, J&J's 20% rise in the year-to-date is nearly double that of the S&P 500's performance in the same span.
Johnson & Johnson: Defensive Stock
Interestingly, J&J is typically regarded as a defensive stock - and, in our view, its mix of solid, consistent earnings, its place as a leader in the health care industry (long considered a defensive sector - people are perceived to need health care regardless of the economic cycle) and its industry-leading financial strength qualifies it as such.
On this tangent, it's worth noting that in 2013, the market has appeared to favor such stocks - witness the contrast between the relative performance of the Dow Jones Industrial Average and the NASDAQ Composite. The former is up 12.6% in the year to date while the latter is also ahead - but by a "mere" 8.1%. Assuming that this trend persists for the balance of the year, it would mark the second time in the past five years that the Dow has beaten the return on the NASDAQ. This should hardly surprise anyone given the level of risk-aversion that has persisted since the 2008 financial crisis.
Major Indices' Performance In 2013

Source: Bloomberg
Investors with long memories will recall that such an occurrence would have been a relative rarity in the years preceding the financial crisis - investors had bid-up the growth stocks - typically technology ones - listed on the NASDAQ since the technology boom of the late 90's and into the market rallies in the mid-2000's, foregoing the staid Blue Chips constituting the Dow. That clearly is no longer the case and that makes stocks such as J&J all the more appealing.
Why We Like Johnson & Johnson
With respect to J&J, our thesis on it is as follows: it's a solid defensive play that will benefit from better-than-average growth going forward.
J&J: Price Movement vs. Earnings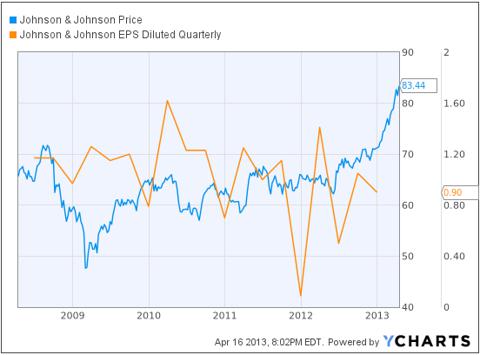 Source: YCharts, 2013 EPS: Johnson & Johnson
The chart above demonstrates J&J's defensive quality: despite volatility with its earnings (orange line), the stock has been on an upward trend (yellow line) since the first quarter of 2009. A closer look at the chart shows, however, that the market has been tracking its earnings more closely since the middle of 2012 - in fact, if we add J&J's most recent quarter's earnings to the chart (green line) we can see that its share price is more consistent with its earnings - the complete opposite of J&J's stock trend from late 2008 through mid-2012.
Does this mean that J&J is no longer a defensive play? Hardly - its beta is still firmly in the range of other healthcare companies at 0.55. In fact, the average beta for a healthcare firm is at 0.58 - so in fact, J&J is relatively less correlated with the S&P500 than its peer group.
In our view, the trends have more closely aligned because J&J's earnings have improved significantly. To wit, all three of its major product groups have seen solid growth in 1Q2013 from the same period a year earlier - contrast that from its comparative performance between 1Q2012 and 1Q2011 when sales contracted in two of its three major units (medical devices and consumer) and its pharmaceuticals business saw flat sales (+1.2%).
A deeper dive into the numbers shows why: J&J saw very strong performance out its oncology treatments, specifically its prostate cancer treatment, Zytiga, which saw operational sales growth of 70% as it captured 20% more market share. J&J also saw good performance from its multiple myeloma treatment Velcade.
J&J's acquisition of Synthes (the world's largest manufacturer of bone implants), completed in 2Q2012, proved to be the difference-maker for its medical devices business by boosting the sales of J&J's orthopedic products - absent the strong performance from this unit, J&J's overall devices sales would have contracted by 3.8% since 6 of its 8 units registered sales declines.
What's interesting about J&J's earnings is that it could still see further improvement: specifically, it is still working on ensuring more reliable supplies to its end-customers. Despite this, its saw its OTC products grow by 7.8% globally - the strongest growth performance among its consumer units. It also has yet to fully integrate Synthes - which means that the strongest performer among its devices unit still has room for improvement.
Another positive development is that J&J received FDA approval for two new treatments - Invokana and Invega - that should begin to show an impact on its second quarter earnings. Invokana, an SGLT2 inhibitor treatment for Type-2 diabetes, marks J&J's entry into this area of diabetes treatment and is expected to serve as a cornerstone of its diabetes treatment platform. On the topic of diabetes, it should also be noted that J&J is expecting to lose business from its diabetes monitoring strips as a result of Medicare cuts, which is why it has applied for an application for a new blood glucose monitoring system.
Meanwhile, Invega is a treatment for adolescent schizophrenia that should eventually boost sales of its neurosciences unit, which had the lowest growth rate (5.9%) among its major pharmaceuticals product lines.
Comparables & Conclusion
Going forward, J&J is forecasted to see its earnings rise by 6.6% each year over the next five years - that's adequate payback for the capital it has invested in the five years prior, when it saw capital spending rise by 8.5% per year. It is also a 55% surplus to the average expected 5-year forward growth rate of its large competitors Pfizer (NYSE:PFE), Merck (NYSE:MRK) and GlaxoSmithKline (NYSE:GSK).
Moreover, this would mark a broad turnaround from the EPS contraction J&J witnessed in the previous five year (-1.8%) - and would likewise be significantly better than the healthcare industry's five-year trailing average of -1.2%. It would also align its earnings more closely with the S&P 500's, which saw earnings rise by an average of 6.3% in the previous five years.
In that sense, a bet on J&J is no longer simply a bet on its balance sheet.
Speaking of its balance sheet, J&J continues to impress. Its cash ratios (quick and current) are better than both the S&P 500's and superior to that of its industry peers. It also continues to maintain very low levels of debt - around 25 cents of debt for every $1 of equity - and this actually fell further in 1Q2013, resulting in better cash flow as net interest payments fell by 20% on a lower average debt level.
Other metrics similarly cast J&J in a favorable light - its forward P/E is 14.5x earnings - right around the same forward P/E level as the S&P 500 but far better than the forward P/E of its industry peers of 21x earnings. At the same time, J&J pays a dividend yield of 3% -- more than acceptable for a large cap stock like J&J, not to mention higher than the 2.1% average of the other large cap stocks of the S&P 500.
Going forward, we expect that J&J will continue to see solid incremental improvement in its earnings as its pipeline comes to market and it sorts out operational and supply chain issues. Given this, it would make sense for investors to buy on the dips and expect that J&J could see its shares rise to $98/share by the end of 2013.
Disclosure: I have no positions in any stocks mentioned, but may initiate a long position in JNJ over the next 72 hours.
Business relationship disclosure: Black Coral Research is a team of writers who provide unique perspective to help inspire investors. This article was written Jonathan Lara, one of our Senior Analysts. We did not receive compensation for this article (other than from Seeking Alpha), and we have no business relationship with any company whose stock is mentioned in this article.
Additional disclosure: Black Coral Research is not a registered investment advisor or broker/dealer. Readers are advised that the material contained herein should be used solely for informational purposes. Investing involves risk, including the loss of principal. Readers are solely responsible for their own investment decisions.