Quarterly earnings have begun, and so far, things are so-so. This is a crucial earnings season. After great economic data to start the year and the market hitting all-time highs, a good performance from earnings is necessary to keep this market moving up. So far, defensive stocks have looked very solid while financials have lagged. There are a lot of reports still to come in the coming weeks, and we want to point out the stocks to watch and buy.
We believe that the best way to approach this quarter as well as all other quarters is look for opportunities that combine both high growth levels with undervaluation and a history of positive results. Our approach to determine the best investments for quarterly earnings is to combine both a growth assessment ranking score with a value ranking score along with historical results. Each score assesses each company's fundamental value in growth and as a value investment given a number of indicators and ratios.
We believe that it is important to combine both because some companies looking at amazing quarterly growth are heavily overvalued or have already priced in their earnings. On the other hand, many undervalued companies are undervalued because they lack the growth capabilities to have significant impacts on their valuation.
The key to this quarter for us was to look at companies that have high-growth but show less risk with lower beta and less chance of missing estimates. Further, we wanted to avoid financial companies and companies lacking revenue growth but seeing earnings growth.
Our top three sectors for this quarter are pharmaceuticals, beverages and Internet software. These three sectors have the best growth to value capabilities as well as being less exposed to the negatives of commodity price increases.
It is important to remember that these picks are ideas about stocks performance into earnings and as they appear at the present. Many of these picks will perform well before their earnings selections, and these ideas are not earnings trades. Rather, these are companies that can perform well during earnings season as a whole.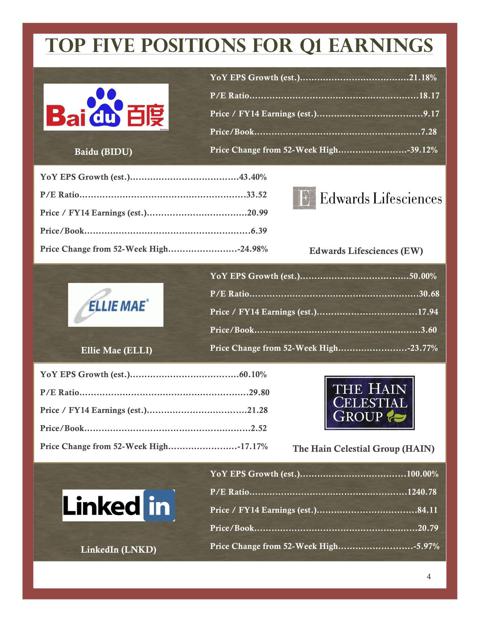 1. Baidu (NASDAQ:BIDU)
Baidu is starting to look enticing again, and we believe that the company looks ripe for a solid move again after a strong decline over the past twelve months. The company has been hit from some issues over the past month including rising competition, increasing traffic acquisition costs (TAC), and issues of potential growth moving forward.
The company, though, has some really great future prospects that we believe can continue to make BIDU a solid company, and with its value very cheap currently, we believe there is a lot of potential upside. First, BIDU has noted that its Personal Cloud service will reach 100M by the end of 2013. The company has a successful mapping unit that is reaching over 100M this year as well. The key to growth, though, we believe is mobile and new markets.
China is expected to see 300M smartphones shipped this year, which will mean a lot more Chinese citizens using their smartphones to search the web, many using BIDU. Further, the company has built its own mobile operating system as well as moving into Brazil. The company's growth in China is mostly in mobile, but it has lots of potential if it can be successful in other markets.
What's more, BIDU is cheap. Future PE is at 12.8, which shows great value. Yet, this company is looking at 20%+ growth this year. Buy BIDU now while it's cheap.
2. Edwards Lifesciences (NYSE:EW)
Edwards Lifesciences looks very appealing to us right now with a lot of growth that is set to happen this year. The company is expected to see an over 20% increase in earnings in the next two years along with 11-12% growth in each of the next two years in sales. What's powering the strong growth for EW?
The company's heart valve business is booming, and it should continue to grow from here with their new innovative SAPIEN technology. SAPIEN was introduced into the US n 2012, and it's a business that we believe has a lot of long-term potential. The transcatheter heart valve is great for patients with high-risk heart valve issues, and we believe that the technology will be very popular in the US, as it has already shown signs that it is. With the continued obesity of our population and increased access to healthcare, EW has a lot of potential.
What's more, EW operates with outstanding margins and has created medical devices that are not easily replicable in any more generic form. The company is operating with a 20% operating margin and these margins are expanding. Additionally, the company has a 0.45 beta, which means it's a great defensive name in times of crisis.
We like EW a lot right now, and we believe they have a lot of potential.
3. Ellie Mae (NYSEMKT:ELLI)
Ellie Mae is the new name in application software that you need to know.
Ellie Mae is the application software arm for the mortgage industry. The company has technology that helps to fund mortgage loans, work with compliance, and reduce errors. Its key software is Encompass that combines loan, business and customer relationships. The company is seeing a lot of growth right now over 25% sales growth expected in 2013 and over 22% growth expecting 2014.
What's driving this growth?
The company has streamlined the mortgage process, and they are said to have been able to cut the costs of mortgages by $3,000. Further, the growth of Encompass software is also helping to allow the company to create an economic moat as the switching costs rise as users use the software for longer. That user base is growing a lot.
Additionally, the company has light overhead. Once the company has built the software, the costs of doing business are light. That is why ELLI is able to offer operating margins over 20% and gross margins nearing on 80%. Return on Equity has increased to almost 16% as well. We believe that the company has a lot of potential as well as the market for mortgages becomes stronger over the next several years.
Its on-demand, technology-enabled software solutions automate the process of originating and funding mortgage loans, facilitating regulatory compliance, and reducing documentation errors. The company provides Encompass, a proprietary software product that combines loan origination, business management, and customer relationship management software for mortgage originators, as well as access to the lenders and service providers on the Ellie Mae Network.
4. The Hain Celestial Group (NASDAQ:HAIN)
HAIN is one of our favorite stocks moving forward this year as we believe the "organic" foods niche continues to be a very solid margin play in the food production business as well as is growing in popularity in the US and abroad with more attention to health foods.
The company is expected to see significant growth this year in sales at over 25%. Growth is expected to be at 13% in 2014 as well. What's the reason for strong growth?
First off, the "better-for-you-food" revolution is not going away. The company is growing with the popularity of companies like Whole Foods (NASDAQ:WFM), but what's great about HAIN is that they are also in Wal-Mart (NYSE:WMT), Target (TGT) and other grocers. They want to be obtaining sales from a number of different buyers. Further, HAIN has been one of the first into the market. The company has built a solid brand image with companies like Garden of Eatin, Spectrum, Rice Dream, and more.
The best reason to invest in HAIN though is that the company is moving along with a revolution in food. More and more studies show that healthy eating reduces disease and risk to disease, and the general public is at least in some way making changes to eating habits.
HAIN has tons of growth potential, and we believe they will build off earnings. Value is there as well with price/sales under 2.0, showing nice value. Margins are strong for HAIN, much higher than the competition.
5. Linkedin (NYSE:LNKD)
LNKD is overvalued. That is true. Yet, you should be nervous about overvaluation when investors start to believe that future growth may slow or be an issue. That issue does not appear to be happening for LNKD, and we do not see that issue happening anytime soon. The company is still in a strong growth mode, and with its expansion into international markets as well as increasing its premium users, the company has a lot of potential.
LNKD has been very strong during market weakness as of late, and we believe that strength will continue moving forward. The company has lots of revenue and earnings growth potential moving forward as well. The company is expected to see over 50% revenue growth at nearly 40% revenue growth in 2014. Those numbers are priced into the stock, but as we move into earnings its unlikely that most investors will cut their shares or want to exit. There is no fear currently that the company will slow down in growth or has any issues, which is the key to growth names.
Some threats to LNKD are the Facebook (NASDAQ:FB) Jobs Board as well as other employment services, but overall, these options are different than LNKD's role. Right now, there is no major competition to LNKD as well, and we believe that the company will start to see great ad revenue to complement its professional services.
Disclosure: I have no positions in any stocks mentioned, and no plans to initiate any positions within the next 72 hours.
Business relationship disclosure: The Oxen Group is a team of analysts. This article was written by David Ristau, one of our writers. We did not receive compensation for this article (other than from Seeking Alpha), and we have no business relationship with any company whose stock is mentioned in this article.