In our April 17th article, we cautioned that Crude Oil Prices, as implied by a 20% price rise forecast by market-makers for the ProShares Ultra Short DJ US Short Crude Oil ETF (NYSEARCA:SCO), indicated a demonstrated expectation for a -10% decline in WTI Crude quotes. The ETF has built into its structure a (2x) leveraging effect on its price, as well as the inversion of price change direction.
At the time WTI was quoted at around $97 a barrel on the NYMEX, and it now is $88 for the near-month future. So where does it go from here? Let's see what the market pros are doing now when called on by their big-money fund clients to "facilitate" volume trades by "providing market liquidity" (putting their firm's capital at risk).
The quick answer: protecting themselves from another possible -12% decline in the WTI Crude price to the $77.50 area. Here is a picture of their daily actions during the past six months, updating the one in our earlier article.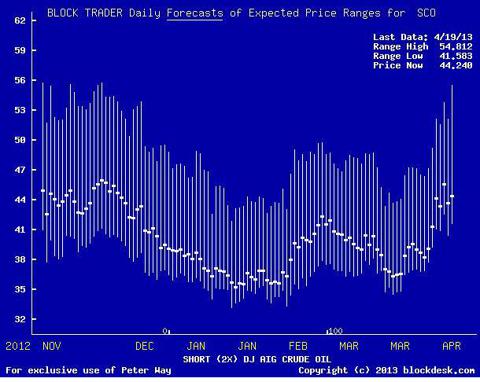 (used with permission)
This is not a conventional backward-in-time high-low-close "chart" of past prices. Instead it is a log of forward-looking market-maker forecast possible price ranges updated each day of the past 6 months.
As indicated in the picture's table at the upper right corner, a high-end SCO price of $54.81 is +24% above the ETF's Friday end-of-day quote (the heavy dot in the last vertical bar) of $44.24. Applying the (2x) leverage as a discount to the WTI change prospect, as we did before, produces the $77-78 per barrel implication.
Market-makers are in business to help their clients, and expect to be paid for their services. An important part of what they provide is immediacy, the ability to respond quickly to "fill or kill" orders. That's often where "facilitation" and risk-taking come in, as the market-maker puts its own firm's capital at risk in temporarily owning or shorting the stub-end part of orders that can't be filled from readily available other-side-of-the-trade investors or speculators at client-desired prices.
With hundreds to thousands of such propositions coming at them every day, they know they can't afford to take market-induced losses, so they buy "insurance" against the unwanted outcomes. The cost of that protection becomes part of the "spread" they charge the client for getting him/her "filled" right away. But the "spread" (between the deal-price and the most-recent-quote-price) is always a negotiated matter. If the spread is too large for the client to swallow, the deal will be killed and the client will seek to get it done elsewhere, perhaps at a more pliable market-maker. Or the client may wait for markets to move more in his favor (relieving the MM from taking the risk).
Since the cost of risk-protection is a potential deal-killer, its estimation is a serious matter. The MM firm not only sees the evolving market activity through "order flow," it also maintains the most widespread and up-to-the-moment information-gathering system it can buy or equip, including both electronics and people. They don't want to overestimate the risks and lose a deal, but they also don't want to get hammered by the changing market. The motivations to be accurate are intense when the amounts get large.
SCO trades 9/10ths of a million shares a day, so the incentive here is quite keen. And as has been seen recently, the MMs appear to be well-informed. That is why we use this form of behavioral analysis as our principal means of bottom-line forecasting and investments preferencing. When MMs are wrong, and some of the time they will be, the errors tend to be small and are quickly corrected. But on balance their P&L statements confirm a high consistency of profits.
Behavioral analysis can be very powerful when looking at what qualified, experienced, and knowledgeable people do that is right, not when the subject matter is what the general public does that is an illusion.
Disclosure: I have no positions in any stocks mentioned, and no plans to initiate any positions within the next 72 hours. I wrote this article myself, and it expresses my own opinions. I am not receiving compensation for it (other than from Seeking Alpha). I have no business relationship with any company whose stock is mentioned in this article.