Over the past year, as shown by the chart below, shares of Baidu Inc (NASDAQ:BIDU) are down by more than 40%. There are three reasons why investors should consider buying BIDU.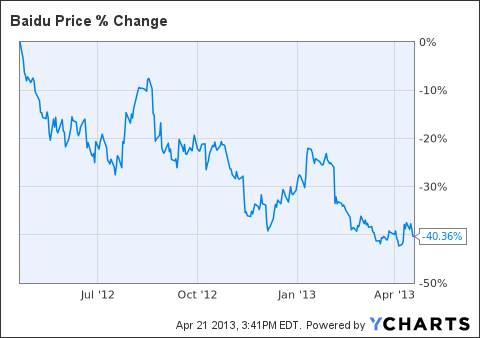 BIDU data by YCharts
Valuation
As shown by the chart below, BIDU is trading at historically low valuations. In late 2010, BIDU traded at nearly 80 times forward earnings. Today, BIDU trades at just 16 times forward earnings.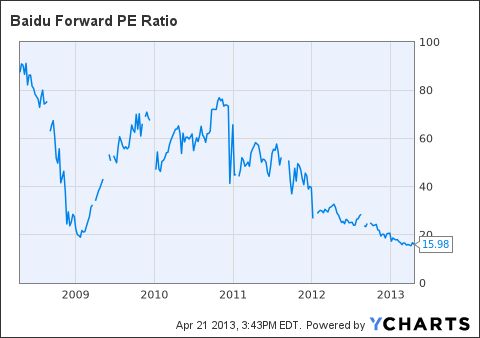 BIDU Forward PE Ratio data by YCharts
In addition to being cheap based on its own valuation history, BIDU is also cheap compared to its peers. Google (NASDAQ:GOOG) and Yandex (NASDAQ:YNDX) both trade at higher forward PE ratios than BIDU. In my opinion, BIDU should be trading at a premium to both those companies as BIDU has the greatest growth potential due to its Chinese exposure.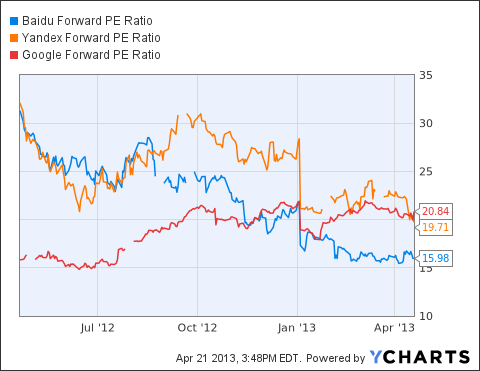 BIDU Forward PE Ratio data by YCharts

Over the past year, as shown by the chart below, Google shares have been moving higher. This is important for BIDU as the companies are often compared and BIDU is often dubbed "the Google of china." Despite the move higher in Google shares, BIDU has not responded. I view the move higher in Google as a vote of confidence in the search business, which should bode well for BIDU.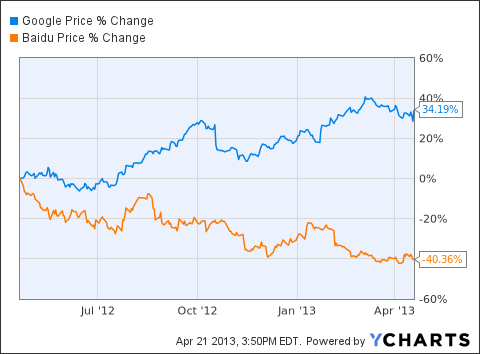 GOOG data by YCharts
Proven Company
Without question, BIDU is the most proven of the Chinese internet companies both in terms of stock performance and operating results. Other Chinese internet plays such as Yoku (NYSE:YOKU), Renren (NYSE:RENN), DangDang (NYSE:DANG), and Sina (NASDAQ:SINA) have not performed well over the years like BIDU has.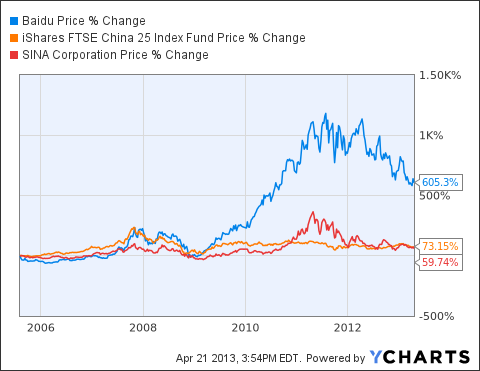 BIDU data by YCharts
Chinese Slowdown
Of course, one of the reasons why BIDU has been under pressure is the slowdown in the Chinese economy. However, in my opinion, the Chinese slowdown is more of an industrial slowdown. Certainly commodity prices from steel to copper to silver have been effected by the Chinese economic slowdown. That being said, I would not expect the Chinese internet boom to slowdown anytime soon. When the Chinese economy bounces back - it is difficult to say when that will happen, but eventually it will - I expect the technology sector to lead the way as opposed to the industrial sector that led the previous bull market in China.
Conclusion
Investors should use the decline in BIDU shares to make a long-term investment in a proven company at a reasonable valuation. BIDU shares may not bottom until the Chinese economy and stock market as a whole bottom, but I expect companies such as BIDU to lead the recovery.
Disclosure: I have no positions in any stocks mentioned, and no plans to initiate any positions within the next 72 hours. I wrote this article myself, and it expresses my own opinions. I am not receiving compensation for it (other than from Seeking Alpha). I have no business relationship with any company whose stock is mentioned in this article.