The mineral rich land down under has greatly benefited economically from the massive demand for metals as the global economy experienced an unprecedented building boom over the last couple of decades.
This global economic boom caused a huge rise in mineral exports from Australia as demand ramped up to a fever pitch over the last 10 years.
Australian metal ore and mineral quarterly exports ($A millions) since 1969: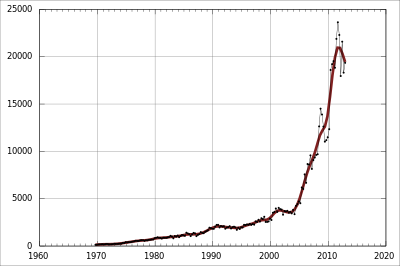 Along with this rise in metals exports, which has been a primary driver of the Australian economy, Australia has seen a spectacular rise in real estate and housing prices of its own. Concerns over these skyrocketing housing prices are not new and yet the bubble has not burst to any great extent--so far.
Total employment in metal ore mining (thousands of people) since 1984: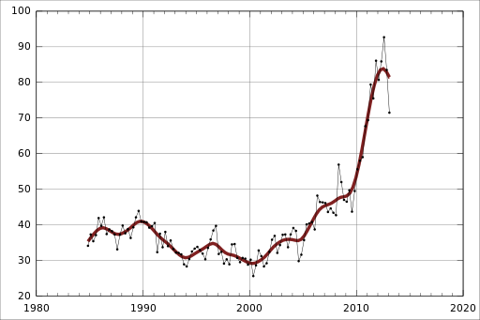 The amount of risk posed by the inflated housing market has been a matter of debate for a number of years. The percentage of wages consumed by mortgage payments has risen dramatically over the last couple of decades. In Melbourne mortgage payments consumed nearly 90% of wages in 2010.
Since 2003 the IMF has been warning that Australia has a housing bubble that would burst.
Over the last few years Morgan Stanley and Goldman Sachs have both stated that housing in Australia is significantly overpriced. Most economists agree. In 2010 the Reserve Bank of Australia warned against speculation in housing.
Lawmakers in Australia have passed strict rules to control foreign speculation in the housing market in an attempt to put the brakes on the frenzy.
The potential negative effects of the recent sudden drop in commodity prices on the broader Australian economy should not be ignored given the size of its mining sector.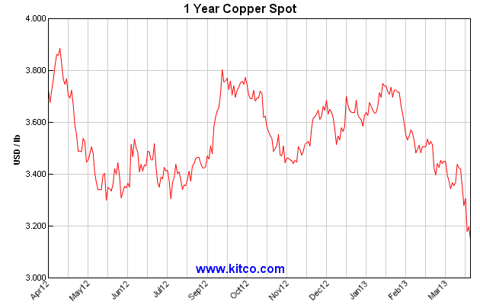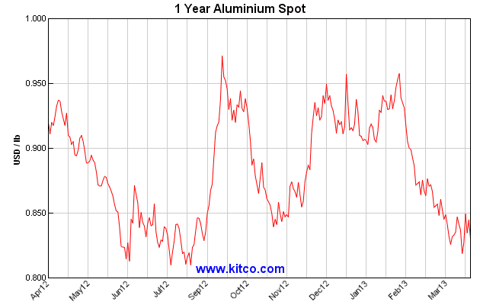 Commodity prices have been propped up by the false assumption of imminent hyperinflation due to central bank easing as well as massive stockpiling of metals.
The facts are that the global economy is slowing and signs of possible deflation are beginning to show. The IMF recently lowered its forecast for the global economy from 3.5% to 3.3%.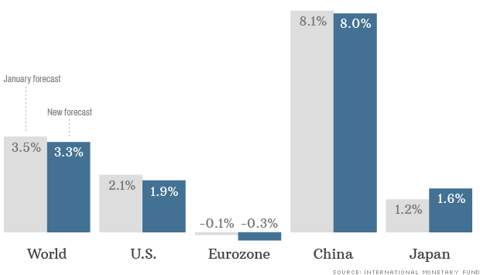 Conclusion:
Australia's economy is highly levered to the export of commodities and thus to global economic growth. The massively over-inflated housing market has created a towering overhang that could come crashing down if the prop of highly profitable commodity exports is knocked out from under it. A rise in unemployment due to a slowing of the mining industry could trigger defaults in housing obligations, which could in turn affect credit on a national level, similar to the effects that the recent housing crisis in the U.S. had on our broader markets.
Given that Australia has its own currency and central bank, it would be reasonable to look for specific moves in markets should a scenario such as the one described above play out.
In a case of this nature I would look for interest rates in Australia to drop and corresponding bond prices to rise.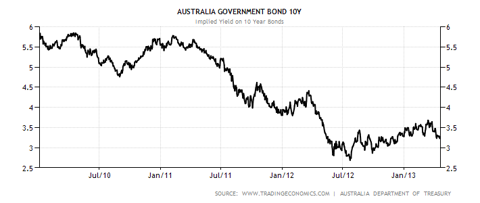 I would also look for the Australian dollar to increase in value.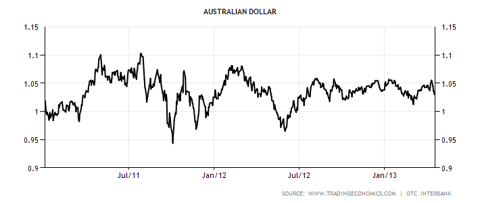 A significant decline in the Australian stock market would also be very likely.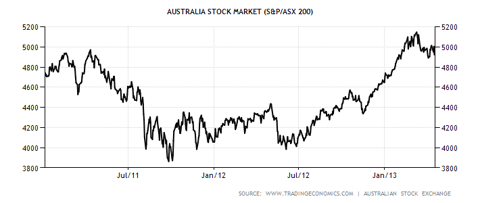 ETFs and ETNs that can be used to trade Australia's markets include: (NYSEARCA:EWA), (NYSEARCA:KROO), (NYSEARCA:AUSE), (NYSEARCA:AUNZ), (NYSEARCA:AUD), (NYSEARCA:FAUS),
Commodities should also be considered as a proxy way to trade Australia, ETFs include: (NYSEARCA:GLD), (NYSEARCA:GLL), (NYSEARCA:SLV), (NYSEARCA:JJC)
Disclaimer: Nothing in this article is to be taken as professional financial advice, nor is it a solicitation to buy or sell any type of securities. All financial decisions are your own, seek professional advice before taking action.
Disclosure: I am short GLD. I wrote this article myself, and it expresses my own opinions. I am not receiving compensation for it (other than from Seeking Alpha). I have no business relationship with any company whose stock is mentioned in this article.