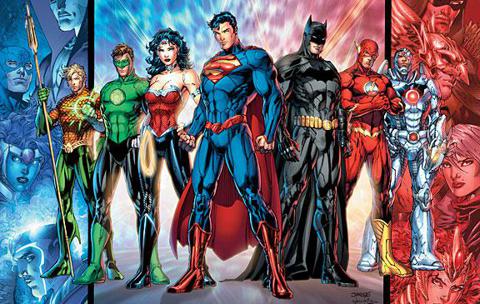 On June 14th, legendary comic book hero Superman returns to the big screen in the latest movie version, "Man of Steel". One company stands to benefit from a successful box office both in the short term and long term. That company, which is already trading close to a 52 week high, is Time Warner (NYSE:TWX). Time Warner owns the DC Comics brand and characters and could be in for a significant value unlocking if Superman flies high again.
"Man of Steel" is the first Superman movie since the critically disappointing "Superman Returns" missed in 2006 in an attempt at a reboot to the franchise. Warner Brothers is trying again, this time with a new cast and a darker undertone. The 2006 title made $200.1 million domestically and $191.0 million in foreign markets for a total of $391.1 million.
A look at the top grossing DC Comic character movies shows six of the top ten to be related to Batman. In fact, Batman based movies take the top four spots, followed by "Superman Returns". Three other Superman titles and "Green Lantern" round out the list for domestic box office.
A strong box office from "Man of Steel" and the launch of more DC Comic movies is important to the fiscal year results for Time Warner. In 2012, the revenue and operating income broke down as follows:
| | | |
| --- | --- | --- |
| | Revenue ($bil, increase YOY) | Operating Income ($bil, increase YOY) |
| Networks | 14.2, +4% | 4.9, +10% |
| Film and Television | 12.0, -5% | 1.2, -3% |
| Publishing | 3.4, -7% | 0.5, -20% |
| Total Revenue | 28.7 | 6.1 |
As you can see, the film and television unit was the second highest in terms of 2012 revenue. The revenue and operating income for that unit actually declined in 2012. Film and television should pass the networks segment and make up the most significant part of revenue by 2015 and a potential "Justice League" launch.
I mentioned in a recent article that 2015 is shaping up to be the biggest year for blockbuster movie releases. Media companies are releasing "Star Wars VII", "The Avengers 2", and "Avatar 2". Time Warner is not being left out and has announced tentative plans to release "Justice League", an Avengers like Superhero collaborative movie.
In 2009, Disney (NYSE:DIS) spent $4.2 billion to acquire Marvel. With its acquisition, Disney gained a huge library of characters and several movies already in the works. However, due to financial constraints, Marvel sold off the rights to several of its key franchises. Blade was optioned to New Line Cinemas. Spider-Man became a movie franchise for Sony (NYSE:SNE) and Columbia Pictures. Daredevil, Fantastic Four, and X-Men were all used by 20th Century Fox (NASDAQ:NWS).
In fact, only four of the top ten grossing Marvel based movies have come from Marvel or Disney. Spider-Man related movies hold four spots. X-Men holds two places in the top ten. "The Avengers", two Iron Man movies and "Thor" round out the top ten list. Marvel does still have a vast library of characters and is working on bringing many of them to the screen.
Unlike Marvel, DC Comics has kept the rights to its huge library of characters. Here is a look at some of the characters owned by DC Comics and Time Warner:
Superman
Batman
Wonder Woman
Green Lantern
the Flash
Aquaman
Hawkman
Hawkgirl
Green Arrow
Black Canary
Martin Manhunter
Justice League
Teen Titans
Nightwing
Another article I wrote discussed Disney's integration of its acquisitions of Marvel and Lucasfilm into television. Disney is creating shows centered on Avengers and Star Wars characters that will help introduce characters and storylines before big screen movies. Time Warner could follow this with tv shows about some of its characters. A successful "Arrow" show is currently on tv and has helped familiarize that character to a vast audience.
A successful "Man of Steel" will send the motions in gear for "Justice League". A 2015 "Justice League" will be similar to "The Avengers" and feature some of the most famous DC Comic characters. The rumors see the movie centering around Superman, Batman, Wonder Woman, Green Lantern, Flash, Aquaman, and Cyborg.
Guillermo del Toro is also rumored to be directing a Dark Universe movie. This adaptation would center on the Justice League Dark comic series that includes Deadman, Swamp Thing, and Constantine. Other movies that have been rumored for some time center around Wonder Woman and Teen Titans.
Another area where Time Warner will see a financial impact from a strong DC Comics brand is video games. The company's interactive unit has seen a lift from its Batman Arkham related video games. The games, which have sold over 15 million copies, continue to be well received by critics and players. The newest video game "Injustice: Gods Among Us" may be setting the company up for its potential new movies.
"Injustice: Gods Among Us" releases this week and already has strong pre-order numbers. The game has 173,789 copies reserved for the Xbox 360 and 62,698 for the Playstation 3. More importantly is the vast library of characters used in the game. The game is a fighting style game from Mortal Kombat developers. The plot involves Batman and Superman fighting against each other. Other DC Comic characters featured in the game are Joker, Aquaman, Cyborg, Deathstroke, Sinestro, Wonder Woman, Green Arrow, Flash, Shazam, Nightwing, Hawkgirl.
This inclusion of these characters could introduce them to a world that knows different. When Time Warner releases movies in the future, it will need the familiarity of lesser known super heroes to capitalize on box office revenue.
Another thing Time Warner and DC Comics has going for it is its relationship with Six Flags (NYSE:SIX). The theme park operator has rides dedicated to Superman and Batman and continues to expand its presence in the parks of DC characters. Six Flags could be a winner in a couple of years as more DC movies are released. Six Flags' existing partnership will likely keep Time Warner from being able to create its own DC theme parks.
Time Warner is in the midst of splitting up its company into two publicly traded units. The spin-off of Time Inc. will free the underperforming publishing unit and also most likely rid the entertainment company from some debt obligations. I would recommend selling Time Inc. shares post spin-off or waiting to purchase Time Warner until the split is finalized.
Shares of Time Warner are trading just shy of fifty two week highs. Over the last year, shares have traded in a range of $33.62 and $60.01. With the split of its underperforming publishing unit and the potential of DC Comics, shares are going to head higher. "Man of Steel" may in fact be the moment that brings analysts out to upgrade the stock as they see the five year plan of pictures that could be released, along with licensing revenue similar to what happened with Marvel.
I can say with confidence and defeat that I almost pulled the trigger in buying Marvel shares back in 2007. At that time, I saw the huge potential of the company releasing movies about Iron Man and Captain America. I did not predict it to be this huge or see "The Avengers" movie happening as soon as it did. I'm sure by now everyone wishes they could go back in time and buy Marvel stock before it was acquired by Disney. Now investors have the opportunity to invest alongside the next Marvel in DC Comics. Consider taking a long position in Time Warner on the potential of comic related movies.
Disclosure: I have no positions in any stocks mentioned, but may initiate a long position in DIS, TWX over the next 72 hours. I wrote this article myself, and it expresses my own opinions. I am not receiving compensation for it (other than from Seeking Alpha). I have no business relationship with any company whose stock is mentioned in this article.