Advanced Micro Devices (NYSE:AMD) reported quarterly results that illustrated that the promised transition in its business model is on track with the plan. Shares closed recently at $2.47, nearly flat since the company was last reviewed on March 25, 2013. After completing its restructuring that reduced operating costs and increased efficiency, 2013 will be about returning to profitability and generating positive free cash flow. Only after these tasks are met will AMD be positioned to participate in high growth markets.
AMD appears to be positioned reach profitability in several key ways. First, AMD refreshed in its mobile processors. Second, desktop graphics processors grew in the first quarter. In addition, the embedded market and game console are of strategic importance for AMD. Finally, the balance sheet for AMD is stable, allowing the company to execute on its strategy to be profitable.
1) Processor Product Refresh
AMD began shipping the Kabini processor during the first quarter. The processors are targeted for the low-cost desktop market. Its selling point is a 50% performance improvement over previous AMD APUs and better battery life. Known under the A-series and E-series of processors, AMD's Kabini integrates as many as four Jaguar x86 cores, a DDR3 memory controller, and HD graphics.
In the ultra-low power segment, AMD is beginning production of Temash. This line of chips is targeted for the tablet, convertible, and hybrid market. Development in portable devices based on Windows Surface tablet have yet to gain traction, but Microsoft remains committed to its development.
2) Graphics Processors
The strategy to bundle AMD graphics cards with popular game titles, under the Never Settle Reloaded campaign helped the company gain market share. Revenue from this segment grew by 3% to $337 million in the most recent first quarter. The commitment in this segment illustrates that even though PC sales growth is decelerating, there are still 300 million PC shipments annually, making desktop graphics cards a core part of the business.
3) Embedded Market
AMD is aiming to generate more than 20% of its revenue from the semi-custom and embedded markets within three quarters. During the conference call, the company said it wanted as much as 50% of its revenue from this growth market.
4) Game Consoles
40 million game consoles are expected to be shipped in 2013, primarily from the strength of Sony's (NYSE:SNE) PS3 and Microsoft's (NASDAQ:MSFT) Xbox 360. As Sony rolls out the PS4, AMD will benefit, since the company was chosen to supply the single-chip integrated APU for the console.
Investors have already bid up shares in Sony and Microsoft, helped partly by bullish interest in the release of a refreshed console. Only AMD lagged in performance over the last three months: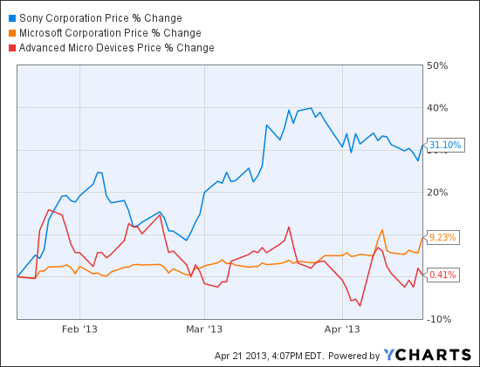 Despite analysts becoming more bullish on AMD, AMD shares are down in the last 6 months, flat for Microsoft, and up substantially for Sony: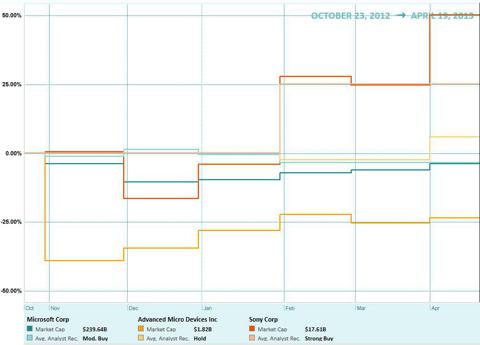 Source: Kapitall.com
5) Balance Sheet
In Q1, AMD lost $0.13 per share (non-GAAP). Despite the loss, AMD successfully reduced its expenses since the first quarter of 2012. The company forecasts reducing expenses from $592 million (Q1/2012) to $450 million by Q3 of 2013. In its most recent first quarter, AMD's expenses were $491 million.
Cash, cash equivalents, and marketable securities totaled $1.2 billion, unchanged from the last quarter. This level is well-above the target $700 million level.
Debt remained at $2.04 billion.
Inventory rose by $51 million to $613 million, but was due to the ramping up of new products.
For 2013, AMD aims to generate gross margins of 39%. By comparison, Intel (NASDAQ:INTC) reported gross margins of 56% in its most recent quarter.
Risks
An ongoing weakness in PC sales should be expected. AMD hopes the segment will improve by the second half of 2013. In Q1, sales from the computing solution segment declined by 9% to $751 million.
Microsoft's Windows 8 remains an unproven catalyst for increasing consumer interest for touch-based devices. During Microsoft's conference call, the company said that after taking customer feedback, a successor to Windows 8 is planned. Codenamed Windows Blue, Microsoft will work with its OEM partners to refresh the operating system.
Conclusions
The company expects that PC sales will decline in the low- to mid-single digits in 2013. AMD is striving to move away from its reliance in the declining PC sector by establishing a stronger presence in the console market. Even though sales for Nintendo's (OTCPK:NTDOY) new Wii U decelerated, the life cycle for consoles can last between five to seven years. This gives AMD a chance to be profitable in the console market.
Disclosure: I have no positions in any stocks mentioned, and no plans to initiate any positions within the next 72 hours. I wrote this article myself, and it expresses my own opinions. I am not receiving compensation for it (other than from Seeking Alpha). I have no business relationship with any company whose stock is mentioned in this article.