By Karl Smith
When the recession began, I argued that the Fed should respond by raising its inflation target to 4%, driving down real interest rates and effectively bailing out the entire economy with cheap cash.
Pundits everywhere weren't having it. Why, they demanded, should people be bailed out for buying more house than they could afford? Rick Santelli was legendary.
Over and over, I tried to say, that's not how markets work. Folks who made wise investments prior to the crisis will do even better if the Fed saves housing and revives the economy. Now that the housing recovery is underway, that is exactly what is happening.
Michael A. Fletcher of the Washington Post reports:
Before the housing crash, big investors almost never wanted single-family homes, largely because of slow returns and the money-draining hassle of managing tenants in often far-flung properties.

But with prices still depressed and with low interest rates and high stock prices limiting prospective returns elsewhere, major investors see the prospect of healthy profits in single-family homes.

"Residential property is an on-fire asset class," said Kranz, noting that his firm has plowed more than $100 million into residential real estate for investors in the past year and is on course to spend $250 million to buy an additional 2,000 homes in 2013.
This is exactly how monetary stimulus is "supposed" to work, only this should have happened in late 2009 rather than early 2013.
Rock-bottom interest rates would move cash-heavy investors into traditionally illiquid and granular markets like housing because the prices would be so low and the rental demand so high. The result is that banks lose directly on the default. Homeowners may or may not lose on net depending on whether predatory lending or predatory borrowing was at work. Cash heavy investors, however, would win the deal of the century.
They would get cheap houses, a waiting queue of renters and a monetary environment that would let them extract equity in an emergency at very low interest rates. It's hard to ask for a deal better than that.
The great deal is funded largely by the massive losses that banks took. Even after TARP, the financial sector is a shadow of its former self. The chart below tracks XLF, an Exchange Traded Fund for Financial Services companies.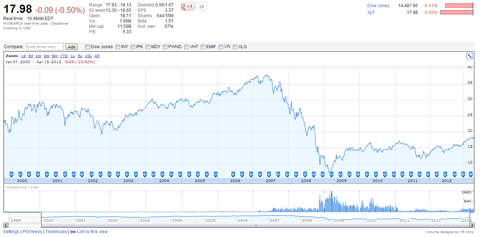 That's markets at work.
Now, that having been said, we have every reason to want to put a safety net under borrowers – especially the elderly – who may have been confused by the array of complex loan schemes. Dealing with brokers who deliberately fostered confusion is another matter. But, even in cases of genuine miscommunication, we don't want to hang folks out to dry.
The right way to do that, however, is to provide folks with an annuity that assures they will always have a basic standard of living. Indeed, we have a program that does just that, Social Security. As finance gets more complex and the potential for such tragedies increases we should increase, not decrease Social Security payments.
However, we shouldn't hold back stimulus for fear of "rewarding bad behavior," nor should we lament that prudent investors are in a position to reap the largest gains from such stimulus.