Ahead of reporting quarterly earnings, shares of Freeport-McMoRan Copper and Gold (NYSE:FCX) dropped more than 5% on the week of April 15, 2013 and more than 11% over the previous week. The decline was led by a sell-off in gold, as investors dumped companies like Barrick Gold (NYSE:ABX):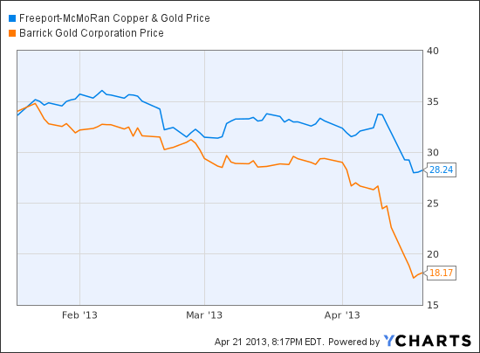 FCX data by YCharts
Freeport-McMoRan is now valued at a forward P/E of just 7, and pays a dividend that yields 4.43%. By comparison, Barrick Gold is valued at a forward P/E of 5 and pays a dividend yielding 4.40%. There are five points to consider after reviewing quarterly results. Investors will be able to determine if Freeport-McMoRan shares have further downside, or if the drop is a buying opportunity.
1) Quarterly Earnings Decline
Quarterly earnings declined to $648 million, or $0.68 per share for Freeport, compared with $0.80 per share in 2012. The company said that financing-related costs accounted for $0.05 per share. Sales volume rose for copper, while gold sales volume was down 16,000 ounces to 214,000 ounces. Molybdenum sales rose by 2 million pounds to 25 million.
2) Leveraged Balance Sheet Stable
Freeport generated a positive $831 million in cash flow in the first quarter. Cash and cash equivalents totaled $9.6 billion. Debt totaled $10.1 billion and includes $6.5 billion that was issued last month in March. The recent issue was financed at a weighted average interest rate of 3.1%. In total, Freeport will have $20 billion in debt.
3) Copper Prices Dropping
In the last quarter, Freeport sold copper at an average price of $3.51 per pound. For the current quarter, the company could face lower profitability in sales of the metal, as the front-month contract for April delivery settled at $3.1515 per pound.
Freeport acknowledged that growth in China will drop over time, since past rates were unsustainable. The country accounts for nearly 40% of global demand. Stronger demand in the U.S. could offset the weakness, as the construction and automobile sectors rebound.
Freeport will be able to reduce its $20 billion debt to $7.7 billion if copper prices hold $3. If the metal price were to hold at over $3.50, Freeport would be able to pay down all of its debt.
4) Copper Production Increasing
Freeport expects to increase production of copper at Tenke Fungurume in Congo, and at Grasberg. For 2013, copper supply will increase to 1.25 billion pounds, up from around 950 million ounces. Cash flow is strong when copper prices are $3 per pound.
5) Growth by Exploration and Natural Gas
Freeport plans to spend $4.4 billion in 2013 and in 2014 in capital expenditures. The spending will decrease by 2015 to $3.2 billion. In the oil business, Freeport believes cash earnings could increase by 50% over the long term. If the recovery in natural gas prices holds, Freeport's assets will rise. Most recently, natural gas price was $4 per thousand cubic feet, double what it was last year.
Conclusions
The free-fall in Freeport could very well continue, if market players continue to sell down gold producers. Freeport is especially vulnerable to further declines due to its leveraged balance sheet. However, Freeport leveraged its balance sheet to buy energy issues, expanding its business beyond the metals sector. As investors drove down shares, the dividend yield increased to above 4%. Investors now have an opportunity to accumulate a metal company with energy exploration assets.
A sharp drop in copper prices in recent sessions also hurt Freeport shares, but investors should be reminded that the company was able to still operate when copper prices dropped in 2008. This was accomplished by reducing operating costs as low as $1.20 in places like the Morenci mine.
Disclosure: I have no positions in any stocks mentioned, but may initiate a long position in FCX, ABX over the next 72 hours. I wrote this article myself, and it expresses my own opinions. I am not receiving compensation for it (other than from Seeking Alpha). I have no business relationship with any company whose stock is mentioned in this article.