Since 2009, shares of Green Mountain Coffee Roasters (NASDAQ:GMCR) have traded between $7 and $116. Outside of the company's steady earnings growth, the only seeming certainty for the stock is the widespread view that the company should remain at a lower value than its main competitor, Starbucks (NASDAQ:SBUX). With the company's $8.2 billion market cap well below the $43.8 billion market cap of Starbucks, shares have seemingly adhered to that rule.
Still, that isn't the only thing that makes shares appear attractive at this juncture.
Sure, Green Mountain does currently trade with a P/E ratio over 23. However, that figure remains much lower than the multiple of 108 shares experienced just two years ago. It is also lower than the P/E ratio of 31 Starbucks currently faces.
Also, if Green Mountain were to jump to its previous all time high of $116, the company's market cap would only jump to $17.2 billion or still well less than half that of Starbucks. With 2014 earnings projected to come in at $3.33, a rise to $116 in share price would leave the company with a P/E ratio of approximately 34.8. Overall, that is a number that is only a few points higher than the current ratio for Starbucks as mentioned above.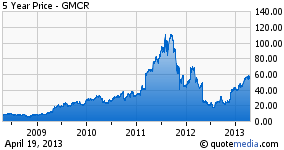 Of course, the $3.33 full year earnings expectation in 2014 could easily be surpassed if the company's tendency to surprise to the upside remains intact. Since 2011, Green Mountain has beat clearly on six of its nine earnings reports. On the flip side, Starbucks has only beat on two of its past nine reports while matching expectations on the other seven. Obviously, meeting expectations isn't bad, but it comes across as rather disappointing after the company beat on three of four reports in 2010.
Now outside of the technical analysis and chart pattern comes one major driver for Green Mountain; the nation's obvious addiction to coffee. In fact, polls from the National Coffee Association indicate three-quarters of adults drink coffee while 58% admit drinking some every day.
Another poll from Harris listed Green Mountain Coffee as the top rated brand in their individual study. The poll focused on a variety of metrics including consumer preference, annual revenue of each brand and the amount sold in the previous year.
Also noticeable was the fact only two of the top seven brands mentioned in the poll charged a higher fee per bag than did Green Mountain at $7.82. Overall, showing that along with the widespread attraction to coffee comes the willingness of consumers to pay a little more. That should be very important, considering the continued economic uncertainty and the fact even Starbucks was left to lay off employees and close several locations in 2009 due to the recession.
Now investing in Green Mountain certainly is not for the risk averse. Whereas Starbucks has had a 30% spread between its 52-week high and low and a current short interest of 1.35%, Green Mountain Coffee shares have moved as much as 71% over the last 12 months while currently fighting a short interest over 28%. Still, with solid earnings and a product very popular amongst consumers, this is the stock that will probably accept the risk.
Disclosure: I have no positions in any stocks mentioned, and no plans to initiate any positions within the next 72 hours. I wrote this article myself, and it expresses my own opinions. I am not receiving compensation for it (other than from Seeking Alpha). I have no business relationship with any company whose stock is mentioned in this article.