Abbott Laboratories (NYSE:ABT) engages in the discovery, development, manufacture, and sale of healthcare products worldwide, operating in four business segments: Established Pharmaceuticals Division (NYSE:EPD), Medical Devices, Diagnostics and Nutritionals. Despite mixed global economy, ABT continues its growth from emerging market, led by the nutritional segment.
Strong Q1 Profit
For Q1, 2013, sales increased 1.8% to $5.38B, which was slightly below analysts' expectation of $5.42B. However, without the research-based pharmaceuticals business, which spun out as AbbVie (NYSE:ABBV) at the beginning of the year, ABT reported earnings of 42 cents a share, beating analysts' consensus by a penny. Management also confirmed the full-year 2013 ongoing EPS outlook, which is for double-digit growth at the mid-point of the range. Despite a mixed global economy, ABT managed to deliver its current growth expectations and management expects to see some improvement in the second half of 2013.
Emerging Markets
ABT continues to expand in the emerging markets, where the demand for healthcare and nutrition is going rapidly. In Q1, more than 40% of total sales were in emerging markets with strong growth seen in China, India, Russia and Vietnam. Management expects to expand ABT's emerging market sales to more than 50% of total sales over the next few years. Driving growth in emerging markets remains a key priority for ABT. By 2015, management expects to more than double ABT's presence in China, which is the largest and fastest growing nutritional market in the world.
Margin Expansion
The operating margin for Q1 was in line with management's expectation, and the company is on track to delivery about 100 basis points of expansion for 2013, where nutrition and diagnostics are driving much of the improvement. Nutrition is expected to improve at least 300 basis points for 2013.
Outlook
The management confirmed ongoing EPS guidance of $1.98 to $2.04, reflecting double-digit growth over 2012 at the midpoint of the range. The management forecasted an ongoing adjusted gross margin ratio for 2013 of approximately 55%. Overall, the management continues to project expansion of the full-year adjusted operating margin by around 100 basis points in 2013. For Q2, 2013, management is forecasting ongoing EPS of $0.35 to $0.45 with mid-single digits of operational sales growth.
Analysts' Calls and Estimates
On April 19, 2013, RBC Capital Market reiterated an outperform rating with a target price of $38 (up from $37) for ABT. On the same day, Jefferies also raised estimates and its price target on ABT from $42 to $43. The firm commented,
Q1'13 results were mostly in line despite some lingering pressures in Established Pharma and Medical Devices from 2012. These should annualize before H2'13, exposing strong underlying growth. Meanwhile, Nutrition continues to deliver and we are increasingly convinced that management may deploy capital towards bolt-on acquisitions in the near future.
Analysts currently have a mean target price of $39.65, suggesting 6.59% upside potential based on the closing price of $37.20 on April 19, 2013. Analysts, on average, are estimating an EPS of $2.02 with revenue of $22.51B for 2013. For 2014, analyst are projecting an EPS of $2.26 with revenue of $23.84B, which is 5.90% higher than 2013.
Fundamentally, ABT's key stats will be compared to its peers in the industry of medical devices, including Medtronic, Inc. (NYSE:MDT) and Stryker Corporation (NYSE:SYK), to see where it stands.
| | | | | |
| --- | --- | --- | --- | --- |
| | Abbott Laboratories | Medtronic | Stryker | Industry Average |
| Cap Size | $58.43B | $46.67B | $24.61 | N/A |
| Closing Price (April 19, 2013) | $37.20 | $46.03 | $64.68 | N/A |
| Operating Margin, %, ttm | 20.3% | 28.3% | 20.1% | 18.2% |
| Net Margin, %, ttm | 15.0% | 21.2% | 15.0% | 12.9% |
| ROE | 23.3 | 19.9 | 16.0 | 13.3 |
| Debt/Equity | 0.7 | 0.4 | 0.2 | 04 |
| P/E | 10 | 14.0 | 19.1 | 32.9 |
| Forward P/E | 10.4 | 11.8 | 13.4 | 14.3 (S&P 500's average) |
Source: Morningstar
ABT's margins are above the industry average. ABT has the highest ROE among companies; however, it also has the highest debt/equity ratio. From the valuation perspective, ABT remains undervalued with a Forward P/E of 10.4, which is below S&P 500's average of 14.3. MDT is another solid medical devices company with high margins and strong ROE while generating steady cash flow. SYK, on the other hand, has the strongest balance sheet. Investors need to be aware that comparing ABT to other medical devices makers will not reveal the full picture for ABT as it operates in other major segments, including established pharmaceutical and nutritional segments.
Technically, ABT is on the long-term uptrend since mid-November, 2012. ABT is approaching its long-term uptrend resistance.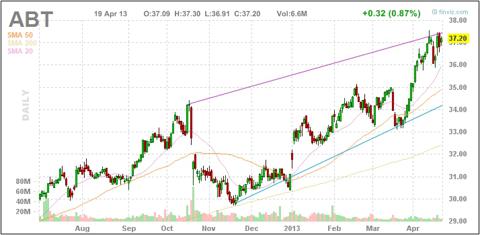 Source: Finviz.com
Bottom Line
With the mixed global economy, nutritional business should continue to be the growth driver, which is also the largest segment for ABT. If ABT fails to break through its long-term uptrend resistance, investors may want to wait for a pullback to establish the long-term position. Investors can also review the following ETFs to gain exposures to ABT:
Health Care ETF (NYSEARCA:VHT), 5.80% weighting
Dow Jones U.S. Pharmaceutical Index Fund (NYSEARCA:IHE), 3.59% weighting
Dow Jones U.S. Health Care Index Fund (NYSEARCA:IYH), 2.96% weighting
Disclaimer: Investors and traders are recommended to do their own due diligence and research before making any trading/investing decisions.
Disclosure: I have no positions in any stocks mentioned, but may initiate a long position in ABBV over the next 72 hours. I wrote this article myself, and it expresses my own opinions. I am not receiving compensation for it (other than from Seeking Alpha). I have no business relationship with any company whose stock is mentioned in this article.