While gold and silver prices plummeted over the last two weeks, investors may have missed a crucial news item that may have large implications for physical supply of gold and silver.
The Bingham Canyon Mine (also known as the Kennecott Copper mine), which is operated by Rio Tinto (RTP), had a major geological event on April 10th when a wall gave way and sent tens of millions of tons of earth into the mine.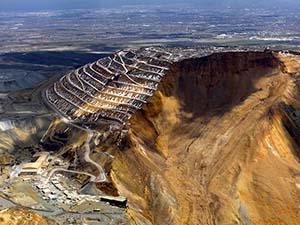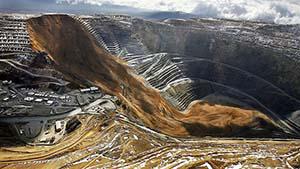 (Source: Kennecott Copper Mines)
The impact of this landslide is still being evaluated by Rio Tinto, but at least half of mine supply will not be able to be produced in 2013, and production losses may be even greater as further evaluations are done.
This event will have a major impact on US gold and silver supply. Even though the Bingham Canyon Mine is primarily a copper mine, it produces 300,000 to 500,000 ounces of gold and 3 to 5 million ounces of silver per year as a byproduct. This equates to about 5% of US gold supply and anywhere from 10-15% of US silver supply.
To put this into perspective, the gold production affected by the landslide equates to 12.5 tonnes, or all of the gold reserves that the nation of Cyprus owns. The selling of the Cyprus gold reserves was allegedly the reason for the gold market to drop two weeks earlier; this landslide would essentially do the opposite and remove the equivalent gold from world production - which is bullish for gold and GLD investors.
In terms of silver production, the landslide would have an even greater impact, because it affects a larger amount of US production (10-15%) and silver inventories are much lower on a per-ounce basis than gold inventories. Companies like Tiffany & Co (NYSE:TIF) that source silver from the mine, will have to redirect their demand to other sources, which can have serious supply implications for silver. In fact TIF buys around half of the mine's silver production, and so that 2 million ounces of silver will have to be found elsewhere, even as US physical silver demand soars.
Conclusion
Though the collapse at the Bingham Canyon mine received little press, the implications for the physical supply of gold and silver may be significant. Gold production equivalent to the total gold reserves held by the Cyprus central bank has been affected, and could be removed from production for the foreseeable future. Additionally, the loss of an even larger amount of US silver production may have companies that source silver from the mine scrambling to find alternative sources for physical metal - even as the US mint and investors demand more silver. This news is bullish for investors in the gold and silver ETFs (GLD, SLV, PHYS, and PSLV) and owners of the physical metals, because it means supply of both metals will be reduced in at least the near term.
Gold and silver are currently experiencing very negative sentiment in the investment markets, with the result that positive news has no impact on the price, while negative news causes further price declines - a classic sign that a market drop has been overblown. Physical markets take much longer to affect the gold and silver price, but when they do, they have the ability to completely overwhelm them. Investors should pay close attention to the physical supply and demand picture, which is extremely bullish for gold and silver and continues to accumulate while market sentiment is negative.
Disclosure: I am long SGOL, SIVR, PSX. I wrote this article myself, and it expresses my own opinions. I am not receiving compensation for it (other than from Seeking Alpha). I have no business relationship with any company whose stock is mentioned in this article.